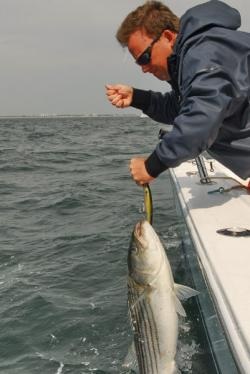 "Be prepared®" might be the motto of the Boy Scouts of America,® but it should also be a mantra that all saltwater anglers take seriously. Why? To paraphrase the great philosopher Forrest Gump, "going fishing is like a box of chocolates, you never know what you're going to get." So to maximize your fishing success, it's a good idea to be prepared for as many different flavors as you can. Here's an example that explains what a difference preparation can make.
A friend went striped bass fishing with a couple buddies not long ago. He checked around and heard that numerous large schools of menhaden, a favorite prey item for larger stripers, had been milling around just off the beach not far from the inlet the past few days. So he brought a cast net, some snag hooks and a good selection of live lining tackle. He thought he was well prepared, but alas not. After spending the entire morning without seeing a single menhaden he found himself without any bait; there was no sense in hunting for stripers. He and his disappointed buddies headed back to the dock with nothing more than a frustrating morning on the water to show for their efforts.
The same day another boat owned by another friend departed from the same inlet to go striped bass fishing. He had two of his buddies on board along with a host of tackle options to cover a wide range of opportunities. He had heard about the menhaden, too, so he had his cast net, snag hooks and a selection of live lining outfits. But he also brought along a pair of wire line trolling rods and bunker spoons; a pair of light trolling rods rigged and deep diving plugs; a few spinning rods and tackle boxes with plastic shad lures, poppers and plugs for casting. He even had jigging rods and a box of jigs on board!
He spent about a half hour looking for the menhaden schools, but when it became obvious they had moved offshore he headed to an area of structure known for holding stripers and started trolling bunker spoons. It didn't take long before they hooked their first fish, a fat 30 pound striped bass that would be one of ten they caught trolling that morning. A couple hours later they saw birds diving about a half mile away so they brought in the trolling rods, pushed up throttles for the outboards and ran over to find a school of stripers that had pushed a school of menhaden to the surface that was holding in deep water offshore to the surface. It was pandemonium. Using the spinning rods, poppers and plastic shads they caught a few more bass under wildly exciting conditions that they would have never even seen if they had only come prepared to fish with live menhaden.
The story should be a learning experience for every saltwater angler regardless of whether they fish inshore or offshore. It never hurts to bring more tackle than you think you because the alternative is to only bring the bare minimum and not have what you might need when opportunity knocks. Toward that end here are a few things that you can do to help streamline your preparation.
Put together a few plastic tackle boxes and keep them on your boat at all times. One should be filled with a variety of hooks and rigging paraphernalia accompanied by a selection of leader material so you can make a wide variety of bait rigs at a moments notice. Stock another box with a selection of plastic-bodied jigs, swim shads and bucktails of various sizes and weights. Fill another with a selection of poppers and swimming plugs and a forth with metal jigs. The more tackle you keep on your boat the less you have to carry with you each time you go out. Just remember to replenish your supplies as needed.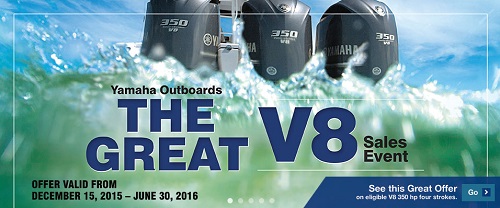 The night before you go fishing is when you run mental checklists to be prepared for the widest range of opportunities. Think about what you want to do and then think about alternate plans in case your main target species or technique doesn't pan out. Think about what kind of baits you might want to have on hand and pick them up at the bait shop on your way to the boat in the morning. Make sure you have an assortment of rods and reels to cover all the bases you identify and any specialty lures required for each technique. Then load the truck before you go to bed.
Fishing is like a box of chocolates so be prepared to enjoy whatever you get. Like chocolates, it's always sweet when you can capitalize on an opportunity.
The post When Opportunity Knocks Are You Ready to Answer the Door? appeared first on .