Denali has always attacked rod design with the goals of creating a high end appearance, unmatched performance and great value to the consumer.  Many of today's rods also can attack your wallet costing well over $200.  We are excited to present the Attax Series at ICAST 2016 in Orlando, Florida.  This exciting new series continues those brand goals with unmatched quality and appearance at an astounding $119 retail price.  The Denali proprietary blank delivers unbelievable sensitivity, uncompromised strength and weight for this new rod.  Attax's are wrapped with standard size, stainless steel guides to protect the ceramic inserts and feature Winn Grips for maximum comfort.  Winn has established a new standard in grips to provide a tackier and more comfortable grip than traditional cork or EVA.  All Attax Series rods have a three-year warranty and will be available in four casting and two spinning models.
Order Here – http://www.denalirods.com/attaxseries.aspx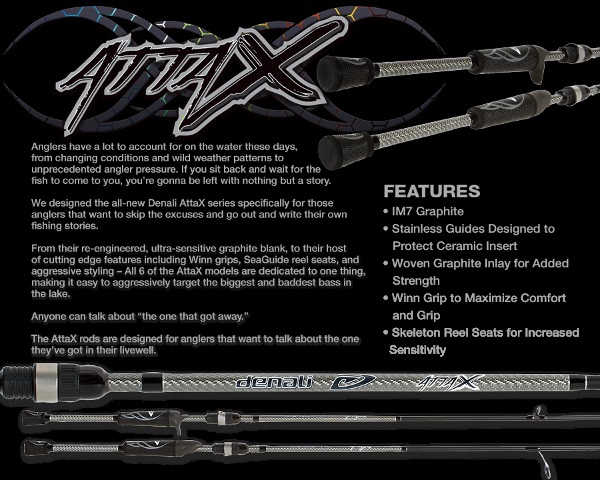 For more information on the Attax or any of the other Denali products, please visit www.Denalirods.com. 
The post Attax Series From Denali appeared first on .