YouTube/Venator Cardrona Safaris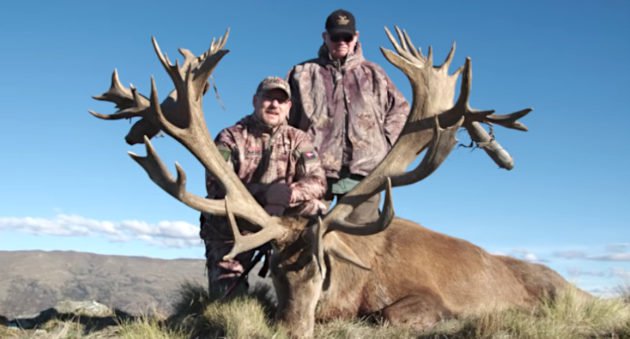 It's a dream for many hunters, but what animals can you hunt in New Zealand?
The answer is, quite the variety.
Situated in the South Pacific, New Zealand is a beautiful place for a hunting trip. The two main parts of the country are split up into what they call the North and South Islands.
Both offer hunting opportunities you might not expect.
Here are just a few of the game animals you can expect to encounter on a New Zealand hunting trip and where to pursue them.
Red Stag
The majestic red stag deer is found all over the world, but New Zealand is probably considered the top destination for taking a world class animal. No member of the deer family grows antlers as impressive as the red stag. The world record, taken in New Zealand packed a jaw-dropping 630 inches of antler onto his head! Hope you've got strong walls for your taxidermy, a set of red stag antlers can be hefty
Hunting occurs on the South Island. There are no structured hunting seasons, but most hunting is centered around the rut, or "the roar," as Kiwis refer to it. This happens in March and continues through May.
Keep in mind that New Zealand closes off specific "roar blocks" to red stag hunting during these times.
Fallow Deer
A New Zealand transplant, these deer can be found on both main islands although some hunters tend to favor the North for them. Again, there are no season restrictions, but the rut will probably be your best bet. The rut is sometimes referred to as the "croak" by residents. What's with all the colorful rut names? Not sure, but it's sort of neat.
The croak runs from April until May. One interesting thing about fallows in New Zealand is that dark-coated melanistic deer seem to be the most common, so if you're looking for a unique color phase fallow buck, this might be the place to go!
Just be aware that some private hunting preserves may not be 100 percent free range, so if you care about fair chase, make sure you know what you're getting into ahead of time.
Rusa Deer
This is a sneaky one. The rusa deer is generally considered to be one of the harder big game challenges in New Zealand. The antlers on these elusive deer look something like a cross between an elk and a stag.
However, the antlers of these deer don't branch out nearly as much as they do for other species.
Again, no specified seasons, but you're going to want to target the rut, which falls around July and August. These big game animals can weigh upwards of 300-400 pounds for a large male.
Sika Deer
This game species is exclusive to the North Island. According to the New Zealand Department of Conservation, these animals are only found in Kaimanawa Forest Park and Kaweka Forest, so your options are a bit limited for hunting them.
There are no seasons, but there may be occasional restrictions on their harvest.
Do your homework ahead of time. Much like the red deer, the roar for these animals runs from March until May, which is probably going to be your best chance of harvesting a trophy animal.
Sambar Deer
Another tough challenge on the North Island. The areas this species is common are mostly private land, so to find the best hunting you're likely going to have to either pay for access or get permission to hunt. This species gets hefty, 600-700 pounds.
Interestingly enough, the antlers don't seem to grow particularly large or grow a ton of points despite their size. Again, no specific season for this species, but the rut is going to be the best time to target them. Rutting periods for New Zealand deer species seem to be all over the place. For the sambar, it runs from May all the way to December!
Elk
Yes, believe it or not, there are elk in New Zealand. You can thank good old Teddy Roosevelt for that. He was directly involved with the introduction of 18 elk in 1908.
These elk are sometimes called "wapiti elk" and are primarily found on the South Island in gorgeous Fiordland National Park.
Some of the elk living in New Zealand grow ridiculously huge. The downside? There aren't a ton of them and in some instances, chances to hunt them are doled out via ballots. Of course, the ideal time to hunt them is during the rut, which Kiwis have also given a unique name. In New Zealand, the elk rut is sometimes called "the bugle."
Whitetail Deer
Yes, really! There are whitetails in New Zealand. Who would have thought?
In fact, the herds down there are the only herds in the world in the southern hemisphere. They are a bit isolated, there are only two herds. One in Lake Wakatipu and the other on Stewart Island. These animals were introduced a few years before the elk in 1905.
New Zealand whitetails don't grow nearly as large as their North American cousins, but a hunt like this is more the novelty of pursuing a familiar species in an unfamiliar setting.
Also, if you're a hunter who can't stand the off-season, it might interest you to know the seasons for these animals are totally reversed because of the hemispheres.
The rut takes place in April and May with does dropping their fawns in December or January. If you can afford to go every year, there is no offseason at all!
Wild boars
At this point, what corner of the globe doesn't have feral swine? It's not surprising that these critters can be found in plentiful numbers on both main islands and some of the outlying ones too.
You can pretty much hunt feral pigs all year-round in New Zealand. If you want to try some of the local customs, the Kiwis prefer to tackle swine with the aid of dogs.
Arapawa
Also known as feral sheep, these shaggy-looking animals can be found on both the North and South Islands.
The Department of Conservation does insist you get a hunting permit from them before going after these animals, but there are almost no seasonal restrictions on hunting them. Just be aware that many populations are on private land, so obtaining permission to hunt them may be difficult.
One interesting thing about arapawa rams is that the colors vary from a light brown all the way to a dark black color.
Feral Goats
While not the most popular animals to hunt in New Zealand, a feral goat hunt can be an interesting experience. Especially if you do it the preferred Kiwi way, with dogs.
They don't grow particularly large, but they can be found in abundance on both islands and there are no seasonal restrictions on them.
Chamois
This is an interesting animal. I think they look like a cross between a mountain goat and an American pronghorn antelope. In any case, this is another species that is not native to the islands.
They were imported here back in the early 1900s and have fared well on the South Island. They don't grow very large, maybe 100 pounds at the most. But an alpine chamois presents an incredible challenge because they like to hang out in rugged terrain that will test your physical fitness.
Their small size will test your ability to spot them. This is one of the most popular hunting experiences in the country.
Himalayan tahr
Just like the chamois, this animal lives in extremely remote areas and offers some of the toughest hunting in New Zealand. This isn't surprising considering they live on the South Island in a mountain chain known as the Southern Alps.
Taking a big bull tahr will test all your skills. We recommend hiring an experienced outfitter to guide you on a hunt for tahr, because there are some areas where you can only hunt via a ballot system.
Many of the best hunting areas are in extremely remote backcountry places that can only be reached via the air. A good outfitter will make sure you're hunting in a legal area.
Wallabies
There are two different subspecies of wallabies in New Zealand, the Dama and Bennett's wallaby. Again, there are no dedicated seasons, but most hunters prefer the spring.
Many hunting outfitters offer hunts for these animals as part of larger hunting packages. You may be able to sneak a hunt for these in with big game hunting opportunities.
Birds
There are many different species of game birds and waterfowl to target in New Zealand. One of the more surprising ones is Canadian geese. Opportunities for these birds are scattered around the country. You do need to obtain a game bird license before you can go wing shooting in New Zealand.
New Zealand is a great opportunity for hunters in the U.S. who hate the off season to get some hunting in during the summer months. Hunting New Zealand can also be the trophy hunting experience of a lifetime no matter what species you choose to target!
For more outdoor content from Travis Smola, be sure to follow him on Twitter and check out his Geocaching and Outdoors with Travis Youtube channels. 
NEXT: THE HUSHIN CREW TAKES A LUCKY FAN ON A NEW ZEALAND RED STAG HUNT
WATCH
The post What Species Can You Hunt in New Zealand? appeared first on Wide Open Spaces.