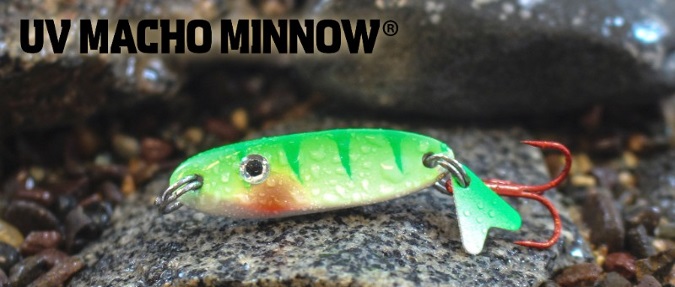 REFLECTIVE UV FINISHES MAKE NORTHLAND'S NEW OPTICALLY BRIGHTENED UV MACHO MINNOW A HIGH-VIS KNOCKOUT IN LOW-LIGHT CONDITIONS
Walleyes and other predatory gamefish now see Northland's brazen Macho Minnow jigging spoon in a whole new light. The proven high-octane performer is now available in a UV Macho Minnow variation sporting optically enhanced, high-vis UV finishes that use the sun's ultraviolet rays to catch more fish.
"The addition of UV coatings to the Macho Minnow's already potent fish-attracting powers make deadlier than ever for vertical jigging and casting," says legendary guide and avowed macho man Tony Roach.
Indeed, the UV Macho Minnow brandishes the same bold moves and raucous sonic stylings as the original Macho Minnow. Its unique CutSlab

beveled edges yield an erratic, crippled minnow action complete with tumbles, flutters and flashes, while the Metal Kicker-Tail

Fin adds attention-grabbing clicks, clatters and vibrations.

"UV coatings make the UV Macho Minnow raise the bar by making the spoon more visible to fish in a variety of scenarios," Roach explains. "Such enhancements help attract fish during low-light periods, and in stained conditions and deep water."
The UV Macho Minnow is available in four sizes: 1/16-ounce with #10 hook; 1/12- and 1/8-ounce versions with a #8 hook; and 1/4-ounce with #6 hook. All four feature a suggested retail of $3.49.
Following Northland's time-tested "Made by Fishermen for Fishermen" philosophy, the UV Macho Minnow is available in six eye-catching color patterns specifically chosen by the company's cadre of professional fishing guides.
Sizes MSRP Optically Brightened UV Finishes
1/16- to 1/4-ounce $3.49 Flashes, Clicks, Clatters And Flutters Great For Jigging And Casting
Six Team Northland® Color Patterns
Metal Kicker-Tail

Fin, CutSlab

Edges
Colors 
UV Glo Perch, UV Firetiger, UV Green Perch, UV Pink Tiger, UV Purple Tiger, UV Electric Perch
For More Information: visit www.northlandtackle.com or contact
The post UV MACHO MINNOW appeared first on .