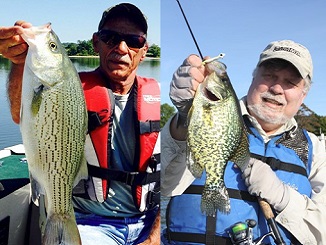 This Report is brought to you by PA Great Lakes Region tourism with additional sponsorship from Wiegel Brothers Marine and Gamma Fishing Line. We answer the question "What's biting in the lakes, streams and rivers of Crawford, Erie, Mercer and Venango counties?"
FRENCH CREEK – Flowing through all four counties
Angler Al (Franklin); filed 9-17: Full Moon Friday Sept 16th report…French Creek was looking good, so I caught a dozen creek chubs in Sugar Creek and made my way to French Creek before dark. I rigged two rods with multicolored purple/chartreuse/orange floating jig heads to present the chubs. Next, I tied a small treble hook stinger to each jig. A 1/8-ounce barrel weight had been applied to the line about 15 inches above the bait. I cast one rig out and left the sinker rest on the bottom. Before I started casting and retrieving with the second rod, I had an 18 inch walleye on the first rod. I caught two other walleyes and a 15 inch smallmouth jigging with the second rod. As my friend Matt Watson says "Fish the Full Moon…"
CRAWFORD COUNTY
Pymatuning Lake
Dave @ Richter's Tackle; filed 9-26: Not a lot happening on Pymatuning right now. I've only heard of a few walleyes being taken on either crawlers or a Vib-E. An occasional crappie or two are reported but nothing exciting. Some hardcore musky anglers are still catching a few fish. The forecast indicates a substantial cooldown coming this next week. That should drop the water temp a bit and might get some fish starting to feed.
Norm @ Jamestown Boat Livery; filed 9-26: Anglers are reporting a crappie here and there in about 12 feet of water on the South End. Over the weekend, anglers on the rental boats caught a few walleyes – here and there. Some of the regulars are catching a few walleyes on blades right at dusk. I heard of several muskies in the 42 to 44 inch range being caught recently.
Brook @ Gateway Bait; filed 9-26: Customers are catching some crappies under the causeway bridge early and late in the day. Walleyes are spotty. A few nice perch are being caught.
Patty @ Poff's Place; filed 9-26: It has been a slow September. A few crappies and occasional walleye reported. Even catfish seem to have gone on a hunger strike. There are a handful of guys fishing at night and catching walleyes.
Marilyn Black (Cochranton); filed 9-25: Darl and I fished Pymatuning for a couple hours on Sunday to check on the crappie bite. Given the post frontal weather, we figured the bite would be tough. Our largest crappie was 11 inches, but numbers were not there. Nothing to get excited about – maybe this coming week as water temp drops.
Ken Smith (Sharon):
Thursday, Sept. 15: Fished Pymatuning. Had a great time on crappies. Fished Bobby Garland Itty Bit Jig head and body in 14 feet water over brush. I put 35 good-size crappies in the cooler. On the water by 7:00 off at 2:30.

Friday, Sept. 16: Fished Pymy with my buddy Tim Oden in the same area I fished on Thursday by myself. We used the same Itty Bit baits as previous day; they produced again. We ran out of the best color but hit some other colors pretty good. We put over 40 panfish in the cooler. If you're having a tough time putting crappies in the box, try using smaller baits. Crappies and bluegills hit the 1/64-ounce head with Itty Bit plastics very well. Be sure to keep your net handy as these hooks are only #8 and often pull out if you lift the fish over the side. Pliers are also handy for removing the small hooks
Conneaut Lake
Marilyn Black (Cochranton); filed 9-25: Darl and I fished Conneaut in the afternoon after a couple hours on Pymatuning. Although we caught six different species while fishing for crappies and bluegills, the bite was slow. Darl was pleased that we finally caught a couple bigger crappies (11 to 12 inches) after several trips of nothing but 5 to 7 inchers. Big bluegills are showing up to, but no numbers yet. And for the first time since August 1, Darl did not catch even one jumbo pumpkinseed in deep water; that bite might be over.
ERIE COUNTY
Lake Erie & Tributaries
Jeff @ Poor Richards; filed 9-26: Recent reports have good walleyes coming from 58 to 68 feet of water both East and West of Walnut Creek. Key depth over the weekend was 62 to 65 feet. Top colors in both plugs and harnesses were purple & black, and green. After a couple good weeks of perch fishing, they are spotty again; since the big wind of a week ago, very few anglers are getting limits. There are some steelheads in the mouths of the streams. Single eggs and minnows are best.
Dan @ Elk Creek Sports; filed 9-26: Perch fishing in the lake has been spotty. I understand the walleye charter boats running west out of Erie on Sunday the 25th had a banner day! Looks like we are in for another week of high winds according to the forecast; therefore there will be little boat fishing on the lake. But as far as the approaching steelhead season, we are at a critical juncture. We desperately need several days of light steady rain to bring the creeks up and sustain them for a period of time. With rain in the forecast for several days this coming week, we can only hope for the best. There are a few steelheads in the lower creeks, perhaps as far south as Rt. 5 on Elk. A freshet will bring a lot of fish in from the lake. Walnut Creek is a mess right now with the Wall closed due to construction in the Access area; people are crowding into the Manchester Hole like never before! Also, on lower Elk we have a problem with muddy water. They took out the pillars from the old Rt. 20 bridge this summer, but left piles of dirt – now every time it rains a little bit, the creek gets muddy. Could be we will lose good steelhead fishing from Rt. 20 to the mouth due to muddy water. But we still need days of cold rain to trigger what could be a dramatic start to the steelhead season.
John @ Uncle John's Elk Creek Campground reports steelhead in the stream at least up to the campground. He attached two photos of recent catches.
Dave Horvath (Edinboro); filed 9-25: We fished the big Lake on September 14th and 21st. The perch bite was slow. No limits but fun to be out on this great lake. Bait is still a problem. Golden shiners are available, but no emerald shiners to be had. We also had to contend with a full moon. Reports of walleye north of the perch pack. On Saturday night, Walnut Creek was packed tight with anglers. Only a few fish in the creek. Forecast of rain next week and cooler weather may bring in a good run of steelhead…tight lines, Dave.
Darl Black (Cochranton); filed 9-23. On Friday, I fished with Dave Lefebre on Lake Erie to gather photos for an In-Fish smallmouth article. Weather was perfect when we started at 1 pm. We checked the shallow flats to see if fish had started to move up. One 3 pounder dropped at the side of the boat. Then the wind shifted from the west to the east and waves began to build. Moving out deeper, Dave attempted to show me how he drop-shot his way to a 3rd place in the Bassmaster Angler of the Year tournament on Mille Lacs in MN last week. He said Mille Lacs was rough all three days, similar to what we were experiencing. But as he concentrated on boat control, staying on his waypoint and keeping his bait in the zone, the waves continued to build until 4 and 5 footers were crashing over the bow. "Time to go," Dave said after starring a rouge six foot wave at eye level from the trough. Completely drenched during the short ride back to the launch, I was really thankful for my emergency pack of dry clothing I carry in my vehicle. 
LeBoeuf Lake
Steve Udick (Oil City); filed 9-26: Friends from Waterford report good catches at LeBoeuf. Chris Marczak shared a photo of a 29 inch northern pike and a large bowfin from a recent day on the lake. His friend Dylan Proctor also caught a very large bowfin. Chris guessed the bowfins were in the 6 to 8 pound range. They caught all their fish on live chubs. So far this summer they estimated their catch of bowfins from LeBoeuf at over 100.
MERCER COUNTY
Shenango Lake
Drew @ 5 Points Country Store; filed 9-26: The white bass bite continues on Shenango. I've never caught so many white bass in the lake as I have this year. And if you use live bait, we've got golden shiners and minnows which white bass really like for sale here at 5 Points Country Store. We are also seeing some crappie biting early and late in the day. Fishing success in general on the lake should pick up as the water cools down.
Rick Como (Sharpsville); filed 9-25: White bass fishing is still very hot. Fish are heavily schooled and feeding all though the day. Hybrid stripers are starting to show up in small groups with fish around 10 pounds the norm.  Expect better action in October as fish feed heavily until the cold water period. Crappies are still spotty but nicer size fish are beginning to show up in deeper water humps and submerged brush piles. Pike action should start when the water temp drops and fish move shallow. October should see a steady increase in walleye activity on the main lake points and sunken roadbeds. Fall fishing can be the most beautiful and relaxing time to be on the water.
HOW RICK COMO CATCHES LATE SUMMER/EARLY FALL WHITE BASS
Kevin Austin; filed 9-24: I have enclosed a picture of a 48 inch musky caught by Mr. Sam Hosey on September 23 from Shenango Lake. He was using 6-pound test line.
Lake Wilhelm
Vickie @ Fergie's Tackle; filed 9-26: It has been a very quiet week on Wilhelm. Sporadic reports of some panfish, but generally the bite is off. Everyone is looking forward to the cool down coming this week with expectations it will stimulate fish into feeding.
VENANGO COUNTY
Justus Lake
Angler Al (Franklin); filed 9-25: My friend Kelli's daughter Cary and son Mike went along with me to Justus Lake. Although the fishing was slow, she did manage to catch a few largemouth bass. Her brother also caught one, but his picture didn't turn out. Large creek chubs and shiners were my bait of choice…but isn't that usually my go-to offering?
Allegheny River
Pete Cartwright @ Smallies on the Yough; filed 9-26: We started early today at 7 am, fishing both lower French Creek and the Allegheny River. The water was low and cool – first time since spring I had waders on. The action was moderate. We hooked some nice fish with the biggest being a fat 19.5 inch smallie. Bass were caught on 412ubes form 412bait Company. We caught most of the fish grouped up in one hole on multiple casts to the same spot. (See photos)
Steve Udick (Oil City); filed 9-25: Allegheny River fishing remains spotty with last week's high/muddy water flushing islands of grass. We got out Thursday, catching five nice bass in deep fast chutes on Green Pumpkin Mizmo Tubes and six more on Watermelon Magic colored Zoom Super Flukes from spotty weed flats above rapids. Over the weekend, Jim Allen and fished together. Jim got a hefty 19 incher on a black/gold Right Bite Tube along a weedline. I picked up an 18 incher on a Bandit 100 crankbait in very fast water five feet deep. The wiggle action of the 100 Series Bandit has out-fished the 200 Series all summer for us. Fall bite should pick up with next week's cooler weather. Smaller bass are already hanging together.
Bill Logan (Pleasantville); filed 9-20: Three lakes in two days. Canadohta on Monday. Then Wilhelm and Sugar today. Only two bass landed. I'm hitting the river if it ever clears up!
The post NW PA Fishing Report for September 28, 2016 appeared first on .