Utah DWR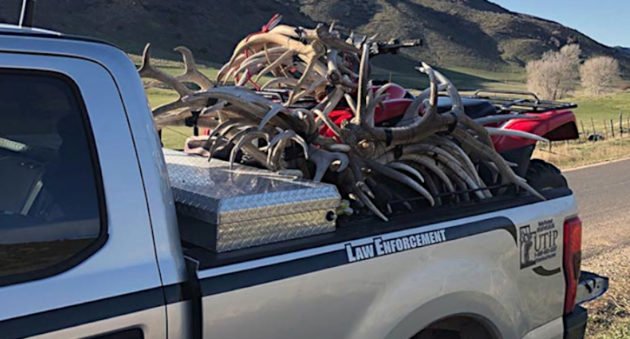 Three men are facing misdemeanors after trespassing to take shed antlers.
The Utah Division of Wildlife Resources cited three men who they say trespassed on private property without permission while picking up 30 shed antlers.
According to a DWR press release, it happened on April 24 when conservation officer Jeremy Wilcox got a tip about men trespassing on private property in Summit County's Chalk Creek area. It did not take the officer long to find the suspect vehicle. When the group got back to their vehicle with what amounted to a truckload of antlers, DWR officers were there to greet them.
The trespassers had picked up a total of 30 antlers during the time they were on the property. According to the DWR press release, 19 sheds came from moose, seven from deer and four from moose. State law in Utah requires written permission to shed hunt on private land. As a result, the antlers were promptly confiscated.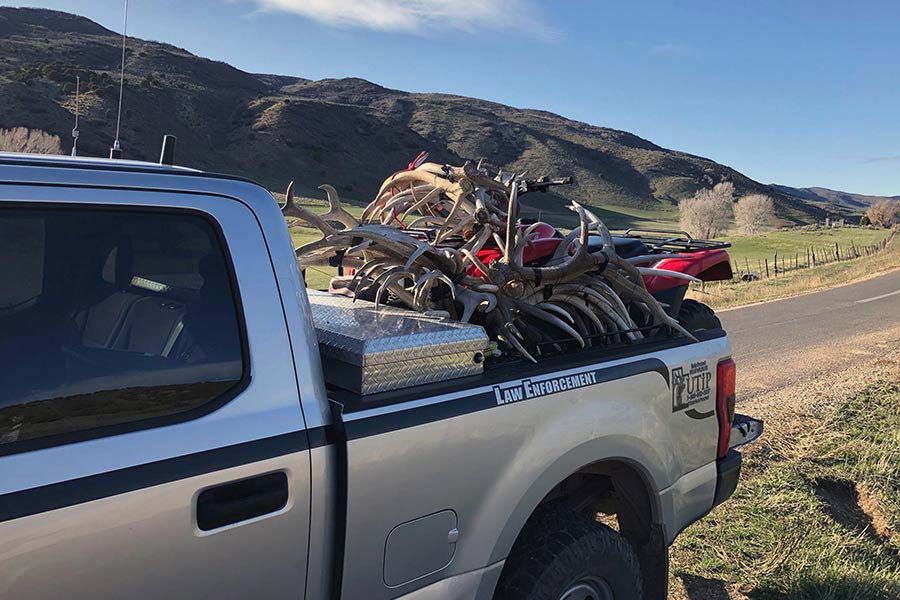 "The area where the men entered is clearly marked with 'no trespassing'" signs," Wilcox said in the press release. "They told me they knew the land was private property, but they spotted an elk shed off the road and said 'they couldn't resist' getting it. They then remained on the property for hours, scouring the area for more antlers."
Trespassing is a class B misdemeanor and the three men are facing unlawful take and possession fines of $680 each. Technically, the three men could be treated the same as someone poaching the animal itself. The DWR's press release says the men could potentially lose hunting privileges in Utah for the next three years.
Utah is part of the 48-state Interstate Wildlife Violator Compact, which means the men could also lose hunting privileges in a bevy of other states as a result of this incident. The DWR meanwhile is using the incident to remind shed hunters, many of which are just starting out for the year, of Utah's regulations and the need for permission.
"We're patrolling and people are watching," Wilcox said in the release. "Please don't trespass on private property to gather shed antlers. It's illegal, and the price you could pay just isn't worth it."
For more outdoor content from Travis Smola, be sure to follow him on Twitter and check out his Geocaching and Outdoors with Travis YouTube channels. 
NEXT: 4 FACTORS TO CONSIDER BEFORE YOU GO SHED HUNTING THIS YEAR
WATCH
The post Utah DWR Hands Citations to Trespassers Caught Red-Handed with 30 Shed Antlers appeared first on Wide Open Spaces.