journalstar.com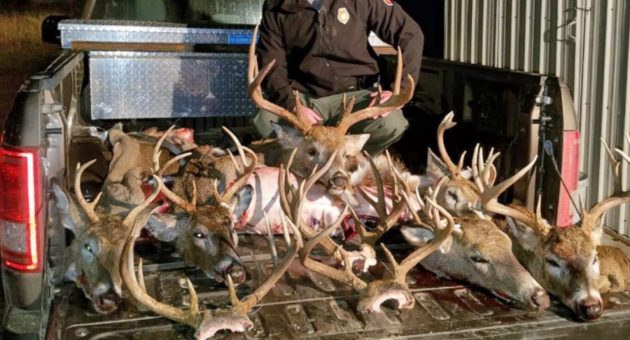 Two Nebraska deer camps didn't follow hunting regulations, and now they're paying for it. 
Nebraska Game and Parks officers investigated one deer camp in Jefferson County consisting of hunters from Louisiana. The officers later investigated and unrelated deer camp of hunters in Gage County.
Coincidentally, the officers wrote 17 citations to 11 hunters. Nine of the hunters were from Louisiana while the other two were Nebraska residents. The officers confiscated the remains of nine deer, seven of which were bucks. The citations totaled more than $10,000 in penalties, fees and damages.
Both camps consisted of hunters from Louisiana, yet neither of the camps knew each other. In one of the cases, hunters harvested deer with landowner permits. Property owners are not permitted to give or sell tags to other hunters.
"That's illegal; you can't do that," Duane Arp, assistant administrator of theNebraska Game and Parks Commission's law enforcement division, told the Lincoln Journal Star.
Thus, the husband and wife received two tickets for violations both this year and last year. Collectively, the two have paid a combined $600 in penalties and costs.
One of the Louisiana hunters was 64-year-old, James Squyres, who hunts annually in Nebraska and has for the last 30 years. He, his brother and his son converted a semitrailer into a hunting camp.
Even though the hunters in his camp were bowhunting, gun season had already started and they didn't realize they need to check in their deer.
Similarly, the officers also found they didn't cancel their tags after harvesting their deer. Each tag must be canceled after harvest.
Like what you see here? You can read more awesome hunting articles by Nathan Unger at the Bulldawg Outdoors blog. Follow him on Twitter @Bulldawgoutdoor, Instagram @Bulldawgoutdoors and subscribe on YouTube @Bulldawgoutdoors.
NEXT: TEXAS GAME WARDENS CRACK DOWN ON TROPHY DEER POACHERS
The post Two Nebraska Deer Camps Equal 17 Citations and $10,000 in Fines appeared first on Wide Open Spaces.