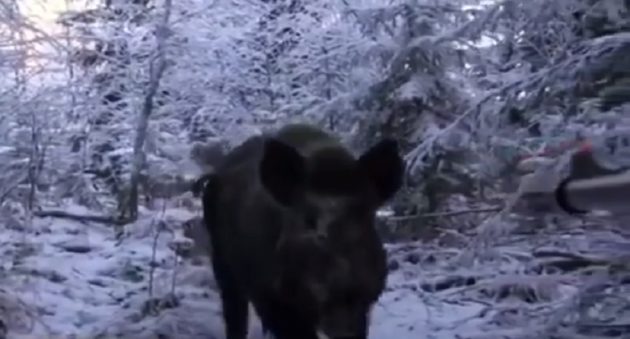 Wild boar have a nasty temper and will take on anything they encounter.
This Russian hunter quickly finds out wild boar hunting has the potential to be a contact sport.
Watch the video below:
Git it!

Posted by WILD Jaeger on Saturday, December 2, 2017
Hunting wild boar is not for the weak-hearted. This wild boar was ready to attack anything and everything during this hunt in Russia.
The scene unfolds as the dogs bark and worry the wild boar still unseen on camera yet. When the boar goes on attack it sees this hunter and changes course in a blink of an eye. The wild boar is already almost on top of the hunter when he fires the kill shot with epic stopping power.
Good thing this hunter was a cool as a cucumber on this hunt. If not, he certainly would've been on the losing end of this wild-boar charge.
Do you like articles about the outdoors? Click here to view more articles by Eric Nestor. You can follow him @ericthewoodsman on Twitter, The Classic Woodsman on Facebook, and @theclassicwoodsman on Instagram.  You can view more Nestor Photography photos at Nestor Photography.  
NEXT: SITKA GEAR REVIEW: SITKA WHITETAIL SYSTEMS WILL CHANGE THE WAY YOU HUNT FOREVER
The post Hunting Wild Boar in Russia Gets Real Personal Quick appeared first on Wide Open Spaces.