With the prevalence of outdoor television, online and social media, many industry insiders have theorized "print is dead." Despite that incorrect assumption, print magazines have remained at the top of the list for providing hunters and anglers with information. For that reason, magazines have remained their preferred media. But a year-to-year analysis in the Southwick Associates Media Monitor (SAMM) suggests the gap is closing between print and online media.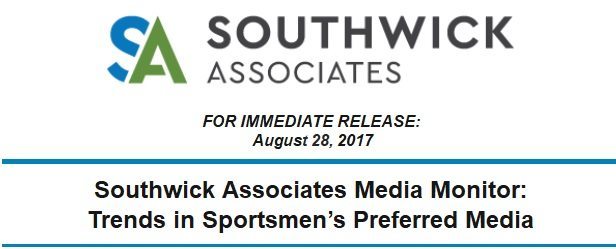 In 2013, magazines were the top outdoor media source with more than three-fourths of sportsmen and women using them, with online media coming in second. By 2016, magazines were still the top outdoor media source for sportsmen and women, but the percent using them has dropped, and the gap between magazine and online users has tightened to less than five percent. Part of the difference may be a steady presence by social media sites, with more hunters and anglers reporting using social media sites as sources for outdoor information.
"While magazines are still a great medium for advertisers to tout their products, more companies seeking to optomize their advertising budget need to use a mix of traditional and non-traditional media platforms," says Rob Southwick, president of Southwick Associates, which produces SAMM. "We see hunters and anglers using magazines, Internet, television and social media for different purposes. Used together smartly, these channels will elevate your message and image."
SAMM is a quarterly tracking survey that measures hunters', shooters' and anglers' use of outdoor media including magazines, television, websites, social media, radio and more all in a single report. The report identifies the types of media outdoorsmen prefer, as well as examines specific television programs, websites and publications that influenced buyers' key equipment purchases. Each SAMM has detailed information on the true reach of all of the top outdoor media outlets, so businesses can make informed decisions when allocating their media budgets. The Second Quarter 2017 SAMM is now available. For more information, click here. For purchase information or samples, e-mail info@southwickassociates.com.
The post Trends in Sportsmen's Preferred Media appeared first on ODU Magazine-North America's #1 Digital Fishing Magazine.