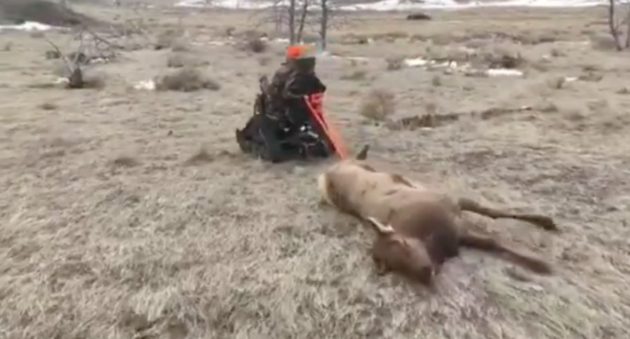 This TrackChair is a genius way to pack out this elk. 
Watch this Mossy Oak Pro Staffer pack out an elk like it's nothing at all.
The TrackChair is the perfect vehicle to drag out a large animal and navigate different terrain.
Trackchair Pulls Elk – Ashlee Lundvall

Don't let anything hold you back! This isn't your normal "wheelchair" – Mossy Oak ProStaffer Ashlee Lundvall's Action Trackchair allows her to hunt all types of terrain, and it's even strong enough to haul out her elk!"I harvested this cow elk in Sunlight Basin here in Wyoming. She dropped on top of a high ridge, so Russ got her down the hill and I used my Action Trackchair to pull her back to the truck. We're a pretty good hunting team, and I love that I'm able to fully participate with my adaptive equipment!"

Posted by Mossy Oak on Friday, December 15, 2017
Ashlee Lundvall's Trackchair is not your typical wheelchair. It allows her to navigate all types of terrain in the backcountry. Simultaneously, it lets her pack out her harvested elk.
She harvested the cow elk in the Sunlight Basin in Wyoming. When she shot the elk it tumbled down a high ridge, and the Trackchair allowed Landfall to drag the elk back to the truck.
Don't ever let anyone tell you can't do something. Lundvall is proof you can chase your dreams.
Like what you see here? You can read more awesome hunting articles by Nathan Unger at the Bulldawg Outdoors blog. Follow him on Twitter @Bulldawgoutdoor, Instagram @Bulldawgoutdoors and subscribe on YouTube @Bulldawgoutdoors.
NEXT: LARGE COLORADO ELK HERD PARADES DOWN THE STREET IN ESTES PARK
WATCH
The post This TrackChair is One Epic Way to Drag Out an Elk appeared first on Wide Open Spaces.