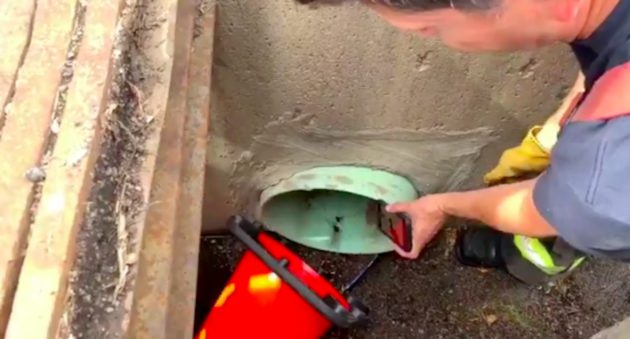 Firefighters from the South Metro Fire Rescue team in Centennial, Colorado rescued four ducklings using YouTube duck calls.
As hunters, we all know that sometimes you have to outwit your intended target by using natural sights and sounds.
Now a group of on-the-ball and well intentioned firemen from the The Centennial State have found a new way to rescue wildlife from a storm drain.
Using a little brawn, they moved a manhole cover to start the rescue, but a bit of grey matter is what really did the trick! One of the firefighters can be heard saying "Nice! Did you play ducks sounds? That is genius."
Truer words were never spoken and the results were just as heart warming. Here's what it looks like to coax four duckling out of the storm sewer and back into mama duck's waiting wings:
Since fire engines aren't equipped with duck calls, Firefighters used the audio from a @YouTube video to talk 4 frightened ducklings out of a storm drain pipe in @CityofLittleton this afternoon. The full flock of 8 ducklings were safely reunited with their mother nearby. pic.twitter.com/J2L2ABydOP

— South Metro Fire Rescue (@SouthMetroPIO) June 20, 2019
The ducklings were reunited with their mother; all eight of the brood were rescued without a hitch.
Firefighters everywhere are quite adept at using the many facets of technology available to them to help people and animals, but this is a new one!
Cheers to the fighting South Metro Fire Rescue team and their duck corralling efforts for this great save.
What's next, rescuing bear cubs with a pot of honey?
Looking for a little more? Follow my webpage, or on Facebook and Twitter.
NEXT: HERE'S WHAT HAPPENS WHEN 2 SOWS AND 4 CUBS SHOW UP TO THE SAME BAIT PILE
WATCH
The post Firefighters Rescue Ducklings Using YouTube Duck Calls appeared first on Wide Open Spaces.