Brad Smith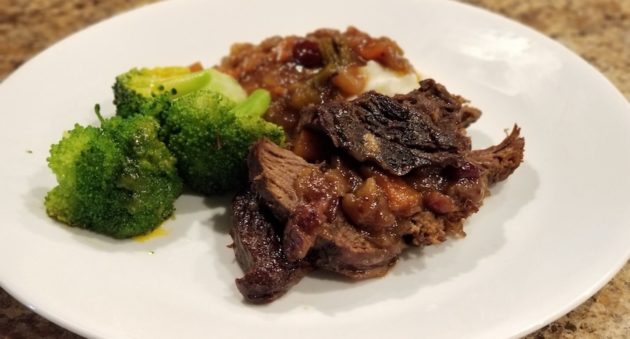 Need a good holiday venison recipe for Christmas? Start right here. 
For most of the country, deer season is ending right around the start of the winter holiday season. For most outdoorsmen, we have our freezers full of venison and ready to get cooking.
With that in mind, why not whip up something for a family gathering for this Christmas or New Years? If you are looking for a great holiday venison recipe, this cranberry deer roast really captures the holiday spirit. It also tastes pretty dang good.
Cranberry Venison Roast
Ingredients 
1 whole venison roast
1 dice large red onion
diced carrots and celery
1 can of beef stock
1 can of cranberry sauce
butter
salt and pepper to taste
This whole recipe comes together very quickly. Once it's all in the pot, just throw it in the oven and forget it for a few hours. It's really that simple.
To get it started, sear the roast in an oven safe Dutch oven on all sides, then set aside. From there, use a little butter and sauté the onions, celery, and carrots in the bottom of the pot.
Once the onions are soft, pour in the cranberry sauce and beef stock, then bring to a low boil.
Now, add back in the venison roast, put the lid back on the Dutch oven, and place in the oven at 330 degrees F for about three hours.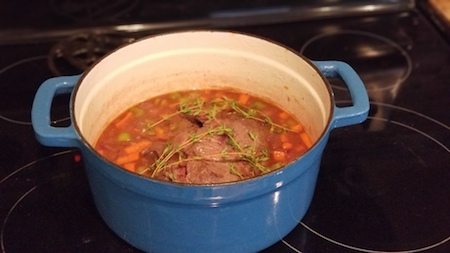 For us, we also added a few sprigs of thyme. We then flipped the roast every hour.
What you get is a fork-tender roast with an excellent gravy already finished. Top it all off with some mashed potatoes and some kind of green and you are in business.
The cranberry sauce mixed with the full flavors of the beef stock and venison roast creates something you really need to taste to understand. You are going to want to put that mixture on everything. It's savory and sweet at the same time. You'll see when you take you first bite.
NEXT: BEER AND HARD CIDER VENISON ROAST RECIPE
WATCH
The post This Holiday Venison Recipe for a Cranberry Deer Roast is Sure to be a Crowd Pleaser appeared first on Wide Open Spaces.