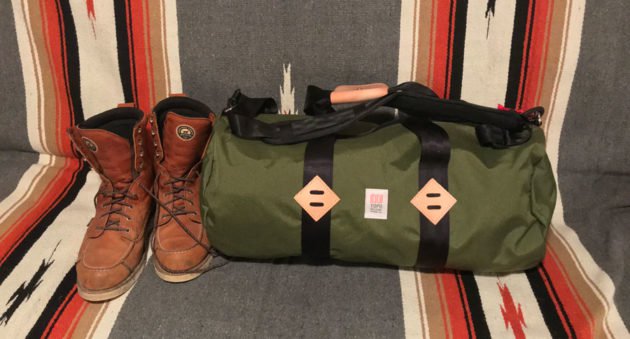 We found you the perfect bag for a weekend hunting or fishing trip.
For the last few years, I've probably averaged one hunting or fishing trip a month, and the majority of them only last a weekend.
I'm usually just driving somewhere, so my truck holds most of my actual gear, but my clothes, boots and other, more delicate gear ends up crammed in a backpack or thrown loosely into a large duffel designed for multi-day travel.
Most duffels out there aren't shaped ideally for outdoor activities, nor are they built to withstand outdoor elements.
I came across the Chaco Topo Classic Duffel by chance, however, and I've used it for virtually everything since.

I've used it for an off-roading trip to Quebec, a random weekend trip home and a slew of trips to my hunt club where I do my gun dog training.
Owning a 3-month-old English setter puppy, I have to be out there all the time and I have to be prepared, so having a solid bag to routinely pack makes a world of difference.
It's the perfect size to fit by briar pants, vest, hat, boots and socks, as well as my dog food, leash, and training tools.
Its cylindrical shape allows it to fit just about anywhere, and it's 1000D Cordura exterior will stand up to anything. Even its leather handle and detachable shoulder strap are noticeably tougher than those on your average bag.
The interior is lined with a nylon pack cloth, which does feature a few zippered pockets for smaller items.
There are a lot of different routes you could take to transporting your gear from one place to another, but I'd highly recommend this quick pack to anyone who goes on a lot of shorter trips.
Plus, its Topo design gives it a sharp look.
NEXT: FLUSHING AND FALLING: AN UPLAND SEASON OF UPS AND DOWNS
WATCH
The post This Chaco Duffel Makes a Weekend Trip 10 Times Easier appeared first on Wide Open Spaces.