Facebook: Musselshell County Sheriff's Office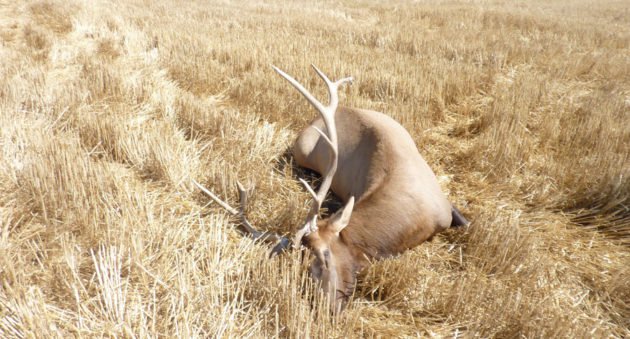 For reasons unknown, someone is poaching elk in Musselshell County.
In the midst of an ongoing investigation regarding two poached bull elk in Musselshell County, Montana, local officials got a tip of an additional bull, bringing the total to three.
Similar to the first two bulls, the third was also shot and left to rot, according to Montana Fish, Parks & Wildlife.
It was reportedly discovered about 25 miles from the where the first two elk were found, per a Facebook post by the Musselshell County Sheriff's Office, and it is believed this bull was late Monday or early Tuesday morning last week.
However, although three dead elk were found, FWP officer Bob Gibson believes one of them was killed legally.
"They found some bones and stuff but it was somebody that had legally harvested the elk and had boned it out, and left the carcass," he said.
Officials are urging locals to be vigilant of hunters with spotlights, as well as vehicles driving at suspicious times of the night.
"We have approximately 650 miles of county roads spread over 1,871 square miles in Musselshell County, so we need your help watching all that country. We must protect our natural resources. If you have any information about either of these incidents, please call it in," Sheriff Shawn Lesnik said in a Facebook post.
Anyone with information on the serial elk poaching can call the Musselshell County Sheriff's Office at 406-323-1402, or TIP-MONT (Turn in Poachers Montana) at 1-800-847-6668.
Those who call the poaching hotline can remain anonymous and may be eligible for cash rewards.
NEXT: SOUTH CAROLINA HUNTER DROPS 10-POINT MONSTER, SECOND IN 3 DAYS
WATCH
The post Third Dead Bull Elk Found in Montana This Week, Poaching Suspected appeared first on Wide Open Spaces.