I am shaking my head. It is so hard to believe.
This scenario has been among the most surprising and shocking in my career as a conservation professional.
More on that in a bit.
All of us realize that wildlife-related crimes know no boundaries. Just like poaching game and fish, there are unethical, unscrupulous people, motivated purely by greed, who seek to profit without regard for natural resources, private or public property and ecosystem health. But now, valuable woodland habitat is at risk on all lands, no matter who owns them.
There is a new kind of theft is occurring in Nebraska's rural landscape and it is quickly becoming one of the more popular and lucrative crimes for acquiring quick cash.
It is the theft of timber. It is the cutting, killing and taking of a live tree. It is the theft of the black walnut tree.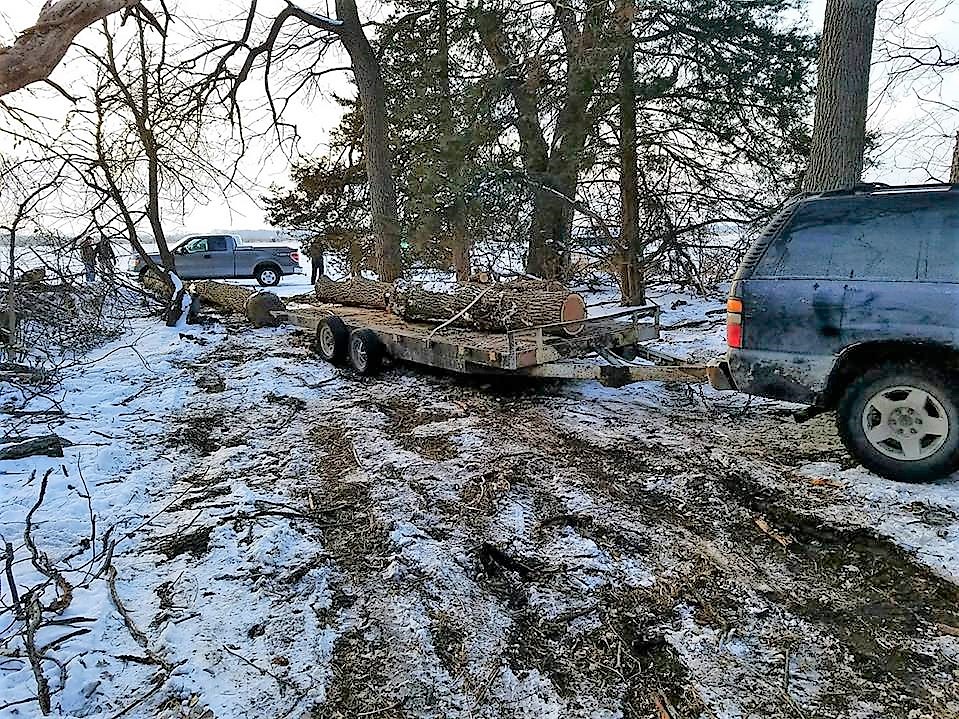 This slow-growing tree and its nuts, that you have probably encountered, is primarily a pioneer species. Biologically, pioneer species are hardy species which are the first to colonize bare earth or where there has been a disturbance (e.g. fire, flood).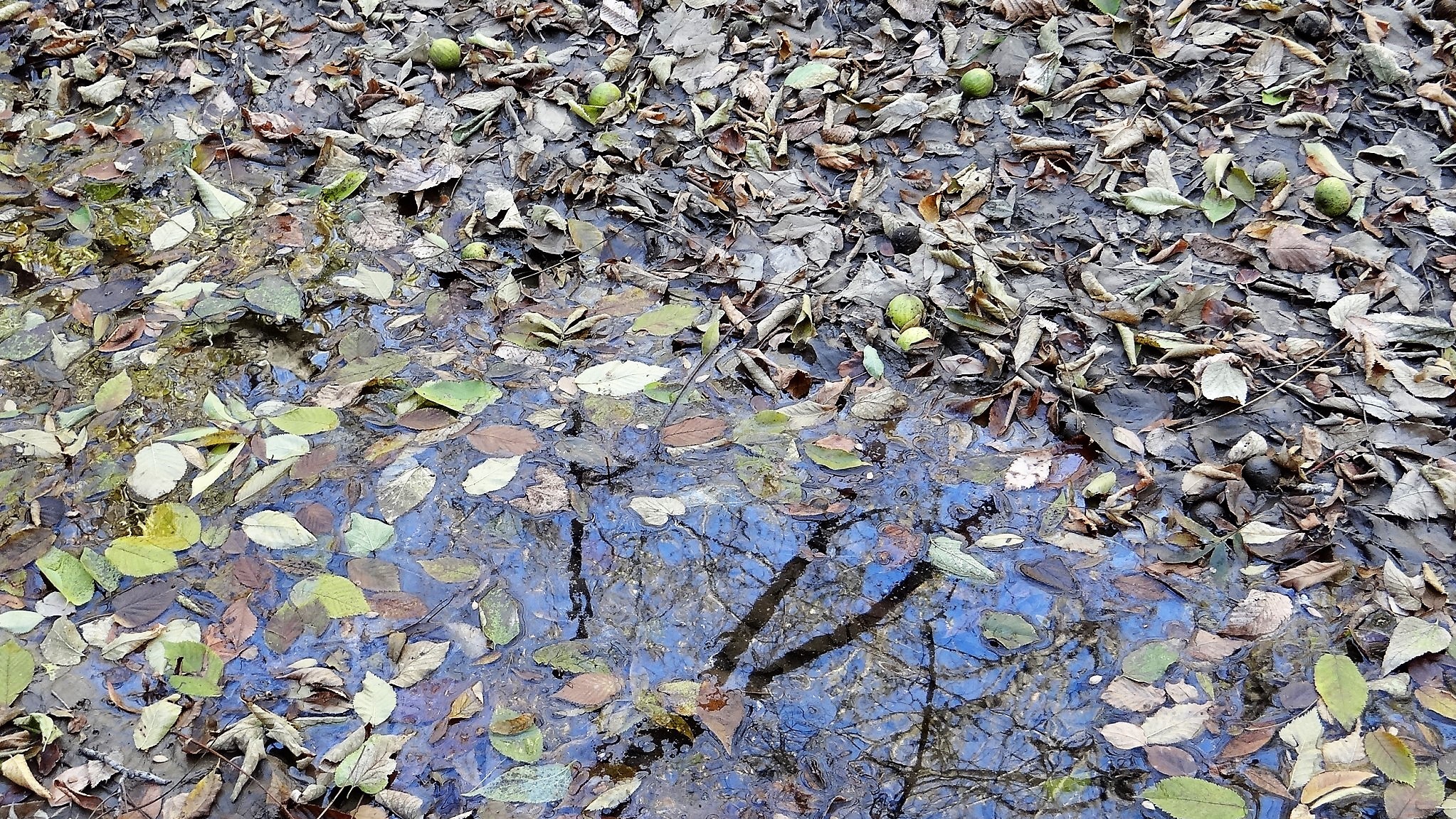 According to the Nebraska Forest Service at the University of Nebraska-Lincoln, the eastern black walnut, Juglans nigra, at maturity, grows up to 40-60 feet tall and has a tree spread of 35-50 feet. The species is native to much of the central and eastern US and occurs naturally in river-edge woodlands of eastern Nebraska and follows the Niobrara River as far west as western Cherry County.
Black walnut trees are being diced up for their prized wood found at the base of trunks and in the roots of old trees. The thefts of these trees go beyond being a major annoyance for farmers, large acreage owners and land managers, they represent a new wave of destruction in the forest landscape and to high-quality woodland habitat for wildlife.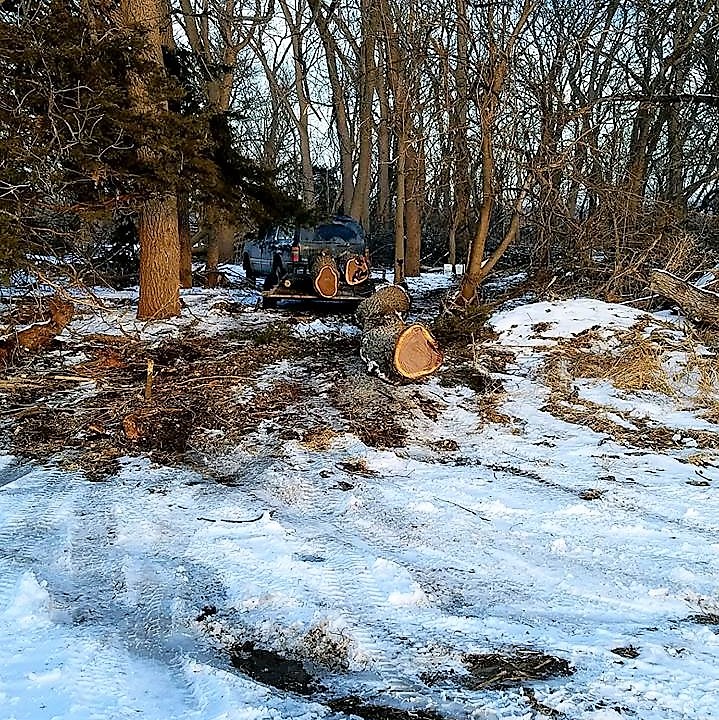 Sure, most of us know that walnut wood is high-end, it has been for a long time. But, why would someone go to all the effort of trespassing by driving through farm fields, pastures or woodlands at low light or at night with a truck or SUV towing a trailer to speedily chainsaw-cut, trim and load heavy mature walnut trees in an expanse of timber? Why?
One word – money. And, there is money in log numbers, size, age and condition.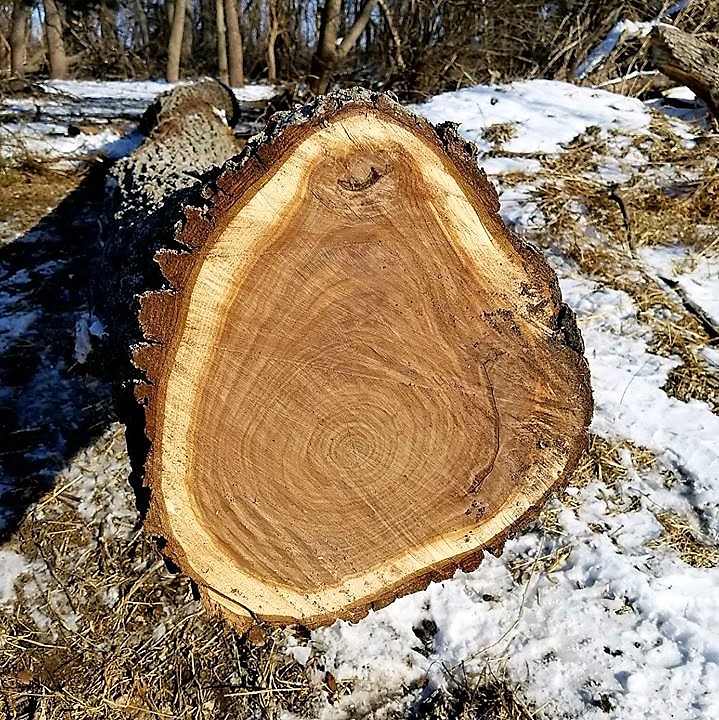 The motivation for thieves to steal black walnut trees is the same as it is to steal any item – profit or financial gain. Superior quality, fresh cut walnut logs sell for good prices at lumber mills these days, whether they are veneer, prime or lumber grade. In fact, the market is good for walnut wood right now, much more so than for scrap metal.
Please keep in mind though that most of the independent loggers in the Midwest legitimately contract with private landowners for the proper harvest of their walnut timber.
Walnut truly is among the finest wood in the world. In the past, the warm, brown hardwood was used lavishly in homes, barns, cabins and fences. Today it is used for upscale furniture, veneer, gunstocks, moldings and custom cabinetry. It is said that walnut is in great demand internationally for specialty woodworking including flooring and furniture wood inlays.
Eastern black walnut trees are specifically sought for their rich, dark heartwood. Not only is the wood moderately dense and strong for its weight, it's also exceptionally stable when dry. It machines well — leaving no splinters or rough edges — and is excellent for carving and shaping.
Back to that scenario now.
I received a cell phone call from a landowner friend in western Douglas County, NE during the afternoon on Wednesday, February 13, 2019.
The rural landowner, Tim, stated that while driving on the county road a short distance from his lane, he saw deep-rooted vehicle tracks in the snow cover of his neighbor's harvested soybean field leading to a patch of woods. In those woods he caught the glint of a motor vehicle park there.
He was asking me what hunting seasons were still open, if that could be a hunter parked there and what I thought about the situation.
I told him that this was very suspicious and would have it checked out. I immediately phoned Nebraska conservation officer Rich Berggren of Waterloo, to inform him of the circumstances.
Officer Berggren agreed that the situation sounded rather strange, and said he would be on the scene in a short while..
Upon arriving, he made contact with an individual who was sleeping in a full-size SUV with a trailer hitched to it carrying black walnut tree logs in the middle of the patch of woods.
The person had clear-cut a path into the patch of woods in order to hide his vehicle while illegally harvesting walnut trees.
Officer Berggren obtained ID from the party and determined he did not know the landowner of the property and did not have permission to be on it.
Officer Berggren then contacted Mike, the landowner of the property, by phone. Mike showed up on his premises and wanted to press criminal charges. The party was appropriately cited and the individual was made to the remove logs from his trailer onto the landowner Mike's property.
Additional law enforcement assistance was provided by the Douglas County Sheriffs' Office and Waterloo Police Department.
Sadly, the best of the old-growth walnut trees had been illegally harvested from this patch of woods near the Platte River in western Douglas County, Nebraska. Some of these large, old black walnuts are estimated to have taken root around a century ago. Other native hardwood trees and woodland plants were destroyed in the process of cutting and stealing the big black walnuts. The damage is severe and permanent.
Steve Griebel, conservation officer with the Iowa Department of Natural Resources based out of Woodbury, puts it best when he says that illegally removing a black walnut tree that is 100 years or older is like poaching a massive, 200-inch class white-tailed buck. It is the wrongful elimination of the prime, best, reproducing-genetics of a species, he points out. 
To prevent trespassing and walnut timber theft, conservation officer Berggren, stresses vigilance: "Keep an eye out for something out of the ordinary in rural areas. Get to know your neighbors. Look out for each other. Have your own community watch program. Note any trucks, trailers, chain-sawing activity and wood-cutters that don't belong on a given piece of property."
He adds if you see something questionable or witness law violations like trespassing or theft, do not approach the situation on your own, immediately call 9-1-1 or Nebraska Wildlife Crimestoppers at 1-800-742-SNAP (7627).
Berggren says that walnut wood is the new scrap metal for thieves trying to get quick cash. "In the past, farms were burglarized for implement batteries, irrigation pipe and copper wiring, they were the means for criminals to obtain fast money in the countryside," he said. "But now, because metal prices have dropped, thieves are taking to timbered areas without permission to cut down walnut trees to sell at saw mills for decent money."
For officer Berggren, this is the second known case of walnut theft in his primary patrol area of Douglas County. Also, Nebraska conservation officer Steve Oberg of Columbus said that a squirrel hunter on a state wildlife management area near Monroe, NE reported to him in late January that black walnut trees had been illegally cut and taken from that location.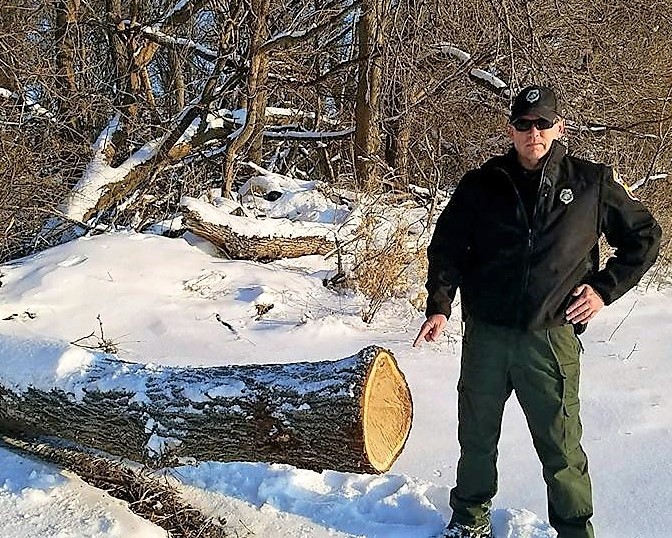 The problem is even more widespread in Iowa and Missouri.
Some of you may be thinking: So, what's all the fuss about a few trees?
Walnut timber theft is enormously destructive to the victims, to the lawful logging industry, and to the environment.
Walnut trees are extremely valuable to woodland ecosystems. The nuts are eaten by mice, squirrels, raccoons, and many species of birds including the wild turkey. Studies show the nuts comprise 10 percent of the eastern fox squirrel's diet. The leaves are browsed by white-tailed deer. The foliage is also eaten by larvae of luna moths, regal moths, and others. The presence of such caterpillars naturally attracts warblers and other insectivorous birds. Squirrels also benefit the perpetuation of this species by distributing and burying seeds of black walnuts; if the seeds are not reclaimed by individual squirrels, they will germinate and help disperse the species.
For us, the black walnut makes for a great shade tree, lowers energy costs, reduces the carbon footprint and increases the value of property. Interestingly, one large, mature walnut tree can supply a day's worth of oxygen for four people. The outside hulls of black walnuts are used to dye traps. The nut of the walnut provides us with a nutritious, tasty food that is eaten by itself or often added to desserts, salads, oatmeal, yogurt and fish and chicken recipes.
Nebraska's native black walnut trees offer humans and wildlife many benefits, if, that is, they are protected from thieves.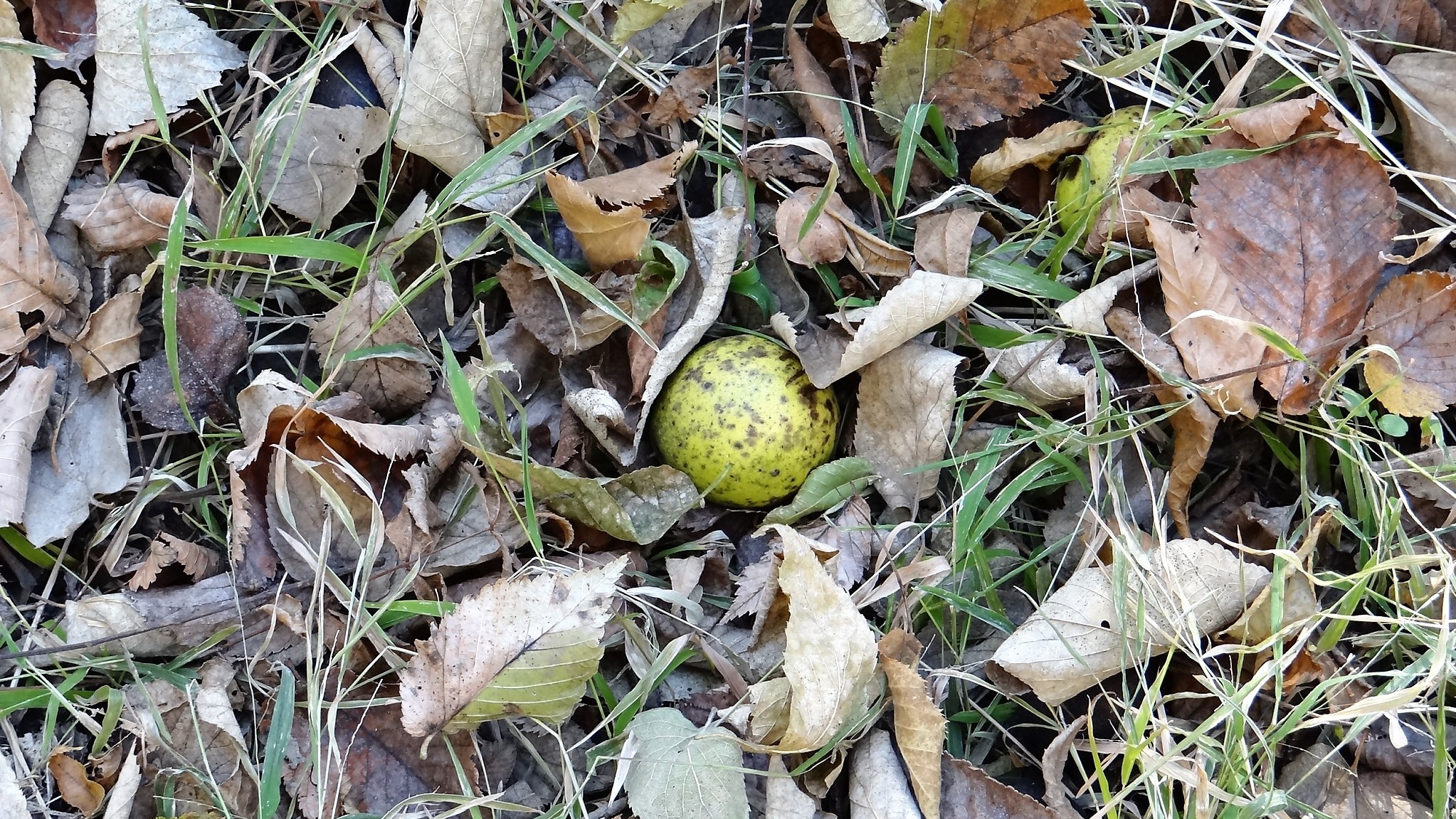 The post Theft of Black Walnut Trees appeared first on Nebraskaland Magazine.