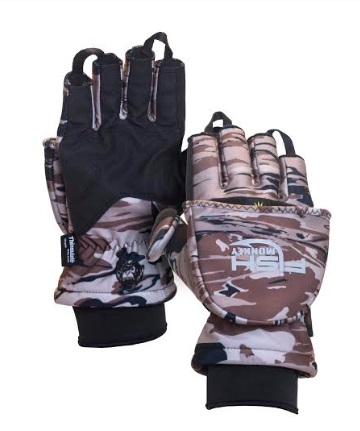 Cold, wet weather hurts hands. More to the point, frosty phalanges make for awfully sloppy work, especially with a fishing rod or a shotgun in your hands. Envelop said hands in dryness and warmth, however, and the results speak for themselves: fish on the line and birds in the bag.
The new leader in intelligently designed fishing gloves, Fish Monkey features the single most comprehensive line of condition- and situation-specific angling gloves available. Among its nineteen diverse glove styles, Fish Monkey offers seven distinct models that beat back cold-weather so you can concentrate on getting the job done.
Decades-long veteran of the northern Minnesota fall and winter fishing scene, professional angler Steve Pennaz remains a steadfast fan of Fish Monkey hand protection. "Few places on earth expose outdoors folks to taxing elements like the Northcountry," says Pennaz, host of TV's Lake Commandos and Stone Cold Fishing.
"For all around protection from biting winds, rain and snow, Fish Monkey's Tundra Insulated Mitten Glove (MSRP $69.95) is absolutely standard equipment, whether I'm trolling for walleyes on a big windswept lake or crouched over a hole in the ice, jigging for lake trout."
As a convertible mitten and a glove all in one garment, the Tundra provides both the unbeatable warmth of full-finger protection and the dexterity of a half-finger glove.
"There's simply no getting around the fact we need our fingertips to tie knots and perform other precision work while fishing. You can either go totally gloveless and freeze after-the-fact. Or, wear mittens and stay warm, but completely lose your ability to detect bites.
"The ultimate alternative—thanks to Fish Monkey's Tundra Mitten Glove—is to benefit from warm hands and dexterity in one versatile, high-quality hand garment. Love that I can pack hand-warmers into Fish Monkey's integrated mitten pocket for extra heat. And when I need to remove them fast, the engineers even included super-strong finger pulls; no more turning gloves inside out to get them off."
Constructed of water- and wind-proof fabrics, and packed with Thinsulate
insulation, Fish Monkey's two-in-one mitten-glove flips open for fingertip functions and closes quickly to lock warmth back in. Polar Fleece lining adds a secondary layer of comfort, while a PU Leather Monkey Grip palm provides a non-slip grip. Extended neoprene cuffs hold in the heat.
New for fall and winter, Fish Monkey also just unveiled its Tundra EX Series (MSRP $69.95) —a totally waterproof, premium insulated full finger fishing glove. Fish Monkey's "Cold Busting Technology" wraps your hands in total warmth, dryness and comfort, while you focus on the task at hand and take your winter fishing to the next level.
Look for Fish Monkey's full line of angler-centric hand wear at your local retailer or visit www.fishmonkeygloves.com for more information. Browse Fish Monkey's 2019 Catalog at http://www.fishmonkeygloves.net/catalog/2019/.
The post The Ultimate Hand Protection Against the Tundra appeared first on .