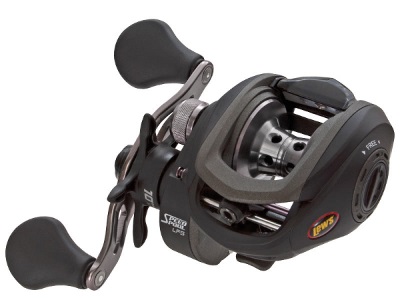 The innovative LFS (Lighter, Faster, Stronger) platform from Lew's offers a lighter and more compact profile while maintaining the strength required for the toughest conditions. This year at the 2018 ICAST Show in Orlando, Lew's relaunches the LFS Speed Spool, the ideal choice for the competitive weekend angler who demands quality equipment at an affordable price.
The Lew's LFS Speed Spool houses a premium 10 bearing system with stainless steel double shielded bearings and Zero Reverse one-way clutch. The new P2 Super Pinion bearing supported pinion gear provides precise alignment and solid stability, resulting in a smoother operation and extended gear life. This reel also features a Durable Rulon drag system which provides up to 15lbs. of drag power, as well as an Anodized bowed aluminum 95mm reel handle with Lew's® custom SoftTouch paddle handle knobs which are ideal for getting fish out of the thickest of cover.
The redesigned Lew's Speed Spool LFS baitcast reel is offered in both right and left handed models and in 3 different gear ratios: 5.6:1, 6.8:1 and 7.5:1.
Best of all, what many love so much about this real hasn't changed. Quite possibly the best value packed real on the market, the Speed Spool LFS is still offered at $99.99 MSRP.
The post Lew's Relaunches Speed Spool LFS Baitcast Reel appeared first on .