By Chris Mihailides
Special to Outdoor Enthusiast Lifestyle Magazine
Waking up on this Thursday, I had no idea what was in store for me.  My dad came in as he always does, to get me up at 6:15 am to have my usual Eggo's or cereal or even his occasional homemade pancakes before hitting the school bus at 7:00 am.  What was different today?  Dad asked "what are you doing this Saturday?"  "Why?" I replied.  He said snippily, "Do you have plans or what?"  My reply, "No".  He said, "You do now!"  So when Friday night arrived, dad started pulling out his fancy hunting clothes and took some of his larger sized items and said, "Try these on."  Some sort of fit, as I'm about 35 pounds larger than my dad and still growing at 16.  You see, football's my thing but I do enjoy other sports.  I would say my second favorite is hunting birds with my dad.  I really love my dad.  Being from Foster, Rhode Island and growing up on 65 acres of private lands allowed us the opportunity to hunt birds from time to time.  And those memories will forever be a treasure in my mind.  While dad was getting me fitted he asked if I knew what we were doing in the morning.  "Duh" I replied, "Going bird hunting?"  "Brilliant" he replied, "I raised a genius!  Pheasant hunting actually, maybe a few quails and a chuckar or two.  This is the best pheasant hunt in New England, son."
The morning came with no Eggo's but dad said, "Don't worry, we'll be eating like kings today.  Off to The Preserve we went.  I knew nothing of The Preserve, although I had heard many commercials on the radio speaking to the longest shooting range in the country, but beyond that, nothing.  When we arrived, we drove down the long wooded driveway with product flags lining the trees, names like Beretta, Sig Sauer, Glock and many more jump out at you and start to get your heart pumping. We then arrived at the guard shack, greeting by an armed guard stating "Good morning gentleman and welcome to The Preserve, may I ask the nature of your business today?"  Dad told him we were here for the European Hightower Continental Hunt and gave our names. The guard checked us off his list and stated "We have been expecting you, please proceed to the main parking lot and head on into The Lodge.  It will be the first building you see on your left.  Enjoy your day gentleman and thank you for visiting The Preserve!"  I thought this was way, way cool! As we continued down the wooded driveway, it opened up to a shocking area with beautiful landscaped grounds surrounding a circular parking lot with an island and The Lodge to the left. The island had a giant brass statue of a ram smack dab in the middle and there was a bunch of townhouses straight ahead and the most magical store to the right which I learned was an outdoor enthusiast superstore called The Sporting Shoppe.  We first stopped at The Sporting Shoppe where I was instantly blown away. It was like walking into a museum.  Taxidermy animals everywhere you looked.  Birds, elk, mountain lions, bears and of course The Preserve mascot, the ram.  We were greeted by a couple of great guys who helped my dad with his ammo requests and gave me some hearing protection in anticipation of me shooting, then we left the building and headed for The Lodge.  Upon arrival at The Lodge, we were immediately greeted at the registration table by one of the staff members to check us in.  We were asked if we wanted to participate in the Money Bird Contest to which my father immediately responded, "Sure do," and paid fifty dollars for him and fifty for me. Man I really love my dad!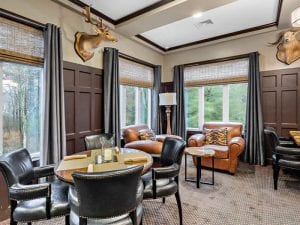 We were then escorted to the Members Bar Area.  Wow, this room was as nice as any you have ever seen.  It too was adorned with trophies all around the walls.  Very cool.  A coffee station was set up and I could smell the food which was about to be displayed in the Members Dining Area.  And what a display it was: beef tenderloin corned beef hash, an omelet station, complete with a chef with a big white hat on!  Eggs, maple smoked bacon, some of the best sausage you have ever eaten, Belgian waffles, fresh fruit, bagels, toast and all the fixings.  Coffee, tea, juice hot cocoa, even one guy drinking Diet Coke with his eggs!  After several helpings, I was stuffed, in a good way and anxious as to what would happen next.  Shortly after we ate, it was announced that the safety briefing and discussion on the day would be taking place in the reception area in just about 10 minutes.  I said to my dad, "Lets go early, I want to be sure we get a seat next to the guy giving the instructions in case I have any questions."  My dad was obviously thrilled by my enthusiasm.  "Sure son, lets head there right now and be the first."  Man I really love my dad.
The safety briefing lasted about 20 minutes and was filled with humor and fun but most importantly, it spoke to safety being the first priority of The Preserve and this European Hightower Continental Hunt.  Man was I ever excited!  Time to draw pegs, it was announced and the 12 newly paired shooters stood around the Hunt Master as he pulled out a leather pouch with metal numbered stamped tags.  They were numbers one though 12, for each of the pegs to start our day.  Names were called, first group got 11, the second nine, the third four, then it was dads turn.  He looked at me and said, "You pull son," Man I really love my dad. I pulled number one and everyone cheered!  Not sure why, but it sure felt great!  We loaded up (literally), grabbing what we wanted to bring as all our needs were taken care of by The Preserve.  There was food, drinks, ammo and our firearms waiting for us in our reserved lifted golf cart.  The cart was really neat, it was about a foot higher than a traditional golf cart, had gun racks and a full front shield and some serious pep when you called for it!
Off we went as we were instructed to follow the Hunt Master.  Up the hill we started to climb, and this was a serious hill!  As my head was pushed back like a roller coaster going up, I could see the high tower top!  It was awesome; there were crates being hoisted by cranes and it was really exciting to look at.  And was it ever high
!  Dad said, "There it is buddy, that's where the birds fly from.  We are going to have a great time," as he patted my left leg.  Man I really love my dad.
And there it was. Station one, peg one or bung one if you want to use hunters terms.  It was like an above ground bunker with cedar logs stacked in a perfect semi-circle with a tan wood chip basin.  This thing was cool. Our guide Dan and Biscuit, his best friend, were waiting for us with a warm hello and a tail wag.  The rest of the participants went past as they headed to their number station.  There's the perk to picking number one: you get to your bung first and get to enjoy another cup of hot chocolate and chat with Dan about what we could expect.
Speaking of hot chocolate, I neglected to mention it was a balmy 45 degrees out with an ever so mild breeze coming in from the east.  It was perfect bird hunting weather.  Then all of a sudden, Dan's walkie-talkie rang like an old telephone ring, then the Hunt Masters voice came on stating, "Gentleman and ladies, time for our hunt to begin.  Assume your positions.  Station One ready? Ready. Station Two ready? Ready.  Station Three ready? Ready.  All the way to 12.  Then it happened. The horn blew like a World War One warning of an incoming bomb, but there were no bombs, there were birds!  The pattering of shotguns going off was exhilarating. Bam! Bam! The sound of my dad's gun to my left and then my own as I squeezed my trigger two times quickly.  "I hit him," I exclaimed, "On my first shot dad!"  "Way to go son," he screamed, as Biscuit went off on Dan's command to retrieve my pheasant.  Back in seconds was Biscuit and my bird!  Wow this was unreal!  We continued to fire on the incoming birds while continuously getting safety tips from Dan, until we received the cease fire order from the Hunt Master.  We moved from station to station every 15 minutes, repeating the same ready checks as we moved.  While ready at Station 10, suddenly my dad screamed, "Son there's the Money Bird, take the shot!"  And there it was, a magnificent sight to see.
A pheasant had a long nylon flag tied to it as it soared toward the earth.  Pop pop, and feathers flew.  Dad bellowed, "You got it son!  You shot the Money Bird!" Immediately Dan ordered Biscuit to retrieve my prize, and that he did.  This was the best day of my life.  Man I really love my dad.
We moved in order to each of the stations, each with its own unique look at the high tower.  When the hunt ended, we were guided back to The Lodge for what was the best meal of my life.  Pheasant endive, boar sausage stuffed mushrooms, pheasant salad on toasted brochette bread, tossed salad with all the fixings with a honey dressing made with honey from The Preserve's bee hives, surf and turf lobster tail and tenderloin with homegrown vegetables from The Preserve gardens.  This was unreal!  And the dessert table, like anyone had any room for dessert!  But man, it was like shopping at the dessert store!  Cookies, cakes, brownies, ice cream, candy and on and on and on it went.  We laughed and joked while some of the grownup drank brandy and enjoyed a cigar on the deck.  The owner of the facility came in and gave us all some kind words of appreciation and then stated its time for me to announce our winners of the Money Bird Contest.  And just like that he called my name. "Brian," he said, "The winner of one of our Money Bird prize".  The place roared with cheers and applause from all the participants, guests, staff and the owner himself as he handed me an envelope with six hundred dollars in it.  I nearly cried.  I have never had so much money before.  I thought for a second and I tried to hand the envelope to my dad and said "You take it dad, you should have this."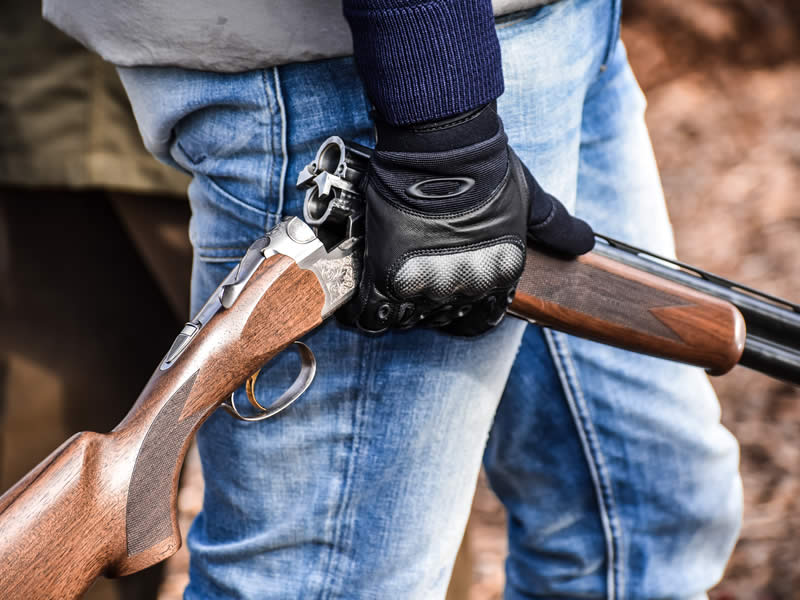 My dad looked at me, rubbed my head and said with a tear in his eye, "I'm proud of you son, you earned that money, you keep it. Thank you for spending this day with your old man."  And what a day it was.  This day will be a day I will cherish for my entire life.  Man I really love my dad.  Thank you to The Preserve.