Wide Open Spaces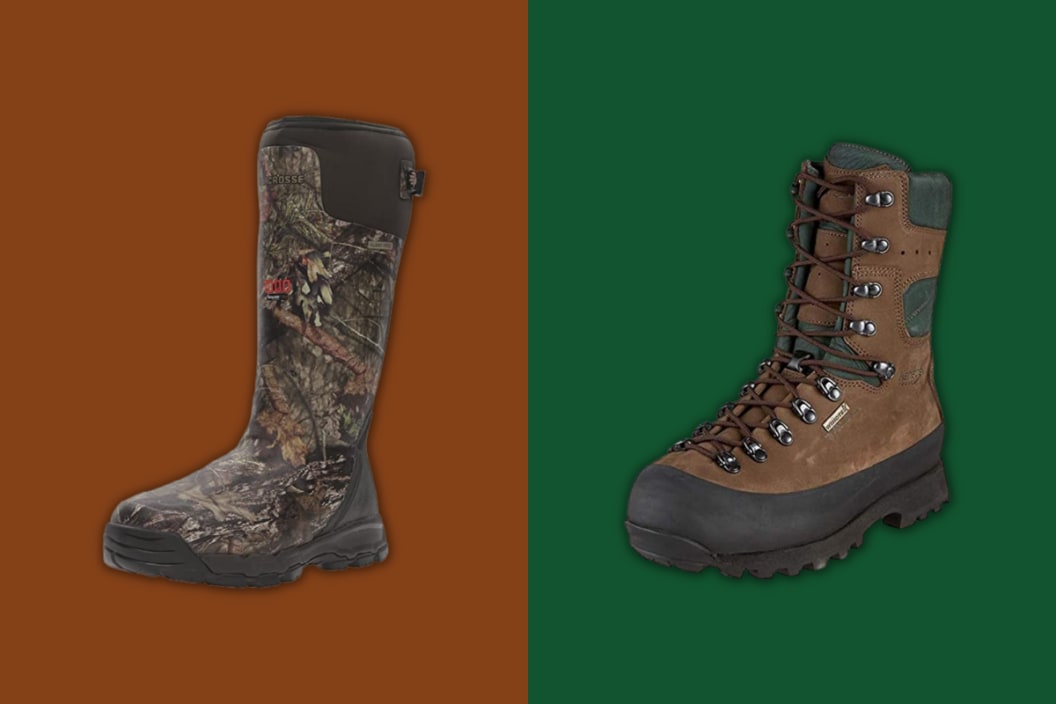 Editor's Note: Products featured on Wide Open Spaces are independently selected by our editors. However, when you buy something through our links, we may earn a commission.
If you're like me and hunt straight through the season, chances are you're going to be in some seriously cold and wet weather, and your feet will suffer without the right footwear. A reliable pair of insulated hunting boots will help you stay in the field for longer, providing multiple layers of protection and insulation against frigid temperatures, soggy ground, and snow. And on some days? You'll be faced with all of the above. My hands and feet are the first to get miserably cold during any cold-weather hunt, but it still took me a few seasons to finally relent and purchase a pair of high-quality insulated hunting boots. They were worth the investment, and I wear them during my outdoor job all winter as well as throughout the hunting season.
Insulated hunting boots are available in different insulation weights, and will have some variation in materials, outsoles, and features. Choose your boots based on your season and intended use. A hiking-style insulated boot will be better for long stalks and covering plenty of ground, but you'll want something burlier for tree stand sitting. Waterfowl hunting from a blind needs a lot of insulation and reliable waterproofing. If you're packing in on horseback, be sure to get a boot with a heel for riding and a narrower toe to avoid getting stuck in your stirrups. These are my picks for insulated hunting boots for a variety of hunting styles and warmth factors. Keep in mind that footwear is an individual choice, and what works for me might not work for you. I recommend trying boots on first before going out hunting, and keeping in mind you'll be wearing heavier socks, so sizing up (within reason) isn't a bad idea.
1. Most Versatile Insulated Hunting Boot
Equally adept at handling both wet and cold terrain, these boots will take you from mid-season hikes to late-season whitetail stands. I gave this boot the "Most Versatile" label because along with the waterproofing and insulation, this boot can handle long hikes with a heavy pack thanks to excellent support and a burly outsole with stellar traction. The Kenetrek Mountain Extreme 400 has 400 grams of Thinsulate insulation, all in a relatively lightweight package compared to similar models. This means you get the warmth and protection without the energy expenditure of dragging several pounds of footwear over mountains. These boots have a leather upper with a Windtex waterproof membrane, and a reinforced seam between the sole and the upper, lasting longer against splits and staying fully protected in areas where other boots might fail and allow water to seep through.
2. An Insulated Boot for Horse Packing
Schnee's Western Packer ADV 10″ – Schnee's, $299
The narrower toe, angled heel, and modified outsole make these hefty boots perfect for long days in the saddle tracking elk, getting to and from camp, and packing animals out. These are boots you can wear all day in bitter cold and barely feel anything, though they aren't my top pick for long hikes purely due to how heavy they are. While other insulated boots have felt too bulky for stirrups, I feel confident in almost any standard stirrups wearing these boots, sliding in and out easily for mounting and dismounting. They have thick felt liners for insulation, and reinforced toes with durable rubber. Schnee's uses a Goodyear rubber on the outsole with a patterning optimized for riding, without the deep lugs of hiking-style boots.
3. The Best Boots for Covering Rugged Miles on Foot
Scarpa x KUIU -Evolution K 8 HD – KUIU, $279
Combining a hiking boot with the stability needed for some of the trickiest terrain, KUIU's shorter model of the the R-Evolution was made for off-trail scree fields, gnarly sidehills, and rugged passages through underbrush. KUIU partnered with Scarpa for this hiking-hunting combo, coming up with the best of both worlds in a relatively lightweight package with influence from the mountaineering world crossing over into the hunting category. The pair of boots weighs just three pounds, and uses a synthetic upper for more flexibility and an H-Dry Membrane with a lining for temperature control without losing waterproofing. These are definitely cold-weather boots, but they're made for being on the move so they don't have the same level of insulation as others on this list. I recommend carrying toe or foot warmers for long glassing periods.
4. The Best Insulated Boots for Waterfowl Hunting
These tall, waterproof, insulated boots are ideal for long days in the blind or stomping through calf-deep marsh. The height is more than 16 inches from the arch, providing plenty of coverage for wet slogs and retrieves. Due to the rubber outer materials, these aren't the most breathable boots on the market, so I don't wear them for long hikes, but for waterfowl hunts where a lot of sitting is punctuated by short walks, these boots can't be beat. These boots are tall enough that they could be annoying to pull on and off, but the adjustable gusset opens up the back for easy changing and adjusting with a quick pull on the tab. There are a few different versions of these boots with different levels of Thinsulate layered between a neoprene liner and the rubber outer, creating a warm, flexible, waterproof boot to last many waterfowl seasons.
5. The Best Waterproof Insulated Hunting Boot
These incredibly warm boots come with 1200 grams of insulation, keeping your toes protected in the most bitter cold. Combining the top-tier materials of Gore-Tex and PrimaLoft, these boots are a worthy counter to sleet, ice, snow, and wet conditions tracking up and down the mountainside. Unlike some tighter packed, heavier insulation, the use of PrimaLoft keeps the weight down without losing warmth, and the Gore-Tex membrane is known for being among the most breathable waterproof membrane on the market. Continuing the lineup of top-tier materials, the boots have a Vibram outsole for excellent traction on wet and dry terrain, plus a quality leather upper that resists abrasion and becomes more and more supple with time. The construction and name-brand materials mean these boots cost a pretty penny, but the durability and design make them a worthwhile investment.
The post The 5 Best Insulated Hunting Boots, According to a Cold Weather Hunter appeared first on Wide Open Spaces.