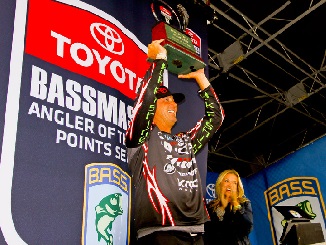 Gerald Swindle of Guntersville, Ala., clinched his second Angler of the Year title since 2004 at the Toyota Bassmaster Angler of the Year Championship at Mille Lacs Lake in central Minnesota.
 
A total purse of $1 million was paid out to the Top 50 Bassmaster Elite Series pros, along with berths to the 2017 GEICO Bassmaster Classic presented by GoPro. Swindle collected $100,000, and the remaining 49 anglers earned shares of the remaining $900,000.
 
The Top 39 anglers at this event will be competing in the Classic next March on Lake Conroe near Houston, Texas.
 
Swindle, a 15-time Bassmaster Classic qualifier, struggled to catch competitive limits on Mille Lacs Lake during the first two days of the championship, but he figured out the fish on the final day of the championship today, bringing in a five-fish limit of smallmouth bass that weighed 22 pounds.
 
"The last thing I wanted was to win this title without catching the kind of fish that Mille Lacs is known for producing," Swindle said. "I left the docks this morning with the full intention of going out and catching them how I wanted to catch them. I threw a jerkbait and a vibrating jig and had an awesome day. Sometimes you just have to go with your gut."
 
Swindle said a 7-pound largemouth he caught during the Academy Sports + Outdoors Bassmaster Elite at Wheeler Lake in Decatur, Ala., in late April was the turning point for his season.
"When I caught that fish, I knew that I was back in the AOY race, and I decided right then and there to ride that momentum to the end of the season," he said. "Of course it was long from over at that point, but looking back, that fish changed the season for me."
 
An emotional Swindle, with his wife LeAnn by his side, explained how humbled and grateful he is for the opportunity to earn a title of this magnitude.
 
"My parents were in the crowd to watch me win AOY," Swindle said. "And my wife has stuck by me, through thick and thin — she's kept my head in the game and helped me stay focused when it was most important. I'm so thankful for the support I receive from her and my family. This is a team sport for the Swindles, and it's a victory we all get to celebrate together."
 
While Swindle was surrounded by media, LeAnn talked about how much this title means when compared to the 2004 AOY title.
 
"Honestly, I really had no idea back in 2004 how hard it was to win Angler of the Year, and how highly respected the title is," she said. "He puts his heart and soul into this sport, and not because he has to, but because he loves it. We're so blessed to be here, and no one is more proud of him than I am."
 
The objective of any bass tournament is to catch the most and the biggest bass, but this tournament was won by points accrued throughout the season.
 
However, Seth Feider of Bloomington, Minn., wowed his hometown crowd after producing an enormous limit of smallmouth bass that weighed 26-2 — his largest limit across the three days, and the best performance of the tournament.
 
"After the Potomac River event in August, I wasn't sure fishing this tournament was going to be a possibility," Feider said. "It's really a dream come true, and I'm very proud of Minnesota for showing off the best smallmouth bass fishery in the world."
 
Last week, Feider was able to make a solid comeback during the Plano Bassmaster Elite at Mississippi River presented by Favorite Fishing out of La Crosse, where he finished in second place.
 
"To beat these guys anywhere is an accomplishment not to be overlooked, but to do that at home on two fisheries I care deeply about means the world to me," he said. "Having my friends and family here made it even sweeter."
 
Feider caught all of his bass on a drop shot rig near large rocks. He said the key was being patient and fishing slowly.
 
"There were times I'd leave my bait on the bottom for several minutes and not move it," he said. "It took time, but thanks to my Humminbird electronics, I knew the fish were there."
 
Rounding out the Top 5 in AOY points were Keith Combs of Huntington, Texas, (881); Randall Tharp of Port St. Joe, Fla., (852); Jacob Powroznik of Port Haywood, Va, (830); and Greg Hackney of Gonzales, La., (830).
 
The Top 5 in weight at Mille Lacs included: Feider (76-5); Brent Ehrler of Newport Beach, Calif., (69-13); Dave Lefebre of Erie, Pa, (67-12); Tommy Biffle of Wagoner, Okla., (67-5); and James Elam of Tulsa, Okla., (67-3).
The post Swindle Wins Second Angler Of The Year Title appeared first on .