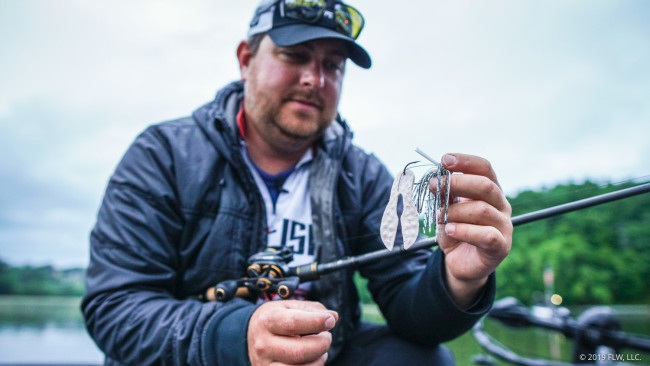 Most people probably don't equate Lake Chickamauga to spinning rods and finesse techniques, but both were prevalent during the FLW Tour event presented by Evinrude on Chick. Plenty of pros threw swimbaits, jigs and crankbaits, but the common thread among most of the top 10 is the use of a stick bait (usually wacky- or Texas-rigged) to target bedding or postspawn fish still hanging in the shallows.  Here's a look at what the top 10 pros used to catch their fish at Chickamauga. Complete results        John Cox's winning pattern
1. When John Cox was trying to tempt bedding bass to bite, he did it with a wacky-rigged 6-inch Berkley PowerBait MaxScent The General in the baby bass color. He also caught some key fish on a white Dirty Jigs Swim Jig with a white Berkley PowerBait MaxScent Meaty Chunk trailer. 
2. Buddy Gross relied on a handful of moving baits to land his best fish at Chickamauga. He employed Scottsboro Tackle 5-inch and 6-inch swimbaits as well as a Zoom Swimmer and a Lucky Craft SKT MR crankbait. He rigged the 5-inch Scottsboro on an Owner Flashy Swimmer (1/2 ounce) and the 6-inch on a Scottsboro 1-ounce head. He changed out the hooks on his crankbait to Owner treble hooks.
3. Ron Nelson relied heavily on a Yamamoto Senko to do his damage. He rigged it both wacky-style and Texas-rigged (with a 1/32-ounce weight in the wind) and used black and blue, black, and green pumpkin colors. He also used a Jewel Bait football jig with a Strike King Rage Tail Craw trailer and a 3/4-ounce XCalibur rattle bait (silver and black).
4. Matt Greenblatt only used two baits on his one spot all week: a 5-inch Yamamoto Senko and a 5-inch Zoom Speed Worm, both in watermelon red with the tails dipped in Spike-It worm dye. He rigged the Senko weightless and wacky-style on a VMC No. 2 hook with a weedguard. The Speed Worm was Texas-rigged with a 1/8-ounce weight. 
See the remaining Top 10 at this link – LINK
The post FLW – Top 10 Baits from Lake Chickamauga appeared first on OutDoors Unlimited Media and Magazine.