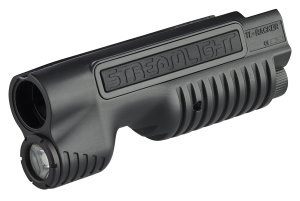 Streamlight® Inc., a leading provider of high-performance lighting and weapon light/laser sighting devices, introduced the TL-Racker

, a  compact, lightweight, all-in-one shotgun forend light, designed to replace forends on Mossberg 500®/590® and Remington 870

pump-action shotguns. With its 850-lumen output and streamlined design that reduces snag hazards, it is ideal for door breaching, close quarter maneuvers and other tactical operations, as well as for home defense needs.
The new weapon light features a sleek, lightweight, ergonomic design that allows for maximum grip and ease of use. The light's large, ambidextrous switch pad provides easy access for both momentary and constant on functions, and accommodates virtually any hand size.  The elongated switch pad allows for thumb or finger activation with no changes in grip; both left and right-handed shooters can use it without having to make modifications to the light or gun.
"The TL-Racker was designed in response to customer need for a lightweight, integrated, ultra-bright shotgun forend light solution," said Streamlight President and Chief Executive Officer Ray Sharrah. "This new light is the whole package, featuring an innovative, ergonomic design that maximizes grip and switch access, and provides extremely bright light, all at an affordable price point."  
Powered by two CR123A lithium batteries, the new light features a customized optic that produces a concentrated beam for multiple applications. Offering a high setting only, the TL-Racker delivers 850 lumens and 14,000 candela with a one-hour constant on run time. It is available in two models, designed to work with either Mossberg 500®/590® or Remington 870

pump-action shotguns.  
With a body constructed from super tough, impact-resistant nylon that is virtually indestructible, the TL-Racker measures 7.94 inches in length and weighs 10.68 ounces. The new model features an IPX4-rated design for weather resistance.
The post STREAMLIGHT YOUR SHOTGUN appeared first on OutDoors Unlimited Media and Magazine.