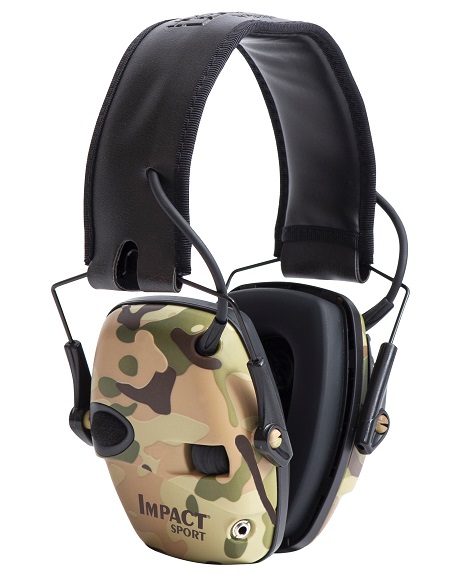 Honeywell's Howard Leigh brand enjoys a 45-year history of industry leadership and technological innovation in sound management and hearing conservation. Today's shooting sports enthusiasts are among the beneficiaries of this legacy, which includes over 160 awarded patents and a proven portfolio of trusted hearing protection products that help recreational and competitive shooters perform their best, while more safely enjoying the activities they love.
Since its introduction, the Honeywell Howard Leight ImpactTM Sport electronic earmuff has become a favored addition to the range bags of shooters throughout the world. Impact Sport's performance, comfort and slim, ergonomic design make it a versatile earmuff for most shooting situations and environments, including rifle, shotgun, handgun, hunting and tactical applications.
Now, this proven performer has become even more versatile, with the addition of three new MULTICAM® covert colors for 2019.
Impact Sport MULTICAM brings the advantages of stealth and concealment to hunters and tactical operators who want to protect their hearing in the field without compromising their cover. Of course, Impact Sport MULTICAM is sure to be appreciated by anyone else who loves the tacticool look.
MULTICAM patterns take advantage of the way the human eye and brain perceive shape, volume and color. Since only a very small portion of the human eye perceives color, the brain does a lot of "filling in" for the eyes. The unique, high-resolution design of MULTICAM causes observers to "see" the pattern as part of the background.
Beneath its new, covert aesthetic, Impact Sport's internal circuitry allows ambient and low-frequency sounds to be safely amplified up to four times to a peak of 82dB, making it easy for wearers to hear range commands or approaching game and conduct conversation, even in noisy environments. Amplification automatically shuts off at 82dB, attenuating hazardous impulse noises from gunfire.
Impact Sport features a sleek, extremely low-profile earcup design with carefully engineered cutouts that allow shooters to shoulder a rifle or shotgun while maintaining clearance from the firearm stock. Lightweight and comfortable for all-day wear, Impact Sport incorporates a padded headband with vertical height adjustments for a secure, non-slip fit. When not in use, the headband and earcups fold for easy, compact storage.
Durable, recessed microphones—one on each side—reduce wind noise while providing stereo sound. This feature—combined with MULTICAM concealment options and up to 4X amplification—makes Impact Sport a great option for hunters or tactical professionals who want to stay concealed and protect their hearing in the field while also increasing their ability to hear game, people and conversation. Impact Sport is also equipped with an external 3.5mm AUX jack and an included cord for convenient connection to a phone, computer, MP3 player or scanner.
Honeywell Howard Leight Impact Sport Electronic Earmuff Features
22dB Noise Reduction Rating (NRR)

Automatically shuts off noise over 82dB

Up to 4X amplification

Sleek, extremely low-profile earcup design with cutout allows for clearance of firearm stock

Adjustable fit

Convenient folding design for easy storage

Premium padded headband

Recessed stereo microphones

Single control knob for on/off and volume adjustment

Efficient power consumption and automatic 4-hour shutoff deliver 350 hours of battery life

AUX jack connects to MP3 players and scanners (3.5mm audio connection cord included)

Powered by two included AAA batteries

Replacement ear cushions available

Available in five solid colors and three MULTICAM colors
Honeywell Howard Leight Impact Sport Electronic Earmuff Models
NEW Original MULTICAM: Item# R-02526 / UPC: 0 33552 02526 9

NEW Black MULTICAM: Item# R-02527 / UPC: 0 33552 02527 6

NEW Alpine MULTICAM: Item# R-02528 / UPC: 0 33552 02528 3

OD Green: Item# R-01526 / UPC: 0 33552 01526 0

Black: Item# R-02524 / UPC: 0 33552 02524 5

Purple: Item# 02522 / UPC: 0 33552 02522 1

Pink: Item# R-02523 / UPC: 0 33552 02523 8

Teal: Item# R-02521 / UPC: 0 33552 02521 4
MSRP: $89.99
Protect you hearing from the hazardous impulse noise produced by your firearm without being left in silence. Honeywell Howard Leight Impact Sport electronic earmuffs deliver smart, slim and comfortable hearing protection, while amplifying ambient sound for a more rewarding experience. Available in five solid colors and three stealthy new MULTICAM options—whether you're a recreational shooter, competitive shooter, tactical professional or hunter—there's an Impact Sport that's right for you.
Note: MULTICAM is a trademark or registered trademark in the United States and/or other countries of Lineweight LLC.  Howard Leight and Impact are trademarks or registered trademarks in the United States and/or other countries of Honeywell International Inc.
The post Shooter-Favorite Hearing Protection Gets New Covert Colors appeared first on OutDoors Unlimited Media and Magazine.