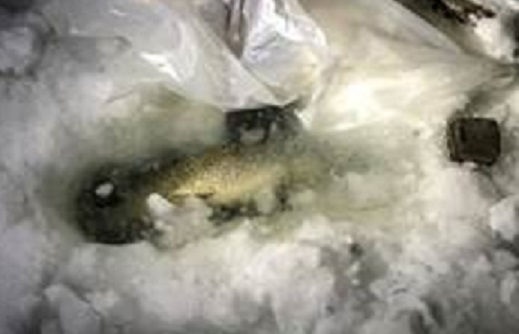 A state conservation officer night-time, snowmobile patrol on an Upstate New York lake recently found and eventually ticketed an ice angler who was trying to cheat and win a prize in a local ice fishing derby. The angler ended up being disqualified from the contest.
That incident and others involving state Department of Environmental Conservation conservation officers took place between Feb. 15-20. All specifics below were supplied by the DEC.
Unsportsmanlike Conduct at Great Sacandaga Fishing Derbies – Fulton County
 "On Feb. 15, ECOs Jason Hilliard and Robert Higgins conducted a night patrol prior to the start of the Great Sacandaga Lake (GSL) Fisheries derby and the Walleye Challenge. 
"The ECOs located tip-ups that had been left out overnight unoccupied, a violation of Environmental Conservation Law. The officers also found a 32-inch northern pike being kept alive and stored in the ice next to an unoccupied fishing shanty. Believing that the fish might be entered into one of the contests, ECOs Hilliard and Keith Kelly returned to the shanty the next morning to interview the angler about leaving his tip-ups unattended."
The post Cheating Ice Angler Thwarted By DEC Officers appeared first on OutDoors Unlimited Media and Magazine.