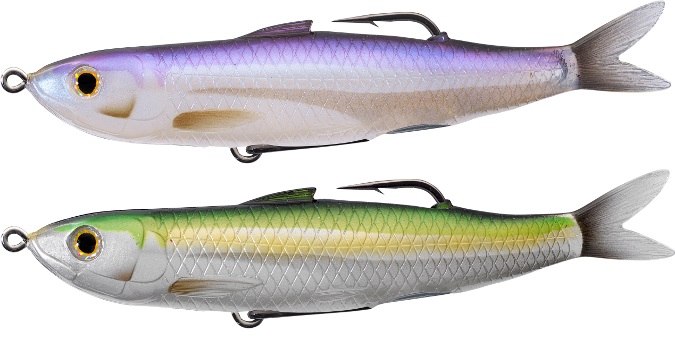 "Shiner" is the common name for one of the most widely distributed, and certainly one of the most important, freshwater forage groups. Supporting gamefish populations throughout North America, the slender, silvery shiner is found in both lakes and rivers, and frequently congregates in massive schools, dimpling the surface as they feed.
Many central sportfish in North America, from walleye and bass to salmon and pike, feast on the shiner buffet, keying in on shiner schools, both small and large, throughout the year. Frequently, these predators feed "up", targeting shimmering shiners near the water's surface. For anglers, this natural relationship establishes a most elegant trap – an opportunity to target predator fish with a purpose-driven, shiner-emulating topwater lure that unites artistry with engineering, form with function.
LIVETARGET, the industry's unparalleled leader in anatomically-accurate, ultra-realistic artificial lures, is at the vanguard of hollow body topwater lure research and development. The popular Hollow Body Frog, Mouse, Sunfish, and Mullet exemplify LIVETARGET's dominance in this category. And now, these award-winning, incredibly effective topwater lures are ready to welcome another strike-triggering, fish-catching wonder into their midst.
Shake fins with the Hollow Body Shiner, a truly innovative lure that is positioned to dominate topwater action anywhere shiners and their relatives thrive.
The LIVETARGET Hollow Body Shiner uniquely replicates a long, slender shiner that is struggling helplessly on the surface, featuring a natural baitfish profile and weedless, hollow body design. Bristling with true-to-life, three-dimensional anatomical features including fins, tail, gill opercles and eyes, the LIVETARGET Hollow Body Shiner puts wary predators at ease, casting the perfect illusion of a living, vulnerable shiner that is about to meet its demise. A library of biomimetic color patterns completes the visual deception, making it possible for anglers to Match the HatchTM on their favorite waterbody.
Biologically-inspired good looks are only the beginning of the LIVETARGET Hollow Body Shiner story. By virtue of its internal weight and balance system, the Hollow Body Shiner swims just like an injured baitfish, fighting to right itself and return to the safety of the deep. The lure's elongated profile – unique within the spectrum of hollow body topwater designs – allows anglers to "walk the dog" with ease, triggering strikes near cover and over open water alike.
When those strikes inevitably occur, this shiner is ready to bite back! Unlike most topwater lures, the LIVETARGET Hollow Body Shiner is armed with an extra-strong, forged single hook that balances perfectly within the slender, baitfish hollow body. The lure's snag-resistant design protects the hook point behind the shiner's dorsal fin, allowing the lure to be fished not only in open water, but also through heavy cover and floating grass – predator-concealing locations that other lures cannot reach.
On the strike, the hollow body collapses with ease, exposing the fish-pinning hardware, so the hook can be driven home – and stay there. The Hollow Body Shiner is also equipped with an accessory belly pin, so anglers can add an accessory treble hook for enhancing hookups in challenging, open-water situations.
The LIVETARGET Hollow Body Shiner is available in three lengths and weights (3 ¾" and 3/8 oz.; 4 ½" and ½ oz.; 5 5/8" and ¾ oz.) and six biomimetic color patterns: Pearl Ghost (154), Silver Flake (155), Amber/Silver Flake (160), Violet Ghost Shiner (161), Metallic Blue Shiner (162), and Metallic Lemon Line (163), making it easy for anglers to select the perfect lure for their favorite body of water. The Hollow Body Shiner will be available in late fall 2018 with an MSRP $13.49-$14.49.
Visit us in Booth #2508 at ICAST 2018 for your first look at our latest innovation in topwater lures: The LIVETARGET Hollow Body Shiner.
The post Bio-Inspired Topwater Shines appeared first on .