Wildlife photography can be very rewarding in many respects. Simply being out in nature at sunrise and sunset trumps sitting in front of a computer checking email and social media. Getting good animal images requires knowing their behavior and mannerisms so you get an education about each species you capture. The feel of fresh air and warm sun on your back as you press the shutter are two bonuses. You get to travel to locations where you may never have gone to capture wildlife photos, so you acquire more culture and become more sophisticated.
With the above being said, they're all great, but the real trophy is coming back with that prize-winning image. When you do, it's exhilarating, rewarding, thrilling and exalting, all of which bring you to the part where it becomes so intoxicating that you have to go back out and do it again. If you've experienced the above, I wish I could see the massive smile you're now wearing.
When photographing animals, there's a magnitude of variables that dictate if you get that "winner."  The subject decides where it wants to go and when it will become mobile. Unfortunately, you can't direct the animal into the location you want that's bathed in great light. You can't coerce him to turn and look in the direction you want. It's not within your power to compel the subject to hunt, nurse, fly, run, wing flap, play with its siblings or perform any other type of behavior.
To get you on your way to having your wildlife photos rise above the level of other wildlife photographers, wait for your subject to display some sort of behavior. Digital photography has raised the bar. Back in the film days, a great portrait of an animal was a winning shot. Today, it's commonplace. To get that photo that shows good behavior, have patience. With each species you encounter, go ahead and make the portrait, but then wait for something special to occur.  Don't give up—wildlife photography is challenging but very satisfying. When it does all come together and you look toward the sky and verbalize "thanks," it will motivate you to go back out in the field again and again.
Lioness and Cub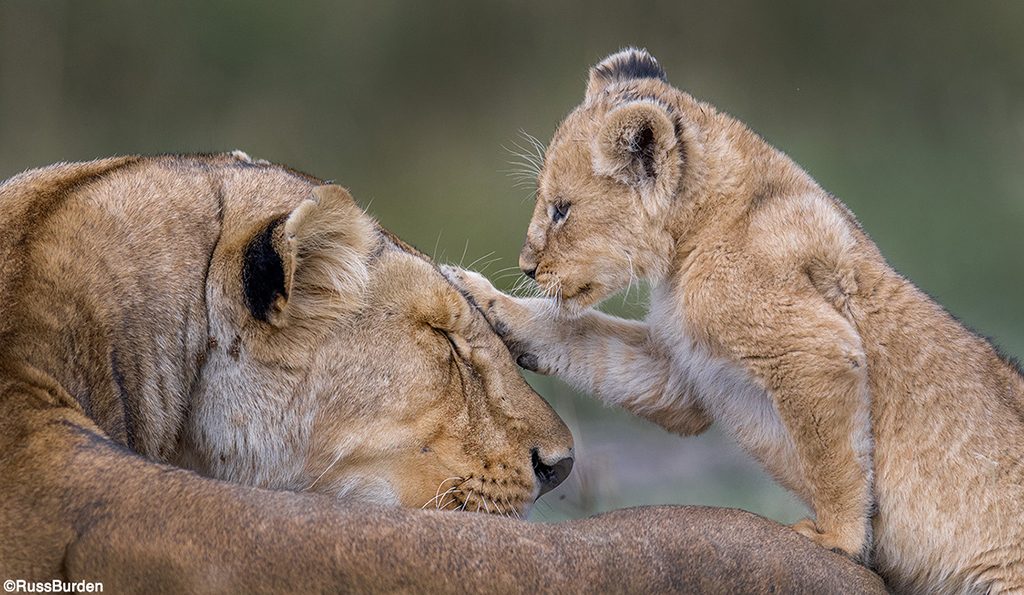 This image was made in Tarangire National Park in Tanzania. The settings were 1/1250 at ƒ/5.0, ISO 400 and made with a 600mm lens.  I wanted the background as much out of focus as possible, so I opened up the aperture. To get the behavior between the two, we parked perpendicular to the momma who was napping on a rock. The cubs were frolicking on their own. This one decided it was time to play with mom. Patience and perseverance paid off. I watched the cub climb the lower part of the rock toward momma. He initially placed both his paws on mom's rump and then, as if the photo gods willed it, took its right front paw and gently placed it on her forehead. It lasted but a second. The behavior displayed by the cub in this photo made waiting totally worth it.
Herons In Silhouette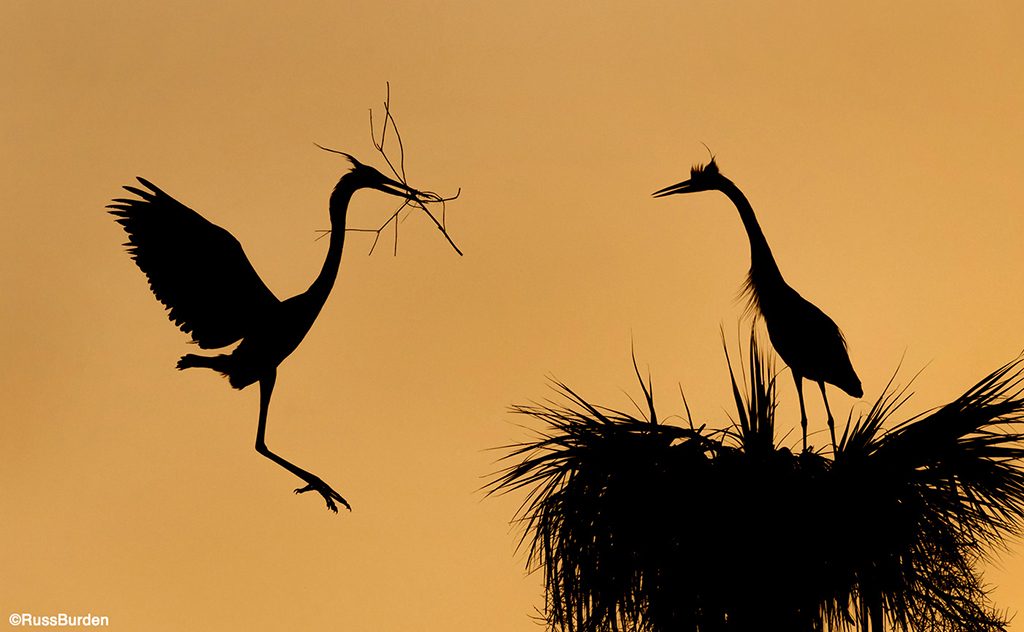 Sunrise and sunset are my favorite times to make images. I especially like to make silhouettes during these times since the color of the sky is much brighter than the backlit animals. The contrast is high, so whatever is in the foreground becomes a delineated form. I was visiting Florida in early March and made a jaunt up to Viera Wetlands for sunrise. I drove the berm to the backside of this palm where great blue herons were in the process of building a nest. Knowing their behavior, they're active in the morning hours. I waited as either the male or female came back with a stick to construct their new nursery. I used a 200-400mm at 1/1600 at f/11 to cover any variation in depth of field if the incoming heron was on a different plane than the one sitting on the nest. Patience, persistence and knowledge of the heron's behavior allowed me to capture this image.
Running Gazelles

Thompson's gazelles run very fast and they don't often give a signal as to when they'll take off. With this in mind, I kept my eye glued to the viewfinder since there were some subadults that were playing. All of a sudden, one decided to bolt after another and I stayed with the action that lasted about 20 seconds as they ran in an erratic path. I used an 80-400mm at 400mm, f/5.6, 1/500th and ISO 125. The gazelles are sharp since I panned the camera with their movement. I intentionally had the ISO low so I could maintain the shutter speed I used. The good behavior was able to be recorded because I saw potential as the young adults began to play. Use the knowledge that you gain learning the species you photograph in addition to a bit of common sense.
Moose and Water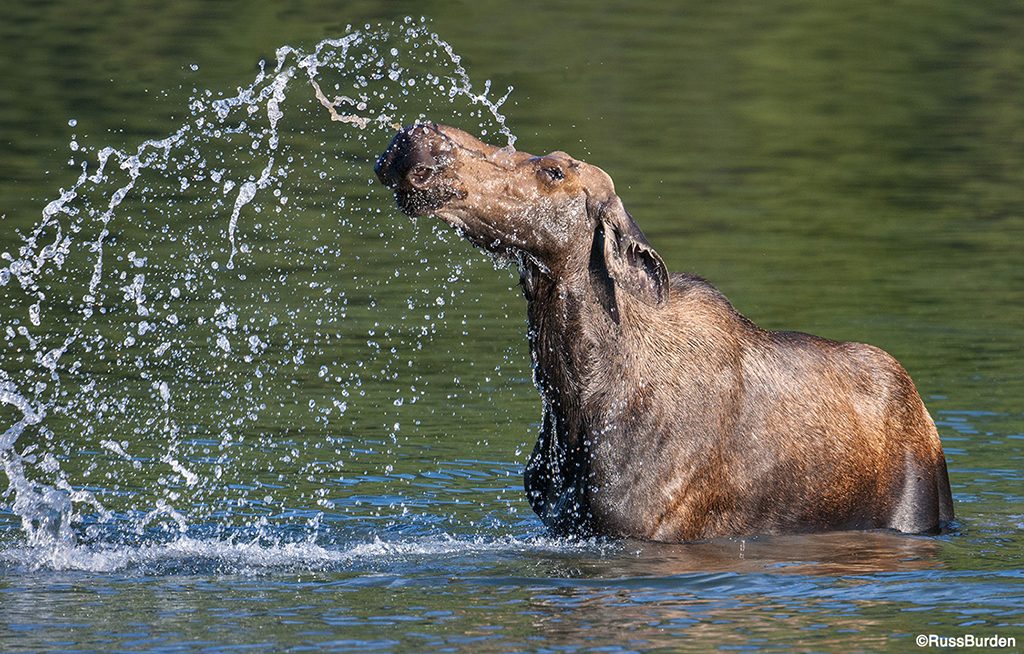 The cow moose spraying water was made in Glacier National Park. She entered the shallow lake and began to feed off the vegetation at the bottom. On occasion, she'd fling her head back to rid her face of water and be able to chew her bounty more easily. In this photo, she came up with no food but the splash was wonderful. Knowing how and where the moose feed allowed me to get the good behavior performed in this image. Additionally, I went back to this lake multiple times and each visit provided different images. In regard to this one, it was the best that displayed typical moose behavior. The settings were 1/640, ƒ/6.3, ISO 400 and I used an 80-400mm at a focal length of 350mm.
Baboons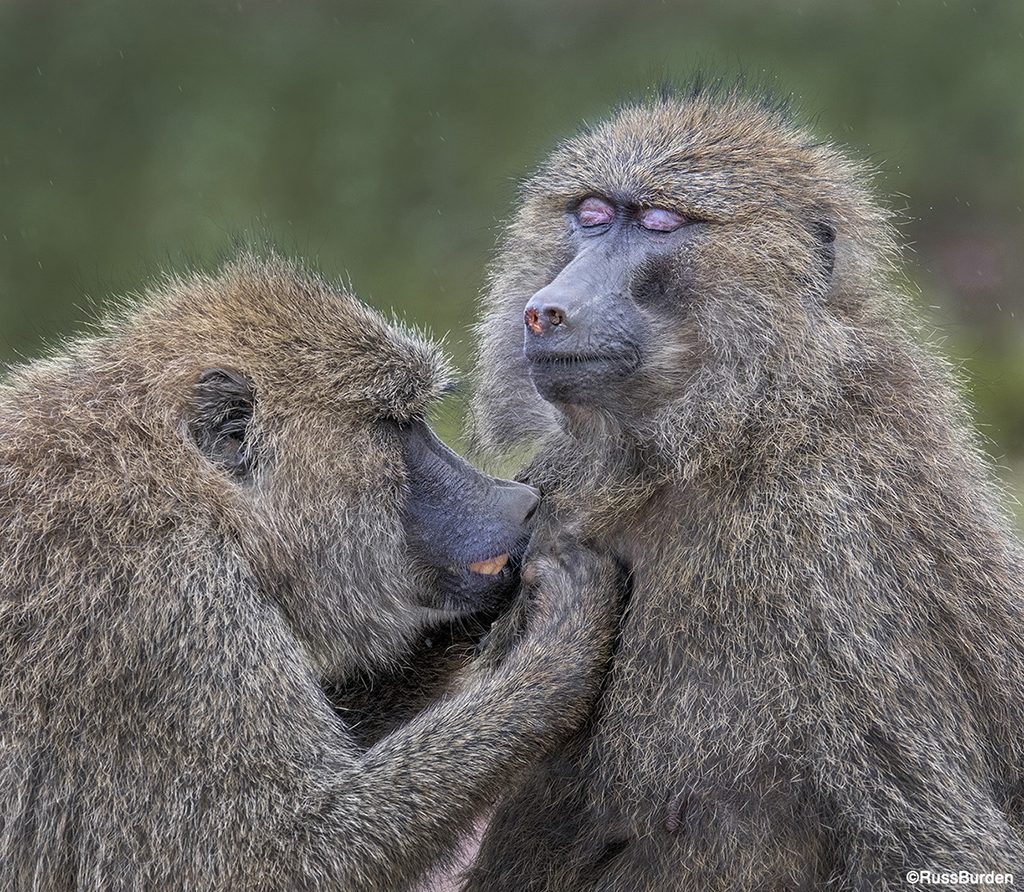 Baboons are very gregarious. They travel in groups called a congress. (Yes, I can hear the laughter already).  The interaction that's displayed between adults and young in addition to adults with adults shows care for each other. While I have seen disputes, most of the behavior is congenial. These two were grooming each other, so I locked my 600mm onto them. Back and forth they went, but when the one on the left reached in with its snout and the one on the right closed its eyes, I laid on the shutter. Once again, patience, persistence and knowledge allowed me to capture the photo. The settings were 1/640th, ƒ/5.6, ISO 800, and I used a 600mm lens to get in tight on the behavior.
Visit www.russburdenphotography.com for information about his nature photography tours and safari to Tanzania.
The post Show Good Behavior appeared first on Outdoor Photographer.