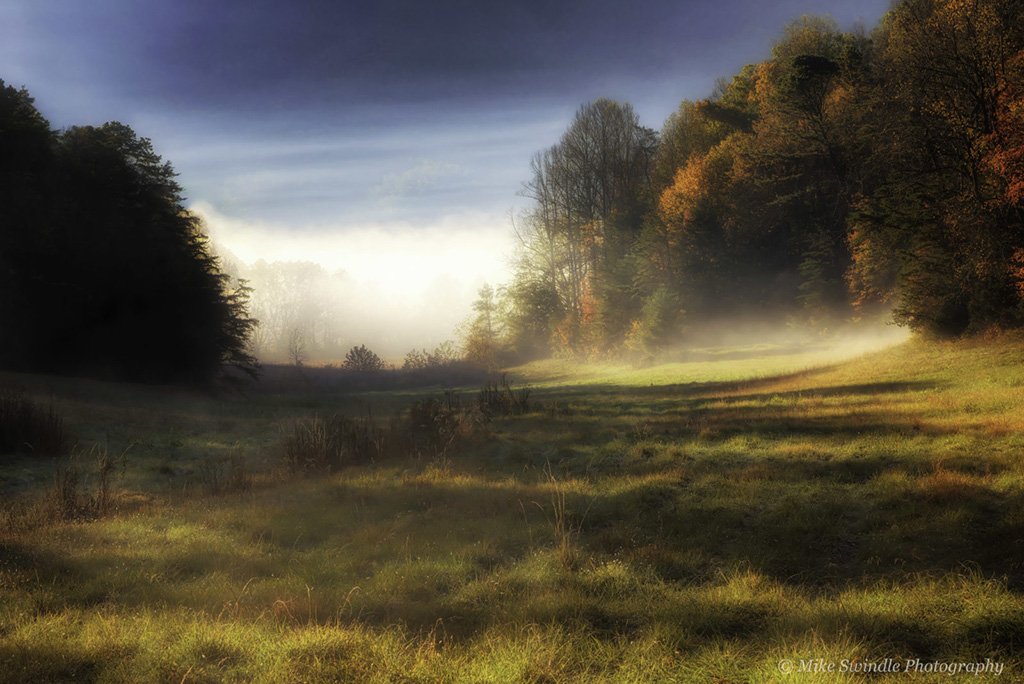 Congratulations to Mike Swindle for winning the recent Shadows assignment with the image, "Autumn Fog."
"Photography in the Cades Cove area of the Great Smoky Mountain National Park can be described as challenging," says Swindle. "If your dream is to catch a sunrise with the glow of the fall colored leaves glisten in the morning light, you should be prepared to endure large crowds and wait for people and vehicles to move out of your composition. The gate to Cades Cove Loop is opened each morning by a Park Ranger. Depending on the season and the day of the week, the line of waiting vehicles has been said to exceed a mile in length. Fortunately, once inside, you're treated to breathtaking views of the valley with rolling meadows, historical sites and wildlife. Finding the image that you hoped to achieve is dependent on the position your vehicle is in the morning lineup. On the morning of this shot, I was photographing with a friend. We drove past a photography workshop, as well as other folks seeking beautiful views, wildlife and the spiritual emotions the landscape provides.
We found this area where the sun was just rising above the mountain. As the sun was highlighting the assortment of fall colors, the sun was casting shadows over the meadow as the morning fog was lifting. Realizing we had limited time to capture the mood of the scene, we set up our cameras and began shooting until the crowd had caught up with us and it was time to leave."
See more of Mike Swindle's photography at www.mikeswindlephotography.com and follow him on Facebook and Instagram.
The post Shadows Assignment Winner Mike Swindle appeared first on Outdoor Photographer.