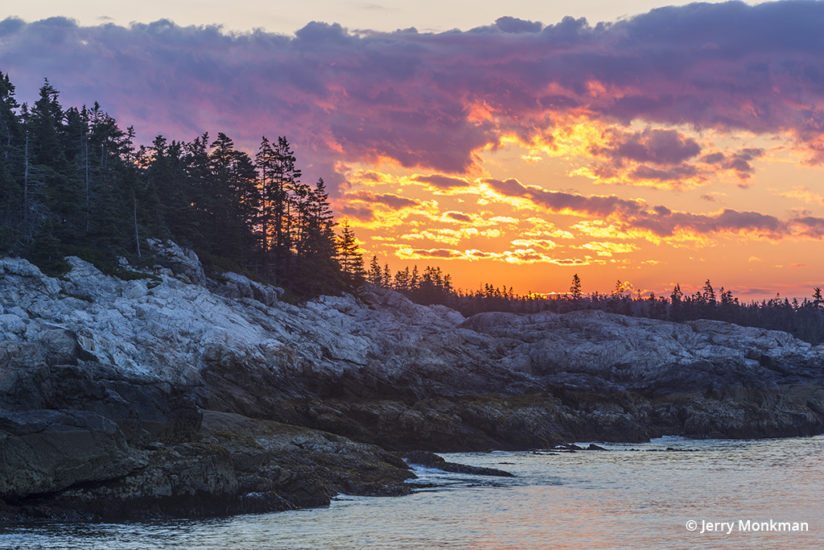 For almost two centuries, artists have found inspiration on the Maine coast. From Thomas Cole to Winslow Homer and Eliot Porter, painters and photographers alike have been drawn to the dramatic rocky shorelines, ethereal light and cultural details of the region. For modern-day photographers looking to capture the essence of coastal Maine, a trip to Acadia National Park is a logical place to start, as it provides relatively easy access to some of the best scenery that the state can offer.
In 1916, Acadia was the first national park to be created east of the Mississippi River, primarily for its dramatic scenery. It is a place dominated by water and 20 or so rounded mountain peaks comprising Cadillac Mountain Granite, a beautiful coarse-grained gray granite flecked with quartz, hornblende and pink feldspar crystals. In golden hour light, the ledges in Acadia can rival Utah sandstone in color, and while the mountains in the park are modest in size — Cadillac, the tallest, tops out at 1,528 feet — many of them have bald summits where there are unobstructed views of the surrounding waters of Frenchman Bay, Blue Hill Bay and the open Atlantic Ocean.
The granite peaks adjacent to the cerulean waters of the Atlantic are what first attracted my wife, Marcy, and I to Acadia almost 30 years ago, and we've returned every year since then to hike and kayak, photograph dramatic sunrises as well as intimate forest scenes, and take in the culture of the working waterfronts of the fishing villages adjacent to the park. It feels like our home away from home, and our kids, now 14 and 16, are as comfortable on the park's trails and in the nearby town of Bar Harbor as they are at home. Though I sometimes hesitate to talk too much about Acadia because it already gets more than its fair share of visitors, I can't help but share my thoughts about and photographs of a place that has become such an important source of inspiration for my work.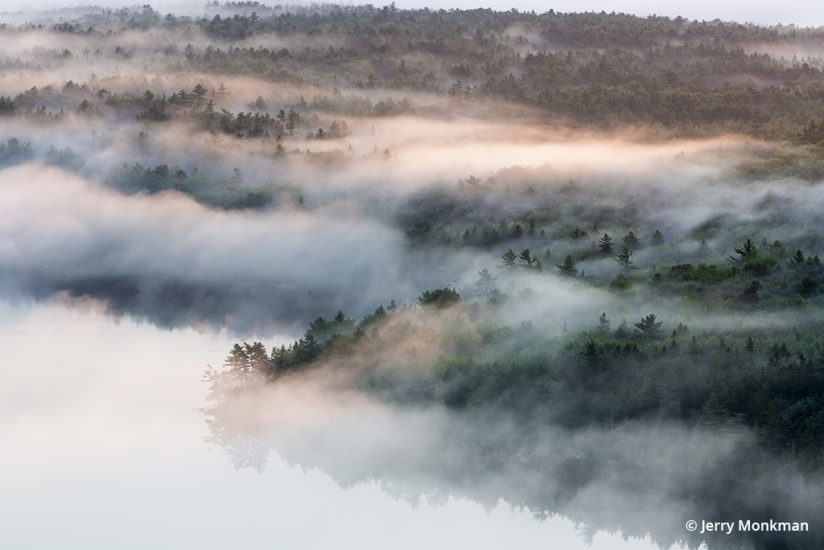 Acadia is primarily an island preserve, with the bulk of the park on Mount Desert Island and several smaller surrounding islands, although there is one section of the park on a nearby part of the mainland called the Schoodic Peninsula. Less than 50,000 acres in size, Acadia is relatively small compared to many national parks, but its oceanside location can make parts of the park seem just as remote as the backcountry of larger parks, especially if you get out on the water in a kayak or visit the most remote island in the park, Isle au Haut, which is a six-mile ferry ride from the mainland. With not too much effort, you can find quiet solitude in a shoreline cove with a cobblestone beach or in a moody forest of cedar and spruce draped in lichen that resembles Spanish moss.
How To Get There
Though comprised primarily of islands, most of the park is accessible by car, as Mount Desert Island (often referred to as MDI) is connected to the mainland by a causeway that carries Maine State Route 3. The buzzing hub of Acadia is in the town of Bar Harbor, which is adjacent to the eastern edge of the MDI portion of the park and is also home to the park's visitor center. Bar Harbor is about an hour's drive from Bangor and three hours from Portland, both of which have airports that are served by major airlines. From Boston, expect the drive to take closer to 5.5 hours. The Schoodic section of the park is about a 45-minute drive from Mount Desert Island but is also accessible in the summer months via a ferry from the town of Bar Harbor. To reach Isle au Haut, you must take the 2-hour ferry ride from Stonington, Maine, which is a 1.5-hour drive from Bar Harbor.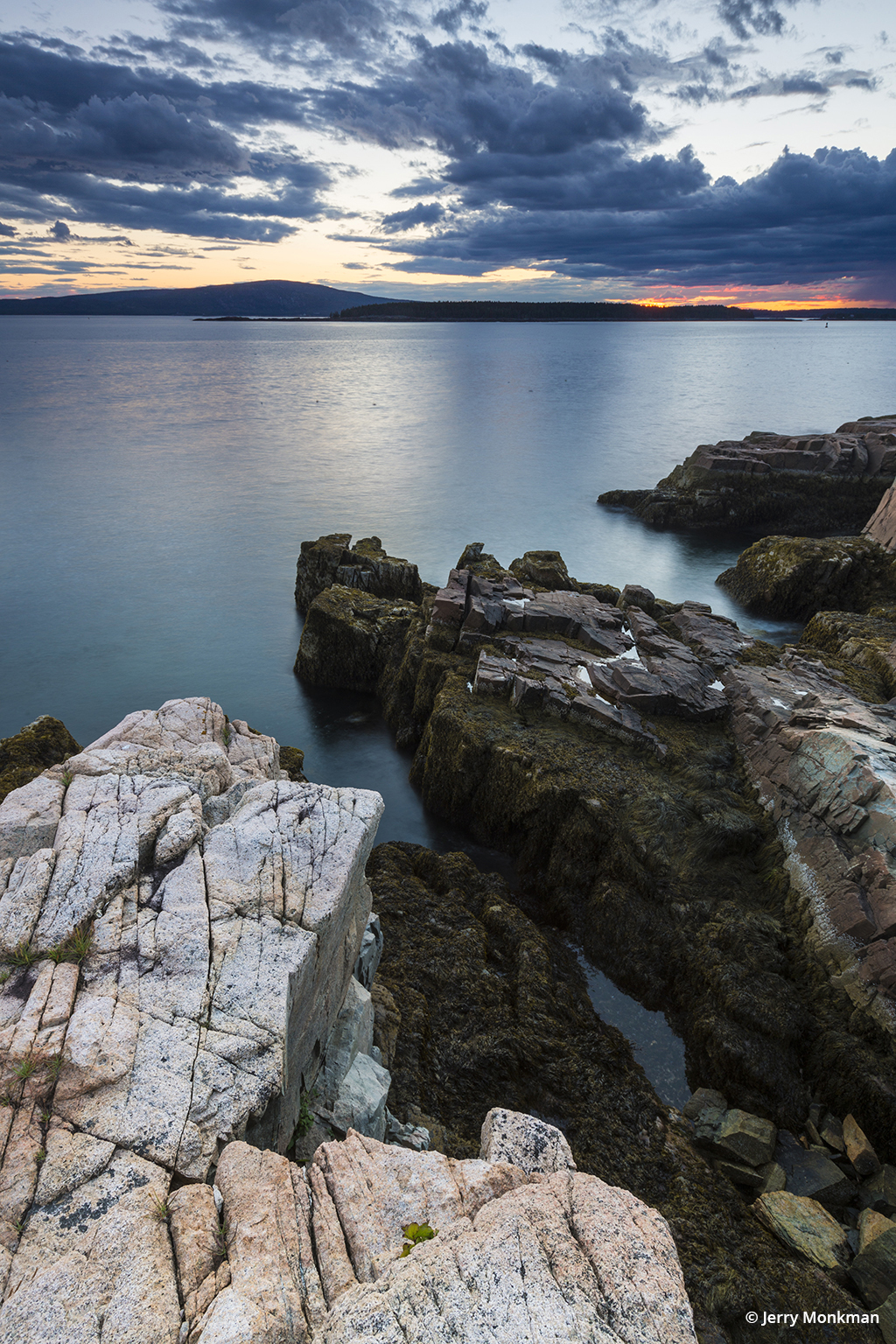 Acadia National Park Photo Hot Spots
There are countless photo opportunities in and around the park that are too numerous to list here, but these are the places I find myself gravitating back to every visit:
The summit of Cadillac Mountain with its panoramic, 360-degree views of Acadia's mountains and the surrounding ocean is especially captivating at sunrise. The peak is accessible via an auto road, making it easy to get to, which means you don't have to hike up but you will share sunrise with a few hundred others during peak season. Get there earlier than everyone else, because the scenery is worth it.
The 2-mile Ocean Drive section of the Park Loop Road features some of Acadia's best-known sites: Sand Beach, Thunder Hole, Boulder Beach and Otter Cliffs. All of these sites are a short walk from the road and are best shot at sunrise as they face the rising sun. Don't limit yourself to these specific sites, though — the pink granite ledges that stretch along this entire section of the coast provide a lifetime of compositions.
The Beehive and Gorham Mountain are two small mountains on the inland side of Ocean Drive that have great mountaintop views (about an hour's hike for either summit). However, if you have a fear of heights, you'll want to hike the Beehive from the backside, as the main trail climbs over iron rungs driven into the vertical granite cliffs.
In the center of the park is a jewel of a place called Jordan Pond, a deep, glacially sculpted lake bounded on three sides by mountains and on the fourth side by the sprawling lawn of the Jordan Pond House, where you can partake of the century-old tradition of having tea and popovers before shooting the late afternoon scenery on the pond. The pair of symmetrical, rounded peaks at the northern end of the pond known as The Bubbles make the perfect backdrop for landscape photos.
Sieur de Monts is a wooded area of the park that has a beautiful stand of paper birch and is adjacent to a meadow-wetland complex known as Great Meadow that is prime songbird habitat. The area is also home to the Wild Gardens of Acadia, a garden designed with native plants that is a great place to shoot ferns and wildflowers.
There are several working waterfronts in the towns adjacent to the park on MDI, including Bar Harbor, Southwest Harbor, Bernard and Bass Harbor. All offer the opportunity to shoot classic Maine harbor subjects like lobster boats and traps. My favorite is Bernard on the western side of MDI, although Bar Harbor also scores points for its sunset view — and easy access to ice cream!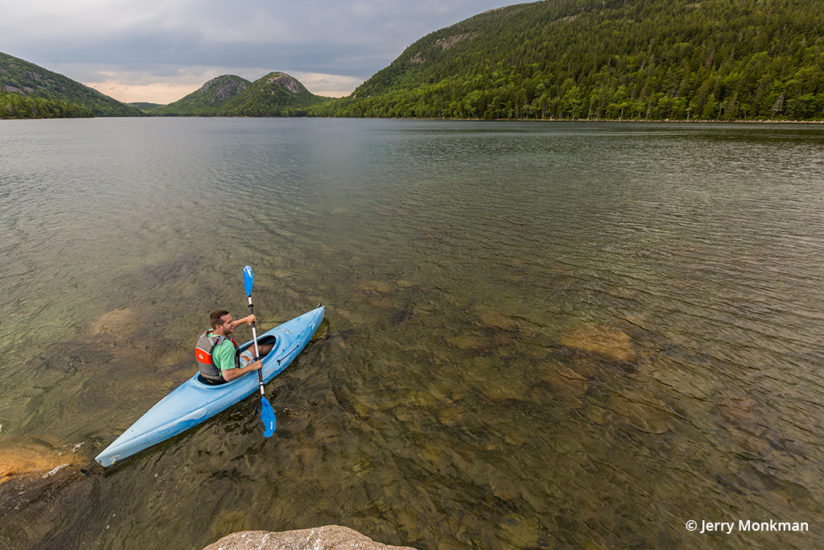 Farther Afield
If you don't mind putting some miles on your hiking boots, there are several places in the park that are worth carrying your photo gear to. My favorites are North and South Bubble, Beech Cliff and Sargent Mountain.
Making the trek to Isle au Haut gives you access to Acadia coastal scenery without the crowds (and competing tripods). You'll need to plan ahead as there are only a couple of small B&Bs on the island, and reservations for the park's campground on the island fill up very quickly after reservations open up in April (visit the park's website for logistical details of making the trip to Isle au Haut: nps.gov/acad). Once you're there, hike to the headlands on the southern and eastern sides of the island—the landscapes there are empty and striking.
Visiting the Schoodic section of the park is also worth the effort if you will be in the park for more than a couple of days. There are several miles of dramatic coastline that are easily accessible from the park road. In 2015, the park opened a new campground and visitor center in Schoodic that is adjacent to several new miles of biking and hiking trails, so if the campgrounds on MDI are fully booked, Schoodic is a great alternative.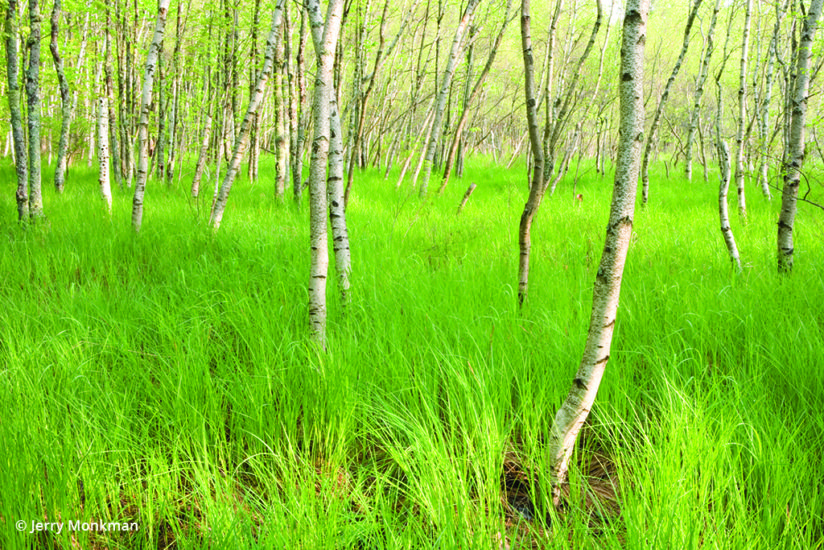 When To Visit Acadia National Park
Acadia is great for photography year-round. The only months that are less than ideal, in my opinion, are April and November, two months where most of northern New England is bereft of snow and leaves on the trees. However, Acadia's coastlines are photogenic even then. The park can be very crowded during summer vacation season (July and August), and during peak foliage (first two weeks of October), but for good reason as the weather and scenery are just beautiful those times of year. Early June and September often have great weather, and the crowds are a little thinner. In winter, you'll have most of the park to yourself, but be prepared for very cold and sometimes wet, snowy and icy conditions. Also, most of Park Loop Road is closed in winter and much of the town of Bar Harbor shuts down, so your choices for lodging and restaurants near the park are limited.
Equipment Recommendations
Acadia National Park seems ready-made for traditional landscape photography, so if that's your game, bring your best camera and tripod with lenses ranging from super wide to medium telephoto (up to 300mm equivalent). Many photo hot spots are short walks from parking areas, so weight is not an issue unless you decide to venture further from your car and shoot from some of the summits accessible only by hiking trail. Even then, most hikes in the park are relatively short, so it's not too taxing to carry your camera gear and a tripod. Grad filters and neutral density filters are worth bringing as well to balance exposures for golden hour landscapes or lengthen exposures when shooting water abstracts.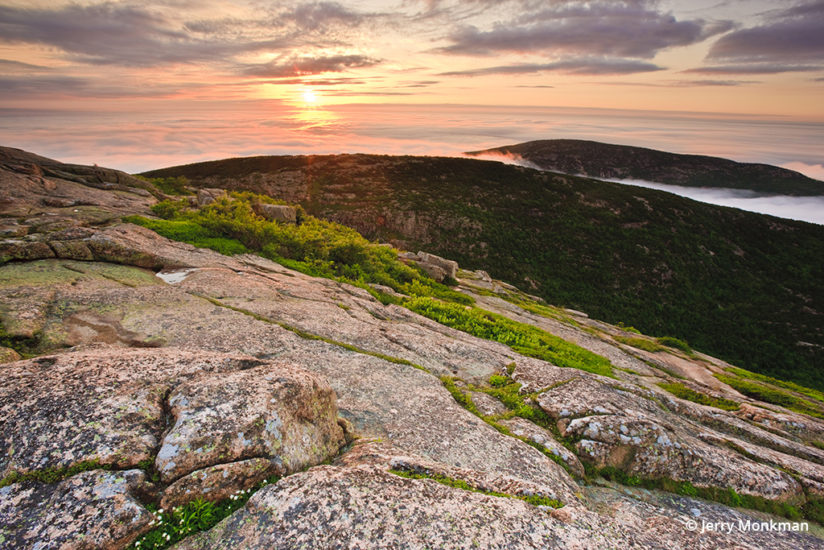 Macro gear can also be worth bringing, especially during May, June and July, when ferns and wildflowers are at their peak. Wildlife photographers will need their big telephotos, but finding wildlife in the park can be a challenge, with the best chance for animal sightings being from the water where you're likely to encounter gray and harbor seals, harbor porpoises, and bald eagles and osprey near the offshore islands. There are a few companies that offer boat tours in the areas around Mount Desert Island from Bar Harbor and Southwest Harbor. There are also whale-watching and puffin-watching boats that make daily trips from Bar Harbor if you want to spend half a day or more out at sea.
One final note: If you're a seafood fan, you'll love visiting the restaurants in the towns around the park. There are several traditional Maine lobster pounds on MDI that excel at fresh boiled lobster and corn on the cob. My favorite is Beal's Lobster Pier in Southwest Harbor.
The post Acadia National Park By Land And Sea appeared first on Outdoor Photographer.