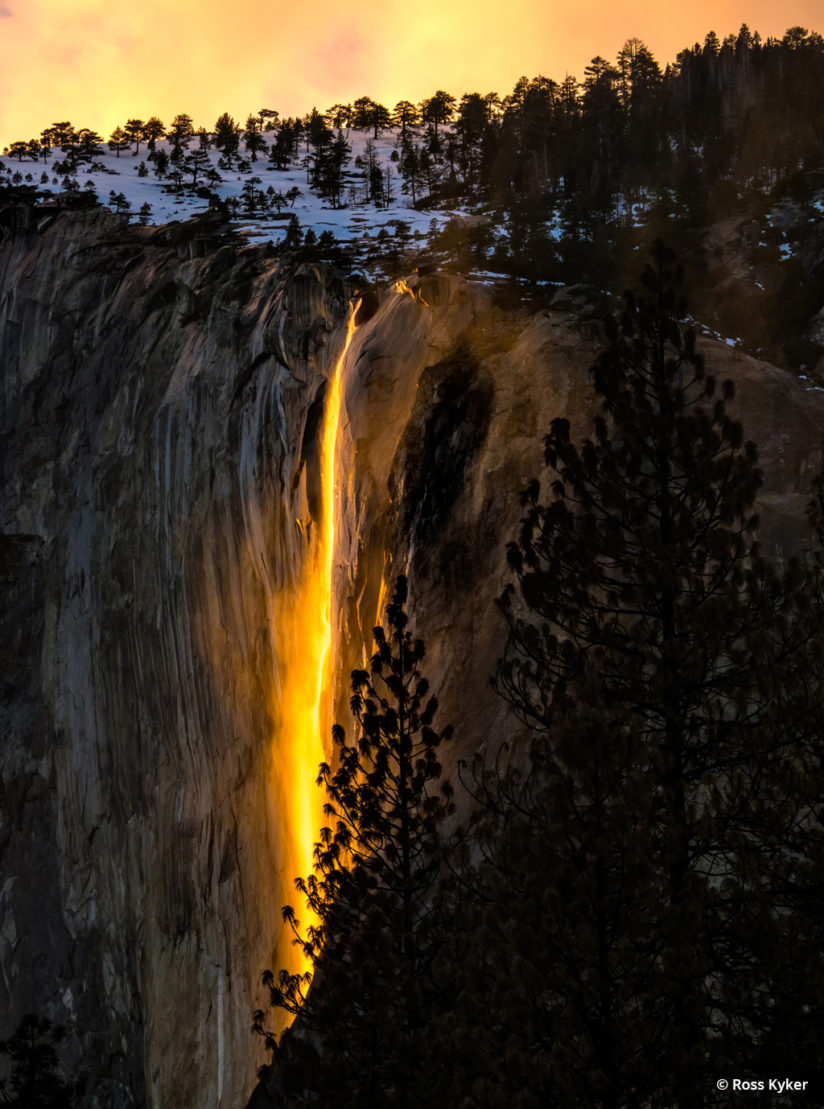 When you're setting out on a 10-day backcountry trip to capture an iconic landscape photo, you need to have the right gear with you—but you also need to pay attention to every ounce in your pack. "You have no control over the conditions," explains professional photographer Ross Kyker. "Clearing a bit of room from my bag allows me to take more essentials. I can go on hikes and not worry about running out of food."
That's why Kyker switched from traditional DSLRs to the Olympus OM-D E-M1 Mark II after he tried one on a trip to Yosemite. "I absolutely fell in love," Kyker says, "and the image stabilization sold me on the system." The in-body 5-axis image stabilization in the Olympus OM-D E-M1 Mark II provides up to 5.5 stops of compensation, and when combined with an Olympus M.Zuiko lens with built-in stabilization, provides up to 6.5 stops of compensation.
"Being able to do a two-second exposure without a tripod was a game changer. When I shot with DSLRs, if I was hiking and saw a scene I wanted to capture on the way to my destination, I would just bypass it because of the hassle of setting up my tripod. Having a camera with such incredible stabilization made it possible to get the shots I would have missed. It's made photography fun again.
"If you're shooting with a long lens, the rule has been that you can't handhold slower than one over the focal length, so a 300mm lens you can't shoot below 1/300 sec. for a sharp image. Even with my DSLR gear, stabilization never allowed me to get more than around a stop or two slower than that. You can't do things like blur water at
1/100th of a second. When I was in Yosemite in dark and shaded areas I just crouched and handheld the shot for three to four seconds. That was the selling point for me."
Kyker made the decision to replace his DSLR gear with the OM-D E-M1 Mark II because of the weight savings and stabilization, but he admits he couldn't have made the switch if the camera didn't deliver the razor-sharp images a good landscape photo requires. "I edited my photos from the first trip and couldn't believe how sharp the images were."
He also uses the 50 MP High Res Shot Mode, which takes eight consecutive shots and then combines them into one ultra-high-res image. The camera's TruePic

VIII image processor can eliminate the blur of movement between frames, and the image quality, Kyker says, "is amazing."
For landscapes, his go-to lens is the Olympus M.Zuiko 12-100mm f4.0 IS PRO, which he selected for its legendary image quality, wide range of focal lengths, and its rugged weatherproofing, something that is helpful when your office is a tent under the open sky. "I used to carry a 24-70mm and a 70-200mm lens for my DSLR gear; it was awful to carry that around. My entire Olympus setup doesn't weigh what my 70-200mm lens did." The 12-100mm f4.0 IS PRO gives Kyker the equivalent range of 24-200mm, providing in one, compact lens what used to require two bulky DSLR lenses.
"Sometimes I get a shot on the first day of a trip," he says, "and sometimes not until day 10. I've literally cleared out half of my backpack. With that room I can pack an extra two or three days' worth of food." That means Kyker can stay out longer to nab the perfect landscape, and not risk missing the shot because he's out of supplies. "I can also bring my hammock now," says Kyker, "which makes the trip so much more enjoyable."
Many photographers, Kyker says, are concerned about the sensor size, but he says that hasn't been an issue. "It's been drilled into every photographer's brain that we need a full-frame camera, but that's just not the case at all. The images are razor-sharp, and I still make large prints of my landscapes."
Hear more from other photographers who have made the switch to the Olympus OM-D system at getolympus.com/neverlookback.
The post Olympus OM-D System: Lighter And Better appeared first on Outdoor Photographer.