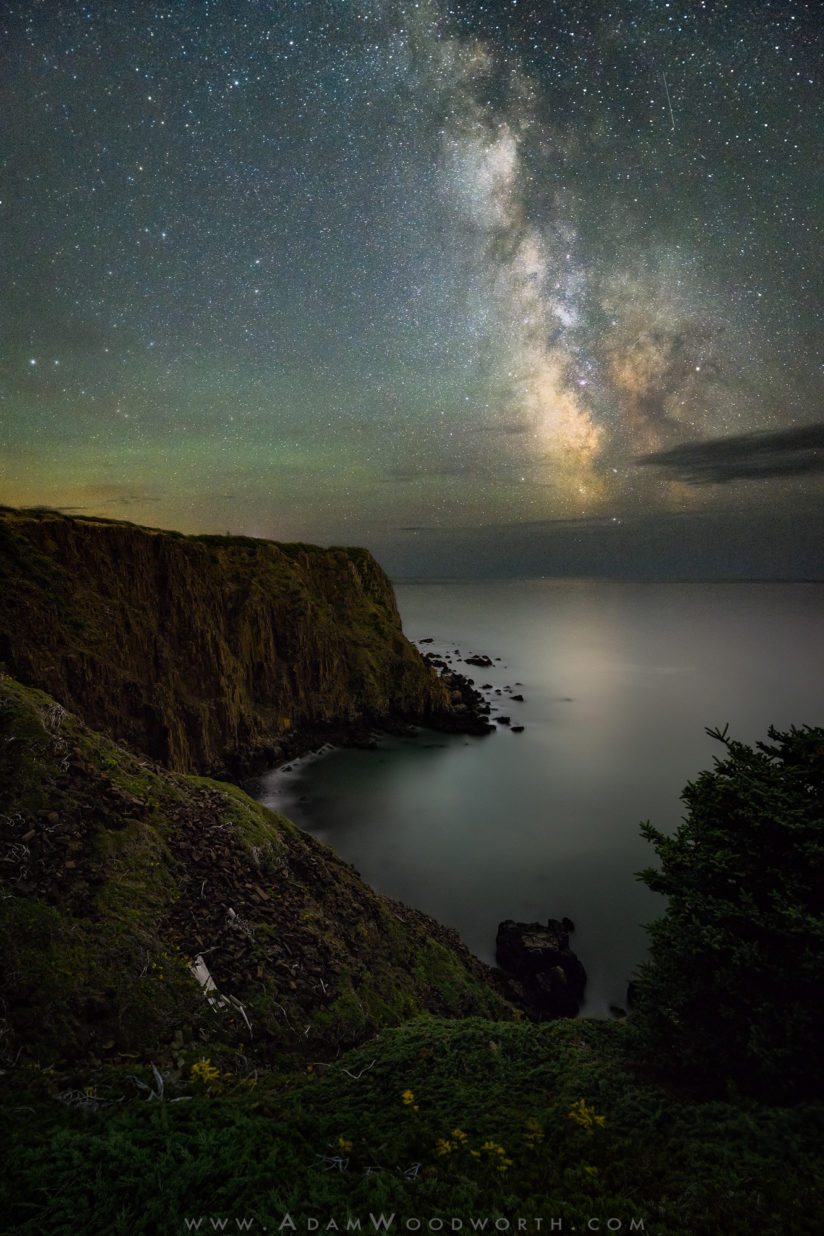 Earlier in August, I had the incredible opportunity to run around with a pair of Nikon D850 bodies, testing them out day and night along the coast of Maine and New Brunswick. This shot is from the cliffs of Grand Manan.
The Nikon D850 is the successor to the D810, but it's quite an upgrade! The sensor is backlit, and from my experience that plus the Expeed 5 processor in the D850 provide amazing results for high ISO images at night. At 20 seconds, f/2.8, 14mm, and ISO 25,600 the results are great and using some noise reduction goes a long ways. I also did some star stacking of 10 shots at 10 seconds each at ISO 26,000 and then stacked with Starry Landscape Stacker (Mac only, but it can be done manually in Photoshop) to produce pinpoint stars and a very clean sky.
The flip-up LCD screen and illuminated buttons are very nice additions and make shooting low and/or in the dark easier. I also used the flip-out screen when shooting with the tripod a bit high, I could swing the LCD out and down a bit for easier viewing. And it's a full touch screen LCD, making picking a focus point in Live View and zipping around 100% previews pretty easy.
This shot consists of 3 exposures blended for depth of field and low noise. All shots are taken with the Nikon D850 and the AF-S NIKKOR 14-24mm F2.8G ED at 14mm. The sky is 1 shot at ISO 25,600 for 20 seconds, and the foreground is made of 2 exposures, 1 at ISO 1600 and f/4 for 60 seconds during blue hour to get the very very close shrubs in focus, and 1 at ISO 1600 and f/2.8 for 16 minutes in complete darkness for the background cliffs and water. I didn't use a blue hour shot for the background cliffs and water because I find the blue hour shots result in harsher shadows than really exist in total darkness, and I wanted the Milky Way reflection in the water and in the right spot to match the Milky Way in the sky, which means that in situations like this I have to take a foreground exposure (at least for the water) generally right before/after taking sky shots.
Stay tuned for some more posts and articles with this camera!
---
You can learn more about my Milky Way editing techniques through my video tutorials for sale on my website, adamwoodworth.com.
The post In The Dark With The New Nikon D850 appeared first on Outdoor Photographer.