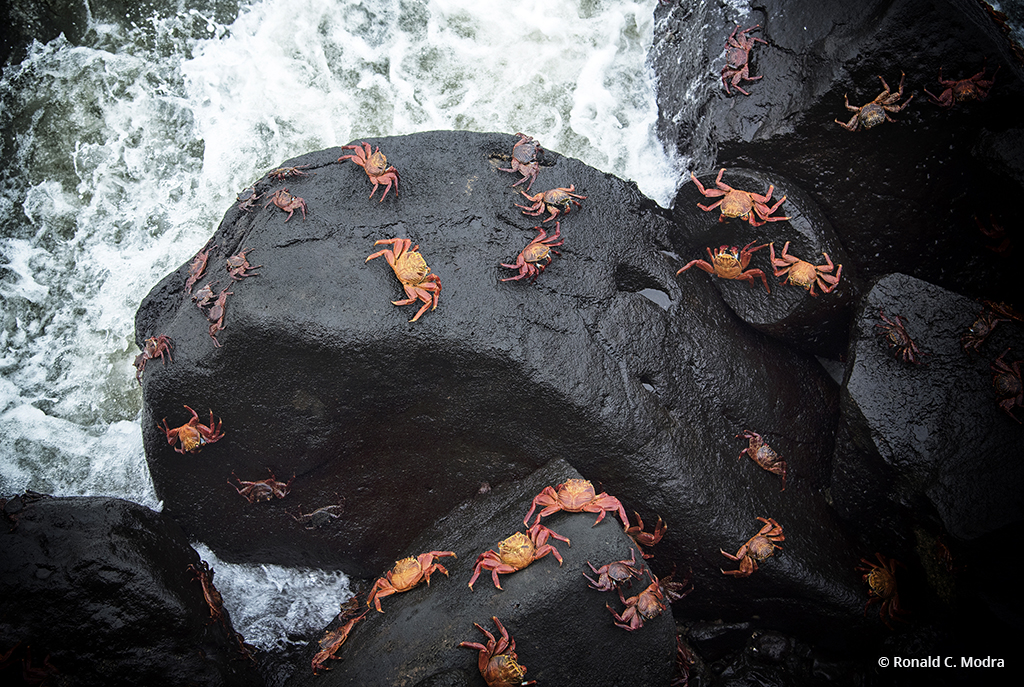 The Galapagos Islands, an exotic collection of mostly volcanic islands that seem to be stopped in time, are a destination on most, if not all, photographers' bucket lists. They were certainly on mine. So, shifting into a new phase of my career after spending almost 25 years at Sports Illustrated, when I was presented with the opportunity to travel to the Galapagos to help scout and develop a future photo expedition for Guy Harvey Outpost, I jumped at the chance.
Since my first trip there, I've returned three more times to lead small groups of eight aspiring or, in some cases, tremendously accomplished photographers, on a land-based photo safari. We base out of San Cristobal, one of four populated islands in the Galapagos, and make day trips by boat to different islands—Santa Cruz, Española, Punta Pitt—each day.
When it comes to the Galapagos, wildlife is part of life everywhere, even in the few places where people and buildings are found. So, it wasn't really a surprise when, after spending a long day on Española, I hopped off the ferry following a two-hour return boat trip back to San Cristobal and, as I walked along the boardwalk on the way back to the hotel, noticed dozens and dozens of sea lions gathered on the shoreline, lying around in clumps of two or three or sunning themselves solo on their backs or stomachs. They make a lot of noise, and let's just say if you have any sort of a sense of smell, you know they're there.
As I walked the beach front, which feels extremely safe and friendly as far as the people go, I took a closer look and noticed bunches of iguanas and hundreds of brightly colored, almost neon red-orange Sally Lightfoot crabs sharing the rock formations with the sea lions. The crabs' bright color made a fantastic contrast to the black volcanic rocks, presenting a brilliant visual.
They're naturally skittish. Unlike some of the more congenial birds in the Galapagos, the crabs will side step and scatter in a hurry if you get too close. So, for this image, I brought out my Nikon D800 and a Nikon 24-120mm lens using manual exposure and created a composition that I liked. I shot a number of different images at different focal lengths, and after I felt I had the picture I wanted, I called it a day.
The Galapagos Islands are one of the best locations in the world for wildlife photographers partly because, as Charles Darwin discovered nearly 200 years ago when he obsessed over his finches, some of the species that live there exist nowhere else in the world. Plus, the creatures there, many that remain unafraid of humans and are more relaxed because they have no natural predators, seem to know they're being photographed—the giant tortoises, huge land iguanas and blue-footed boobies hold still and pose as if on cue. The Galapagos are truly a one-of-kind destination where you'll make unforgettable photos.
See more of Ronald C. Modra's work at ronaldcmodra.com and lensmenproject.com.
Nikon D800, AF-S NIKKOR 24-120mm f/4G ED VR. Exposure: 1/500 sec., ƒ4.5, ISO 640.
The post Sally Lightfoot Crabs appeared first on Outdoor Photographer.