By Tom Gruenwald. I possess an inherent love for mountains.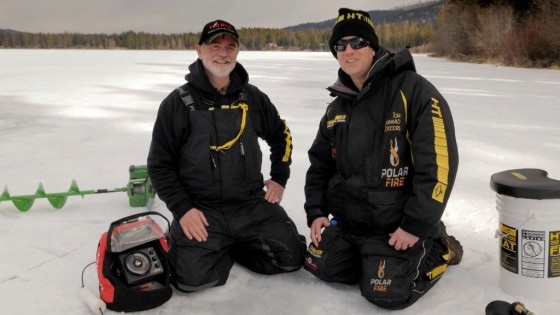 I'm not exactly sure where this infatuation began, but to the best of my recollection it started with a photo—in it, a man is tending a pan of trout frying over an open campfire. In the foreground, his canoe is pulled up beside a crystal clear mountain lake; a tent shrouded in a brilliant sunset silhouetted behind.
That image hung on the wall of my boyhood bedroom for years, and each day I would stare into that picture, dreaming of the chance to place myself within that scene. And in recent years, I have been blessed to have that dream realized.
Much of the credit goes to my good friend, Mike Howe of Howe's Fishing/A-Able Charters in Kalispell, Montana. When I first met Mike, I shared that dream. He, along with a network of fabulous people from the Kalispell area helped make it a reality–several times over, in fact!
The most recent of these trips was joining Mike in pursuit of the "sailfish of the north"—arctic grayling. We met early one morning this past winter, carefully reviewing our plans over breakfast at the Homewood Suites in Kalispell, anxious to begin the day. Arrangements had been made to meet with retired area fisheries biologist Jim Vashro and another mutual friend of both Mike and I, Tony Anderson.
Like Mike, Tony is one of those giving people who truly appreciates the gift of life and genuinely wants to help others enjoy every precious moment. He's also happens to be a huge fan of arctic grayling.
Jim? One of his most prized career projects was the restoration of the arctic grayling population in Rogers Lake, just outside Kalispell. These waters had historically sustained a strong native grayling population balanced with a healthy population of cutthroat trout, but an unplanned introduction of yellow perch had changed the entire dynamic of the fishery.
Concerned, Jim spearheaded a project to restore the native population. After securing a few surviving arctic grayling from Rogers Lake and eradicating the yellow perch, he re-introduced the native grayling and cutthroat trout, attempting to re-establish the original fishery.
That was over two decades ago. Today, the native fishery has been successfully restored, and Rogers Lake again sustains a strong population of arctic grayling. Jim is willing to relay the details of this project as we pursue our goal of trying to ice one of these unique fish, and I'm really looking forward to hearing him share the entire story while enjoying a day of ice fishing on Rogers Lake!

Following breakfast, Mike steers his Silverado up the scenic, winding road toward Rogers Lake, pointing out land marks along the way—he even stops at one spot where we view Native American hieroglyphics documenting accounts of successful, ancient hunts recorded on steep rock outcroppings.
As we admire extraordinary mountain views, our conversation is dominated by grayling. I question Mike incessantly about their native range, habitat, habits, productive presentations used to catch them through the ice. He answers each completely and knowledgeably until we reach the landing, where we discover Jim's truck already parked.
I step out, pausing a moment to drink in the view along with a hearty draught of icy mountain air before packing our gear and walking onto the ice. In route, we discover a local angler set up along the outside edge of weed line, so we stop to visit. He hasn't caught anything yet this morning, but reports catching both cutthroat and grayling in recent days.
The post SAILFISH OF THE NORTH appeared first on ODU Magazine-North America's #1 Digital Fishing Magazine.