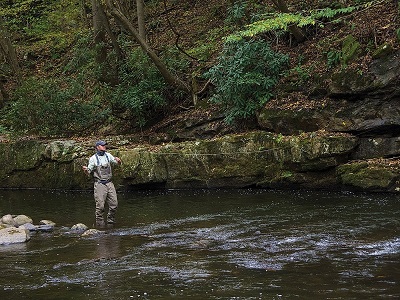 Mike Evans stood on a rocky bank of the Savage River and cast his fly forward. Behind him were his home and several log cabin guesthouses that he and his wife manage for vacationers. In the quiet autumn dusk, he waited for a bite from the wild brown and book trout that make this 30-mile frigid river home.
"This is a critical watershed," Evans said as he threw out the line again. "Everything for this river is really controlled here."
Evans and other fishing guides would like to keep it that way. But second-home development is pushing east from the Deep Creek Lake resort area, and rigs drilling for natural gas may be allowed before long in this corner of Western Maryland. So a group of concerned conservationists is pushing to strengthen the protection of the Savage River, which offers some of the best trout fishing in the state.  It is the sole source of drinking water for the city of Frostburg, and a significant supplier to the Washington, DC, metropolitan area as it flows into the North Branch of the Potomac River.
The guides, with the help of the Potomac Riverkeeper, have formed a working group and are seeking the federal designation of the Savage mainstem as a "wild and scenic" river. Under a law Congress enacted in 1968, rivers with outstanding natural, cultural and recreational values are to be preserved in a free-flowing condition "for the enjoyment of present and future generations."
UPDATE: The group held a public meeting Tuesday, Nov. 15 at the Route 40 Elementary School in Frostburg. About 50 people attended and discussed the plans, though nothing was settled, Brent Walls, the Upper Potomac Riverkeeper said. He added that the community and the groups plan to keep talking..
The wild and scenic designation does not prevent development or impinge on private property rights, say officials with the National Park Service, one of four federal agencies involved in managing such rivers. But it would prohibit projects requiring federal approval from being constructed on the river, such as a dam and quite possibly an interstate gas or oil pipeline overseen by the Federal Energy Regulatory Commission.
When signing the law in 1968, then-President Lyndon B. Johnson noted that "an unspoiled river is a very rare thing in this Nation today."
It is even more true now, with the many dams for hydropower as well as highway bridges and other infrastructure projects along rivers. Even though states, the U.S. Fish and Wildlife Service and organizations like American Rivers are working to remove many non-functioning dams to help fish run, there is still a long way to go. More than 75,000 large dams have modified more than 600,000 miles, or about 17 percent of U.S. rivers.
The federal Wild and Scenic designation protects 12,709 miles of 208 rivers in 40 states and Puerto Rico, but that is just a little more than one-quarter of one percent of the nation's rivers. There are none in Maryland or Virginia, a handful in the mid-Atlantic, and about a dozen in the northeastern United States. People have sought protection over the years for several Maryland rivers, including the Patuxent, Monocacy and Nanticoke.
None got it, though, as the designation process is a rigorous one. It requires strong local advocacy, then a vote by Congress to order a study of the river, which can cost between $80,000 and $120,000. The study takes two to three years. Only at that point will Congress decide whether to add a river to the protected list.

The last time a river was designated wild and scenic was two years ago.
"Rivers don't just get designated because somebody wants it," said Charles "Chuck" Barscz, chief of the NPS program overseeing river designations. "There's a lot to wild and scenic."
States also have offered a measure of protection to some of their pristine rivers under state laws.  Maryland, for example, has nine rivers that have been declared scenic, and one, the Youghiogheny, where a portion has also been classified "wild."
The state laws encourage preservation and impose some restrictions on development, but they are less protective and can't halt projects like dams. The federal program can, especially if the project in question needs a U.S. Army Corps of Engineers permit for a dam, bridge or other structure.
The Savage already enjoys a measure of protection, as most of its watershed is state forest or state park lands, according to the Maryland Department of the Environment. What isn't is privately owned, mainly by large property owners who use the land for their own hunting and relaxation, said Brent Walls, the Upper Potomac Riverkeeper. There hasn't been much development to date.
Proposals to put rivers under federal protection often fail because of unfounded public concern that the designation will hurt property values, said Dan Haas of the Fish and Wildlife Service, who serves on the Interagency Wild and Scenic Rivers Coordinating Council.
"The designation is not a national park. It doesn't lock up land use," Haas said. "It tries to maintain the character of the river at the time of designation."
A bid to protect the Lamprey River in New Hampshire split residents, Haas recalled, with those downriver favoring it while those upriver opposing it.  So, the lower part was designated, Haas said, and then, a few years later, the upper residents saw the advantages of a more protected area and opted for the designation as well.
"The communities that have taken the time to recognize (the benefits) are quite popular," Haas added, "because it's like, 'Oh, I don't have to worry about the whole reason I bought on the river here being destroyed.'"
Nicole Christian, president and CEO of the Garrett County Chamber of Commerce, said she wasn't aware of efforts to designate the Savage. But she said local officials and businesses have been supportive of the Youghiogheny's state designation.
"It just adds to the mystique and significance of it as a waterway," she said.
UPDATE: Paul Edwards, chairman of the Garrett County Board of Commissioners, said he is still learning about what the designation would mean and what constituents think, but imagined it could be a tough sell.
"I know a lot of people here are leery of the federal government being involved in anything, so we'll see how it plays out," he said.
State natural resources officials declined to comment on the wild and scenic process for the Savage, saying it was a federal matter and they had not sought to add the river to the state's scenic and wild program.
Walls, the riverkeeper, said he knows getting federal protection for the Savage is a longshot, but he thinks it is worth trying. State programs, he said, would not protect the river from large construction projects or offer the federal support for a comprehensive river study.
"Because there have been no rivers in Maryland that have been designated, it seemed ideal to say this is one of the best rivers in Maryland," Walls said. "It would add to the celebration of how great and wonderful the water body is."
Walls said that the working group reached out to several hundred residents in the watershed, which also includes the Savage River State Forest and is a popular spot for hunting. They heard back from about 20 people. Most supported it or wanted more information. One person, he said, was opposed.
But the designation, he said, would be "the cherry on top" for a concerted plan to protect the river. Without a plan, he said, there are no guarantees it will stay pristine. So even if it's not designated, Walls said, it's important to start a conversation about its future.
Like Evans, Walls is concerned about the threats to waterways from natural gas extraction using hydraulic fracturing in Garrett and Allegany counties, which overlay the gas-rich Marcellus shale formation.
Lawmakers last year adopted a temporary moratorium on fracking, as the drilling technique is commonly called, extending a de facto ban that had been in place under former Gov. Martin O'Malley. But barring further legislative action, the moratorium is scheduled to will expire in October 2017.
UPDATE: The day before the Savage River meeting, the Hogan Administration published proposed fracking regulations in the Maryland Register. Environmental activists have vowed to press for a permanent ban on drilling when the General Assembly meets in January. Though the Savage River reservoir watershed would be off limits to drilling in the proposed rules, an MDE spokesman confirmed that drilling would not banned in the river watershed below the reservoir.
Though it's uncertain whether fracking will come to Western Maryland anytime soon, given the political opposition and the economic conditions with low gas prices, the fishing community wants to be prepared. Longtime angling guide Harold Harsh noted that it's taken decades for the region's rivers to recover from highly acidic water draining from long-abandoned coal mines.
He just wants to protect the hard-won restoration of water quality.
"There's no plan for its future," Harsh said of the Savage. "It would be nice to have a plan for its future."
(The original post of this story incorrectly reported that the Maryland Department of the Environment had proposed fracking regulations earlier this year. What MDE unveiled in June were "issue papers" describing regulations under consideration. The Bay Journal regrets the error.)
By Rona Kobell, a former writer for the Baltimore Sun. 
The post Bay Journal – Federal protection sought for Savage River appeared first on ODU Magazine-North America's #1 Digital Fishing Magazine.