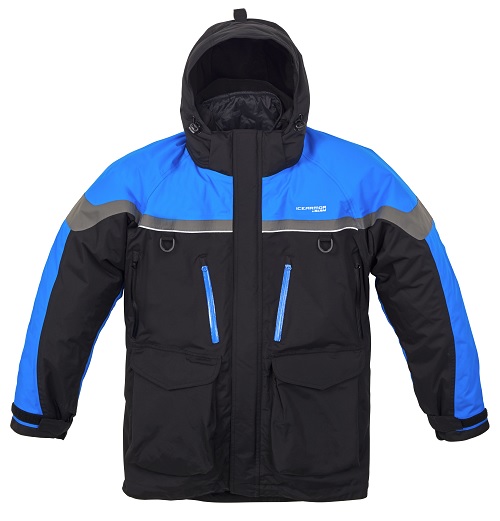 Everything is new and different in the IceArmor® by Clam® line up, and ice anglers will be surprised and delighted by all the attention to detail and overall improved quality. Consistency in brand-name insulation (3-M) and zippers (YKK) means every level of IceArmor® by Clam® deserves the best elements available.
"We've been busy improving the overall quality of every product in the line, with a ton of flexibility and improved comfort and ease of use," Shawn Knodt said, manager of IceArmor by Clam gear.
For example, making bibs adjustable for length so that 6" can be easily added or removed makes the same bib fit a shorter angler's inseam. No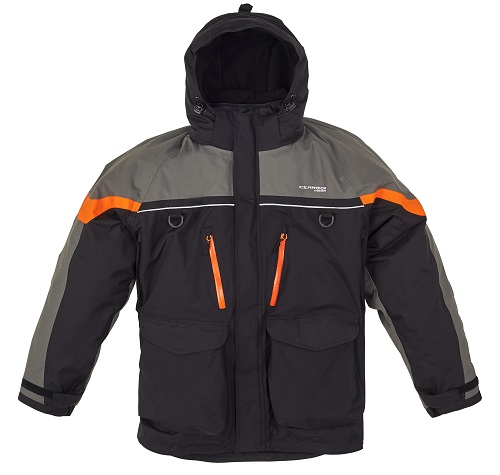 tailor needed, this feature is built into each leg hem with Velcro. This attention to detail is available on every single bib in the line—Edge, Extreme and Lift suits. All the large, bulky buckles are gone, and instead of snaps for full closure, there's now a magnetic flap that stays closed (or opens) with the lightest effort. Even the colors are improved— the blues are a truer Clam blue, and new color combinations like black/gray/orange or black/gray/red as well as black/gray/blue give everything a fresh new apperance. The Lift series of suits even boasts a black/gray/chartreuse in addition to gray/blue and gray/red. The women's line is improved and offers gray/blue in addition to gray/pink in the Extreme and in the Lift suit line for women a gray/white/pink.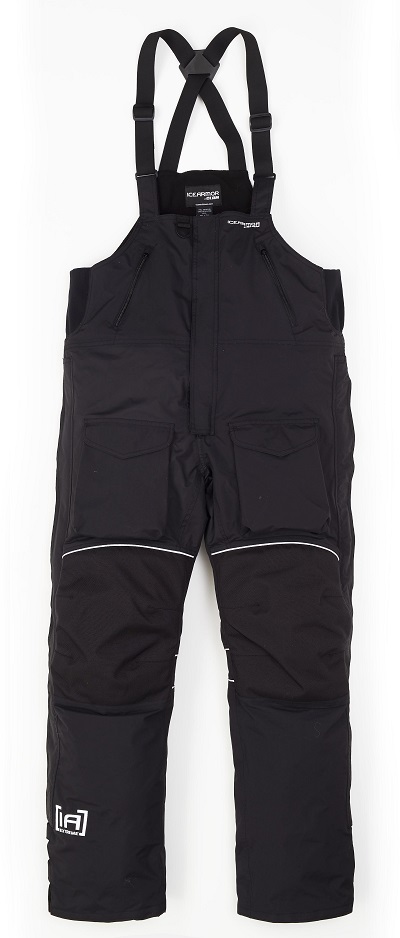 Versatility in the insulation layers works between suits, so a puffy jacket is available (and removable) in the Extreme suit, or the soft shell jacket in the Lift line might be the right fit. "Being able to upgrade a liner or purchase a separate liner layer is important to making the suit work perfectly for individual anglers," Knodt said.
Ice Team Pro staffer Barb Carey agrees. "What's cool is how diverse the line is now, it can fit your personality color-scheme wise and how you fish weather wise," Carey said. "You can mix and match, and it's so comfortable it allows you to have the flexibility of movement. These suits are incredibe, as comfortable as a pair of pajamas." Carey likes the detachable layers—some garments can be worn on their own—so they work on or off the ice.
All the gloves, mitts and hats have kicked it up one or two steps across the board. The brand-name elements like Dintex liners, Purell membranes and 3-M Thinsulate appear in every price point. It's the Blue X Factor shining through with attention to detail; like hinging a balaclava so it can toss back with ease. Lots of little details on many SKUs for a reinvented line.
Price points on all the IceArmor by Clam products stay the same, even with this continued improvement. The Edge series MSRP (parka) is $179.99 and (bibs) $179.99; the Extreme series (parka) $229.99 and (bib) $229.99; the Lift series (parka) is $269.99 and (bibs) $259.99. Women's Extreme series now comes in two colors with a removable Thinsulate liner in both the parka (MSRP $229.99 each) and bib. And now, the Women's line carries over into the Lift Series with a Women's Lift Parka MSRP $269.99 and Women's Lift Bib MSRP $259.99. The youth line in the Lift Series runs size small to XL with MSRP of $119.99 each for parka and bibs.
Innovation and quality known as the Blue X Factor

can be found in all brands including: Clam® (shelters, auger systems, rods, reels and accessories), Quick-Set® by Clam® (screen shelters), Clam Pro Tackle

(jigs, lures and artificial baits), IceArmor® by Clam® (cold weather gear), Dave Genz (shelters, rods, reels and tackle), Big Tooth Tackle

(lures), Today's Tackle

(fishing accessories), Jason Mitchell Elite Series

(rods, reels and shelters), and Polar® by Clam® (trailers, carts and landscape accessories).
For more information on Clam Outdoors go to http://www.clamoutdoors.com or call 800-423-3474.
The post IceArmor by Clam Reinvented, "The Best Keeps Getting Better" appeared first on ODU Magazine-North America's #1 Digital Fishing Magazine.