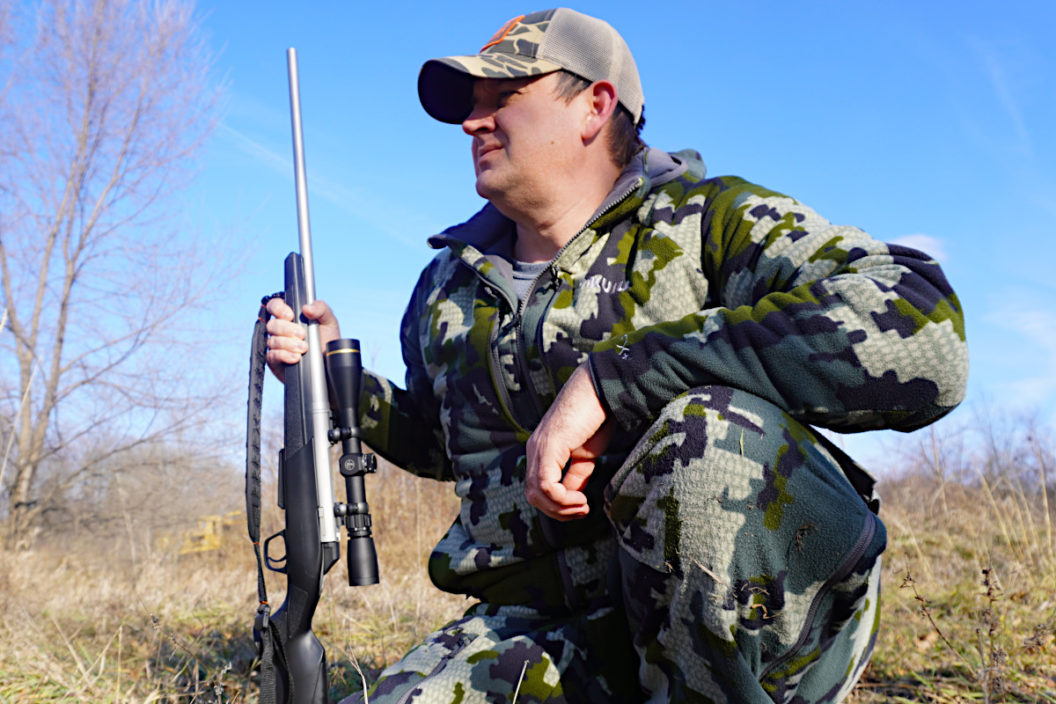 As I brought up my rifle and scope, the buck unexpectedly turned his head back in my direction. I know he missed my movements; his head had been away from me when I moved. I could see through the scope he was looking at something else near his feet. I noticed that the non-typical buck, only about 50 yards from where I was sitting, had a very unusual left side. The buck didn't seem to catch my movements, though, and I decided quickly he was a shooter. I centered the crosshairs on his vitals and squeezed off a shot. No reaction. The buck didn't flinch an inch. I knew my first shot with the 350 Legend had been a clean miss. Looking back, I think I just pulled it. I quickly racked another round into the chamber. Again, the buck didn't seem to catch my movements. I squeezed off another round, and the buck dropped in his tracks this time. He thrashed for about 30 seconds before it was all over-the cleanest kill of a whitetail in my life.
That was my experience hunting with the new KUIU Proximity line of camo designed specifically for treestand hunting in cold weather conditions. And it fit the hunt I just described perfectly. We still had about 4 or 5 inches of snow on the ground and a high temperature in the teens when I dropped that unusual Michigan 9-pointer. Even though I was sitting on the ground with no blind, none seemed to pick me off or catch any sound of my movements, which is precisely what this new line of hunting gear is designed to do.
Materials of KUIU Proximity
Jacket and Pants Materials
Wind-resistant SynthaCell technology
Silvadur anti-odor technology
DWR water resistance
3DeFX+ insulation
Toray insulation
Polyester knit lining
SynthaCell foam coating
Pant weight: 2 pounds, 4 ounces
Jacket weight: 1 pound, 15 ounces
Available in four different camo patterns
Pros:
Ultra-quiet
Extremely warm
Effective camo patterns
Extremely comfortable
Cons:
A little slower to dry than some of KUIU's other gear
Price
Last year, I reviewed KUIU's Super Down Pro Jacket and Pants and loved them. That camo will surely remain part of my whitetail hunting clothing rotation. But the downside I found is that the nylon ripstop fabric–while great at repelling moisture and helping the clothing stay super warm–is also a little bit noisy for hunting whitetails here in the Midwest, where the deer are heavily pressured and much jumpier than in the West. They're also very light for later-season hunting. So I was thrilled when I learned KUIU had introduced the new insulated Proximity jacket and pants.
Seriously, it's as if they read my mind on everything I wanted out of cold-weather hunting gear explicitly made for hunting out of treestands here in the Midwest. The most notable feature here is a proprietary, low-sheen brushed fabric on the exterior of the jacket and pants. This solves my only real problem with the Super Down Jacket and Pants–the slight swishing sound that comes with movement. That's not a big deal if you're hunting in a Western state such as Wyoming, where winds are fierce, and shots are at a distance. It becomes an issue when you're trying to get in close while stand hunting. Proximity's fabric solves that problem by being whisper quiet no matter how much movement you make. And I had plenty of close encounters while wearing this clothing during my testing. Fortunately, I was never busted once when needing to make any movement with a deer nearby.
Before I discuss how the new Proximity series performed, I want to discuss the materials and design. KUIU designed these outer layers specifically for use with a base layer and a mid-layer. The interior of the jacket is extremely soft and comfortable. Proximity is a little heavier than KUIU's Super Down products. However, these are still extremely lightweight at 1 pound, 15 ounces on the jacket, and 2 pounds, 4 ounces on the pants. Speaking of the pants, I love the fact KUIU included suspenders. It helps the Proximity insulated pants function more like a pair of bibs, which is vital for cold-weather hunting.
Probably the biggest thing I appreciate about KUIU Proximity is the zippers. One of my biggest pet peeves is outdoor companies using increasingly small zippers on all their clothing and equipment. I suspect it's a cost-saving measure for many companies, but it ultimately hurts the consumer. The smaller the zippers get, the tougher it is to use them in cold conditions. I was very pleased to find Proximity has large, easy-to-grasp YKK zippers that are a breeze to operate in frigid conditions.
I will get my one con, besides the price, out of the way right here. My first hunt with Proximity was in a literal whiteout snowstorm. I was covered in snow from head to toe after that hunt. And while I stayed extremely warm, I needed to let the clothing air dry a little longer than I would have with the Super Down. It comes with the territory when talking about a brushed fabric with a foam membrane. For me, that's a small price to pay for the extreme comfort, warmth retention, and silence provided by this new line.
How Proximity Helped Me Fill my Freezer
My Proximity clothing arrived somewhat later than expected at my doorstep due to shortages–unfortunately, a fact of life these days. KUIU offers Proximity in its Valo, Verde, and Vias camo patterns, and I had requested Valo. When I found out that the pattern was on backorder, I went instead for Verde, which has more greens and blacks. This pattern is designed more for evergreen environments but ended up functioning perfectly for me in Michigan's hardwoods. My hunting area typically has a small amount of greenery year-round due to the patches of thorns that grow throughout the area.
I continue to be impressed with KUIU's patterns and ability to hide a hunter. There's just something about them that puzzles the eye of a whitetail like no other camo I've ever used. I had several mature does that caught something about me and set alarm bells in their heads. Nearly every time, I've had these same deer eventually give up and go back to browsing or whatever they were doing. Verde and Valo have saved my bacon more than once these past two seasons, and I've come to trust the patterns to do their job when I need it the most.
The early winter weather arriving in November was both a blessing and a curse for firearms season. My first sit with Proximity was one of the coldest sits I've been on in years. The clothing, combined with my base layers, kept me rather toasty through the whole hunt, which is good because Michigan decided to give us a dose of late-season weather early in the form of nearly 8 inches of snow.
As I mentioned earlier, my first sit wearing Proximity was a near-total whiteout on a food plot–to the point that I had a hard time seeing deer standing only 100 yards away. With temperatures in the teens and the snow showing no signs of stopping, I saw 33 deer, some of them as close as 20 yards. Because I was toasty warm, I could stay perfectly still and, thus, completely undetected–even as some of the younger deer closed the gap to as little as 5 yards. I didn't bother to wash the clothes before I went out hunting with them. The clothing arrived while the season was in full swing, and there was no time. I also use an ion field generator I trust to mask my scent. The field generator and the clothing's anti-odor tech seemed to do a fine job whenever the winds swirled. I saw more deer this season (80-plus) than I have in my other 23 seasons hunting this same property. Consider me impressed.
While KUIU designed these patterns mostly with treestand hunting in mind, on the night I shot that buck, the winds were not in favor of my stand on this food plot. So, I went old school. I packed a folding chair and flopped it on the ground opposite where the wind was in my face. It's a spot I've had success harvesting deer from. I also figured this would be the ultimate test of Proximity's capabilities, up close and personal with the deer at eye level and with no blind to cover for my mistakes.
Even though the temperature had gone up and the snow was slowly starting to melt, the deer were still ravenous. They began filtering into the food plot almost immediately after I sat down. In total, I ended up seeing 26 deer in the evening. The 26th deer was the non-typical 9-point I mentioned at the start of this article. He arrived in the field with about 20 minutes of shooting light left, and I was thankful he showed up a little later because I was covered up with does and button bucks nearby (see what I did there?) almost all evening.
The buck was still close enough to spot my movements, and I thought he was going to bolt when I tried to cycle that second round into the chamber. I credit the camo and a little luck with giving me a rare second chance at the deer. I didn't know exactly what I'd shot until I walked up on the buck and found he had no discernible main beam on his left side. Just 4 points were jutting out from the base, the longest of which was 8 inches. I was also surprised to find he had a small, 2-inch drop tine that curled upward slightly from the base. My most distinctive buck ever harvested. He won't score very well, but he'll undoubtedly be a conversation starter once I have a Euro mount done.
Aside from keeping me warm and hiding me–resulting in an extremely successful hunt–I want to talk about how well everything else on Proximity is designed. The designers went all out on the pockets. There are two handy ones on the jacket's chest and the standard pockets. The designers also placed four large zippered pockets on the legs of the pants, which are quite handy for holding things such as knives, small calls, and other small items you'll need on a stand. The placement of these pockets is perfect for me when compared to the other pairs of hunting pants I own.
Another feature I almost glossed over is the removable hood on the jacket. I like hoods on my hunting jackets because they're great for wind protection. I used the hood extensively, especially when it was snowing heavily. However, if that's not your style, KUIU made it rather easy to remove. Just undo a zipper on the back and pop the ends out from the collar. KUIU included some magnets in the collar to help put the hood back on quickly if you decide you need it later. KUIU also added a safety harness port to the jacket, although I must admit I didn't use this feature. However, it's another smart design. KUIU made the fabric overlap between the interior and exterior of the port so it doesn't become a window to cold air if you're running your harness through it.
The Bottom Line
The only other con I have for Proximity is the price. The pants retail for $259, and the jacket for $299. That shouldn't be surprising for anyone with knowledge of KUIU gear. But it's quality stuff, and you'll get what you paid for. However, after my successful hunt wearing Proximity, I feel safe saying this clothing is worth every penny. The design's thoughtfulness on the jacket and pants is what stands out the most about these garments. When KUIU said it packed them with "purpose-driven features," it was not kidding! The jacket and pants are light but warm and the quietest options I've ever used for hunting skittish Michigan deer. Once again, KUIU has impressed me greatly. If you're looking for a new, high-quality, whisper-quiet way to hunt the colder months every year, it's worth giving Proximity a look. See the KUIU website for more information on Proximity and other camo options.
For more outdoor content from Travis Smola, follow him on Twitter and Instagram. Check out his Geocaching and Outdoors with Travis YouTube channels for original videos.
The post Review: The New KUIU Proximity Line Lives Up to the Hype appeared first on Wide Open Spaces.