Facebook: LOVAC.com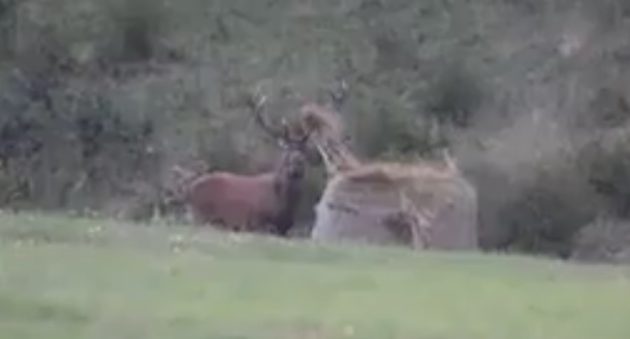 No matter who or what you are, when a red stag wants to pick a fight, there is no escape.
No joke, when I first watched this video, I had to do a double-take to make sure it was for real.
Turns out, this red stag decided it was time to give an ordinary bale of hay a piece of its mind.
Watch the video below to see this epic battle for yourself.
Posted by LOVAC.com on Thursday, September 7, 2017
As you can see, this full sized bale of hay was tossed around like it was nothing. It is obvious this big stag was ready to defend its territory, no matter if what it was matching up against. Reports of these animals attacking humans are very common, so be sure to keep tabs on the animals you have in your area and make sure not to piss one off during the rut. Stay safe out there, folks!
Did you enjoy this post? CLICK HERE to view more articles by Jesse Males. You can also follow him on Facebook Backwater Fly Fishing, Twitter @Backwater_Fly, and Instagram backwaterflyfishing.
NEXT: MAN FILMS TREE IN THE WOODS FOR AN ENTIRE YEAR, AND WHAT HE CAPTURES IS BREATHTAKING
WATCH
The post Red Stag Attacks a Hay Bale and Tosses It Around appeared first on Wide Open Spaces.