Facebook: Brad Korando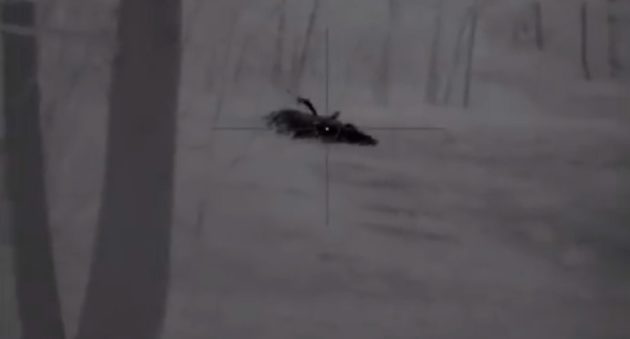 The video of this wild hog shot is unbelievable.
This invasive nuisance got some lead medicine, courtesy of a thermal-imaging scope.
This epic wild hog shot is certainly second to none.
Watch the video below:
Brad Korando shared this action-packed video on Facebook. This is a wild hog that paid the ultimate price for gluttony.
Sneaking into the woods at night, this hunter was well-armed for this hungry, invasive hog. A thermal-imaging scope caught the fat hog feeding on corn in the crosshairs. Then, one shot rings out, followed by another. A geyser of blood pours from this feral beast, and this guy caught it all on video.
Wild hogs are invasive nightmares that cause destruction to both wildlife and farmland. We take our hats off to the men and women that target these animals.
Do you like articles about the outdoors? Click here to view more articles by Eric Nestor. You can follow him @ericthewoodsman on Twitter, The Classic Woodsman on Facebook, and @theclassicwoodsman on Instagram. You can view more Nestor Photography photos at Nestor Photography.
NEXT: .45/70 CARTRIDGE REVIEW: BUFFALO CARTRIDGE COMPANY; OHIO-MADE BIG GAME CARTRIDGES FOR 2017
WATCH
The post This is Best Shot You'll Ever See on a Wild Hog appeared first on Wide Open Spaces.