Last August I committed to starting a plant-based diet. I was vegetarian for years, but struggled with making the leap to going vegan, mostly because I didn't want to give up my beloved cheese. I did it though, and now I feel better than ever. It's not that I felt bad before, but I feel better now, both physically and mentally.
One thing I've learned while on a plant-based diet is that in order to feel satiated, I've really had to fill up on healthy foods like fruits and veggies, beans, nuts and seeds. This seems obvious, but it's easy to be a junk food vegan. Before I would reach for things like cheese and crackers when I got hungry and that would be enough. Without the cheese, I've had to retrain my brain to make these other healthier foods my go-to. It hasn't been easy, but it's getting easier.
Breakfast feels like an opportunity to cram in as many nutrients as possible in order to start the day feeling satiated. My breakfast of choice lately has been oatmeal and I've been making it on a timer in my rice cooker, so it's ready to eat when we get up in the morning. I always mix in some flaxseeds and top it with homemade almond milk, but the other toppings vary depending on what we've got in the house.
One of my favorite combinations has been raspberry, almond butter and cacao nibs. I love this combo so much that when I ran out of fresh raspberries I even started reaching for the freeze-dried ones in the back of my pantry that I had purchased for a backpacking trip. After I did this a couple of days in a row, it occurred to me that this is perfect backpacking food. It's filling, but still energizing, and it tastes delicious.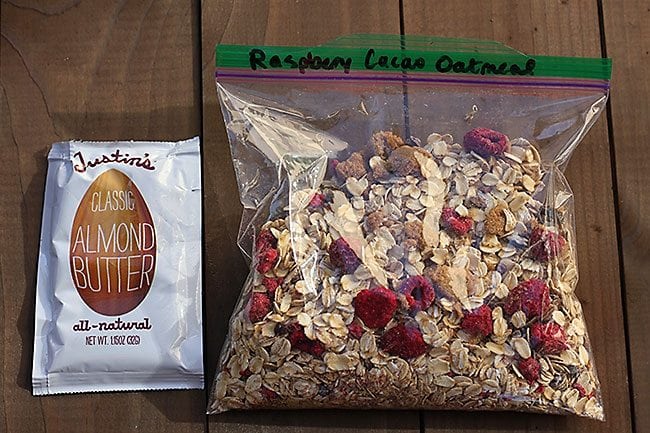 I would use regular rolled oats for this because I don't care for gluey instant oats and I don't mind the bite of slightly undercooked oatmeal. If you are concerned about fuel use and don't mind the stickier instant oats, then you can certainly use those. This recipe serves two, but can easily be scaled up or down.