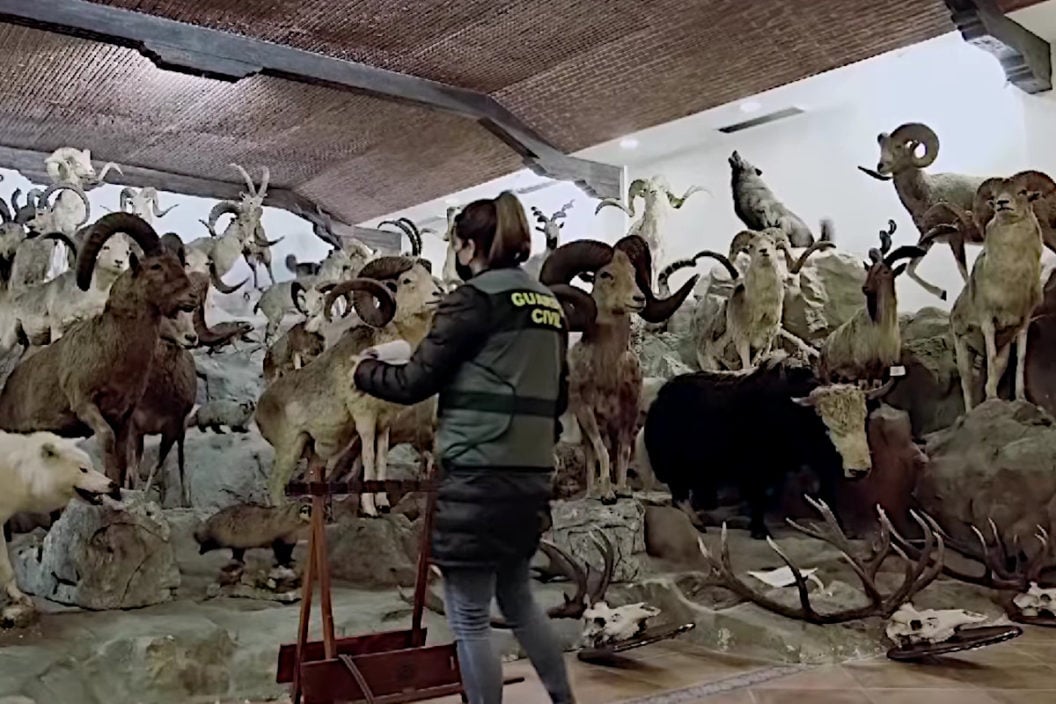 Authorities are investigating a possible smuggling case after finding a massive taxidermy collection.
The Spanish Civil Guard has seized a massive taxidermy collection from a warehouse in Velencia and are now investigating the possibility of smuggling due to the types of animals found in it. Reuters reports authorities raided a 538,000-square foot industrial warehouse last Wednesday and found over 1,000 animals stored there.
There have been no arrests made, but authorities have estimated the collection's value at 29 million Euros (approximately $31.5 million U.S.D.). Aside from the sheer number of animals found, there was tremendous variety.
Photos and video of the collection show polar bears, lions, lynx, white rhinoceros, full-body mounts of elephants, crocodiles, a variety of African plains game, birds, and more. Most notably, authorities discovered 198 ivory tusks of elephants.
A press release from the Civil Guard notes this raid was the result of an investigation that began in November of last year. They also said that 405 specimens are listed on CITES, a group of protected species from the Convention of International Trade in Endangered Species of Wild Fauna. Animals protected under the CITES treaty are either banned or highly regulated in international trade. The treaty is intended to protect endangered species from being exploited in legal or black markets.
Reuters notes many of the animals found in the collection are either already threatened or are extinct already. At least one extinct scimitar oryx was found in the collection. While there are still some scimitar oryx in captivity, the IUCN declared the species extinct in the wild in 2000, with some recent efforts to re-introduce them.
Authorities also found an endangered Bengal tiger, cheetahs, and snow leopards in the seized collection. It seems the next step is for authorities to start looking at documentation for the animals to determine which of them are legal or not.
For more outdoor content from Travis Smola, be sure to follow him on Twitter and Instagram For original videos, check out his Geocaching and Outdoors with Travis YouTube channels.
The post Police Seize Thousands of Animals in $30 Million Taxidermy Collection in Spain appeared first on Wide Open Spaces.