Polaris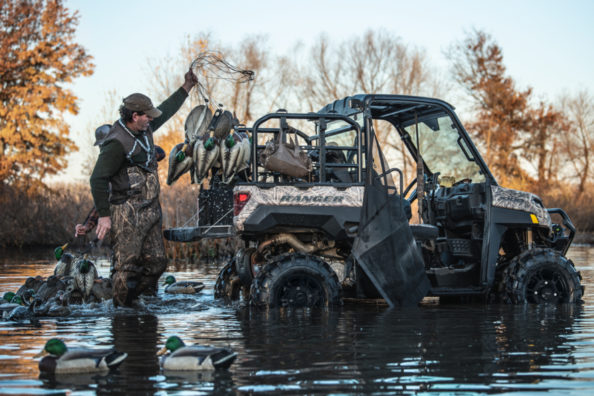 Polaris is bringing back their Hunt limited editions for 2022.
Last year Polaris introduced their Big Game and Waterfowl editions of their popular RANGER XP 1000 side by sides. These machines were specifically designed with hunters in mind and were packed with features meant to make your experience in the woods pursuing game a much more pleasant one. Well, hunters loved the first version of these limited editions, so it's not surprising the company announced that they are returning in 2022.
We've got the low down on what they added to these new off-road vehicles to optimize them for getting you and all your hunting gear in and out of the field on a consistent basis. We also have the details on the new 2022 RANGER Crew XP 1000 NorthStar Big Game and Waterfowl Editions which Polaris says are going to provide an extreme comfort level not seen before in a dedicated hunting side by side.
It's all part of how Polaris seems to continually set the bar higher for quality on their machines through consumer input.
2022 RANGER XP Big Game and Waterfowl Editions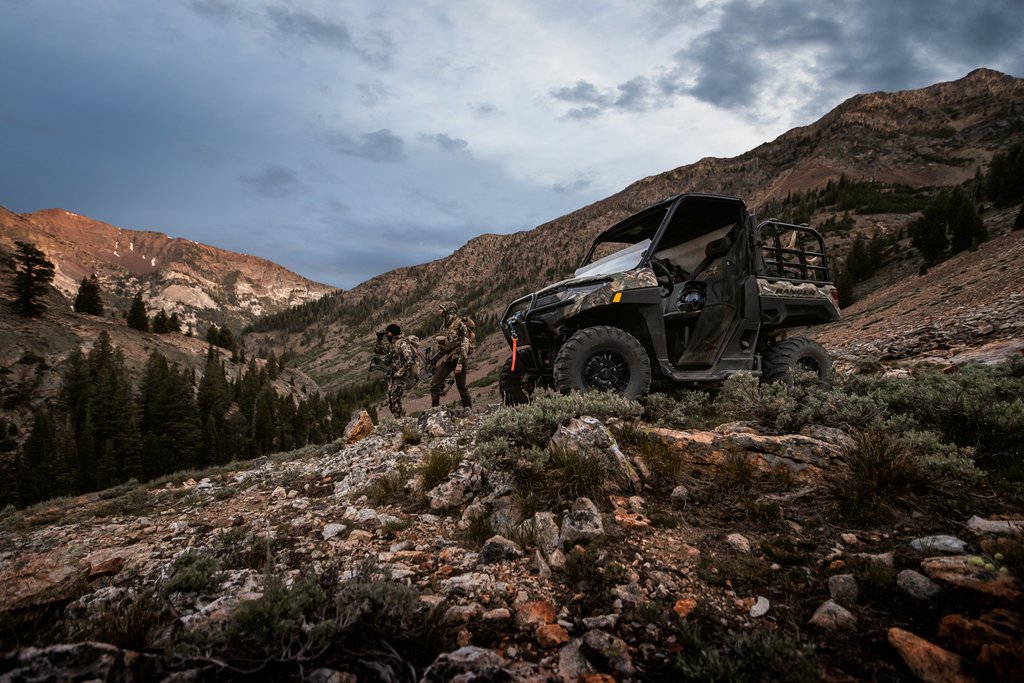 The three-seat models are going to start with an MSRP of about $21,999 and the Crew models start at $23,599. Both editions come packed with all sorts of features to make your hunt more pleasant. Polaris gave the Big Game edition 8-ply, 29-inch Pro Armor X-Terrain tires, and the Waterfowl Edition 29-inch Pro Armor Mud XC Tires, so there's something to fit the type of terrain you hunt on a regular basis.
The Big Game Edition has Polaris' Active Descent Control system (ADC). It helps significantly with control on steep hills or mountains because it works with the engine braking system to help control traction. I didn't think much of this until I experienced it myself. You can totally feel the difference when driving downhill on a machine with it, and then compare it to one without it. It's a well-needed feature that you almost don't even know you need.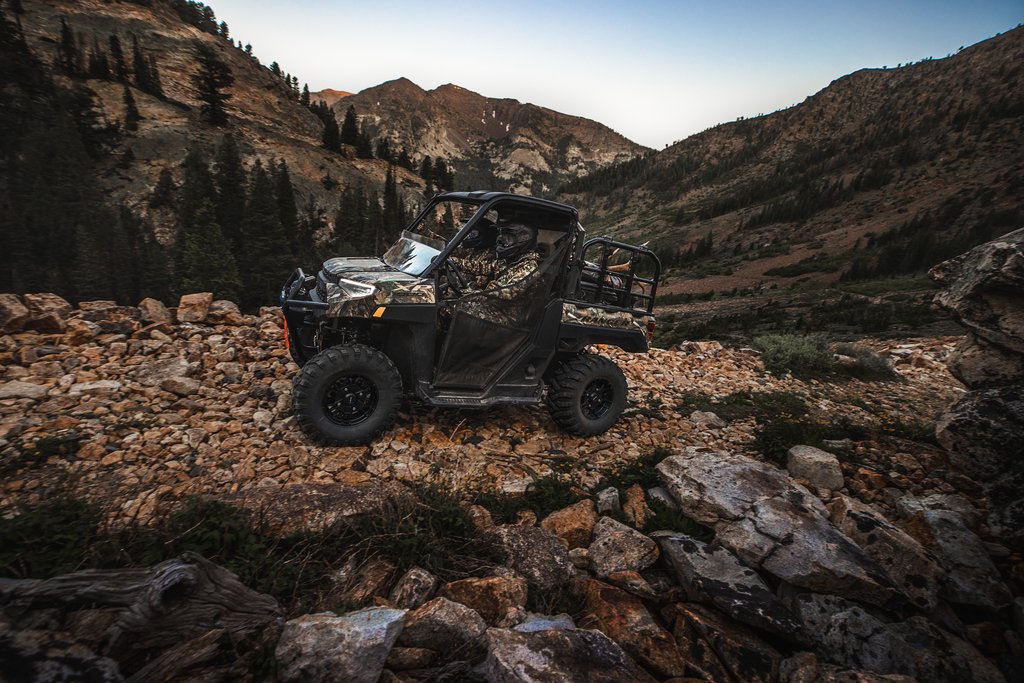 Polaris also gave the Big Game version their Polaris Pursuit camo pattern and a self-leveling suspension system to help clear rocks and other obstacles that try to get in the way of reaching that perfect backcountry hunting spot. The system automatically adjusts to maintain the vehicle's ride height. It helps a lot, especially when you've got a lot of gear piled in the back.
This version was also given new LED headlights that Polaris says are 90 percent brighter than halogens. The machine has also been fitted with redesigned seats featuring extra padding for more comfort on those longer rides through the brush.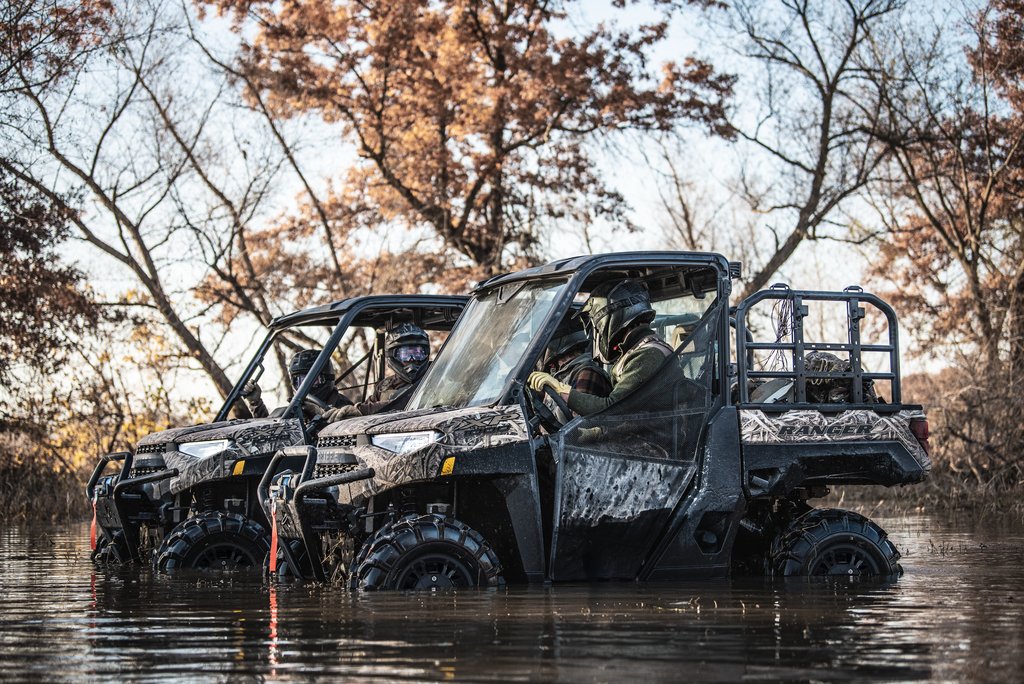 For the Waterfowl Edition, the engineers stayed thoughtful of the muddy, watery terrain most hunters must navigate to hit their bag limits on a frosty morning. This meant a higher mount for the air intakes and clutch so air can still enter while traveling through standing water. Polaris also sealed the winch and other electrical components to keep them safe.
This version of the RANGER also has the same lights and re-designed seats. Polaris gave the Waterfowl Edition a heavy-duty front bumper with a 4,500-pound winch with a synthetic rope which is designed for operation in mud and water in the swamps and bayous where the birds are flying. This machine has a mash grass camo pattern designed specifically for waterfowlers.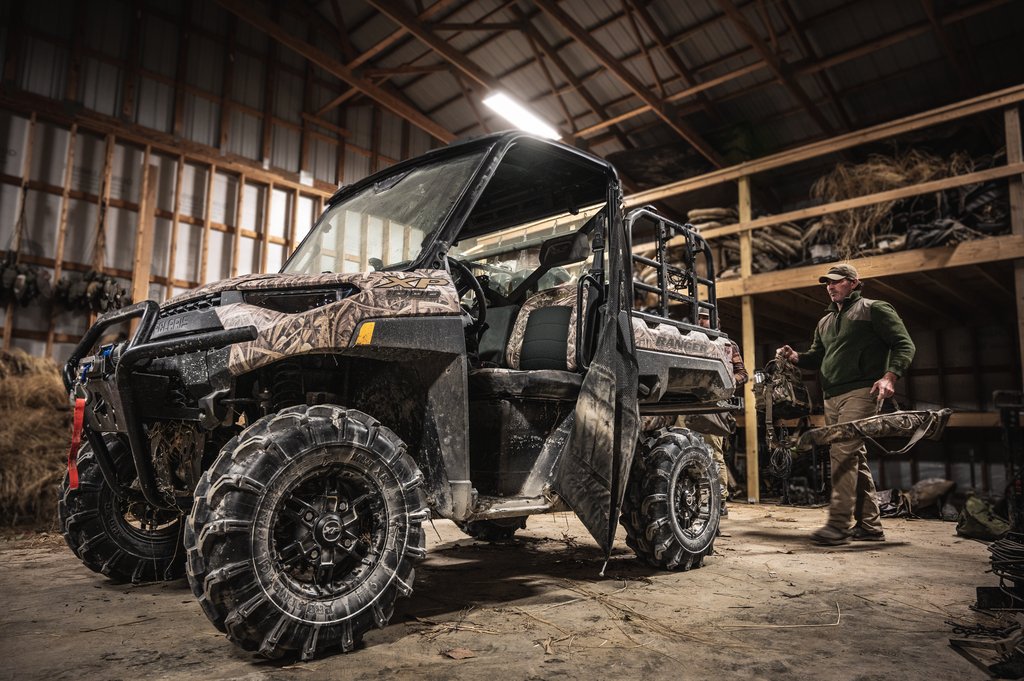 Both machines come with an accessory collection designed in collaboration with people who know what hunters need. Lee and Tiffany Lakosky helped with the Big Game Edition accessories and noted waterfowler Tony Vandemore helped with the Waterfowl Edition. This includes additional storage space for gear, upgraded lighting, and more. These machines can also accept the Rhino-Rack line of attachments, bed racks, and roof racks for additional functionality.
2022 RANGER CREW XP 1000 NorthSTar Big Game Edition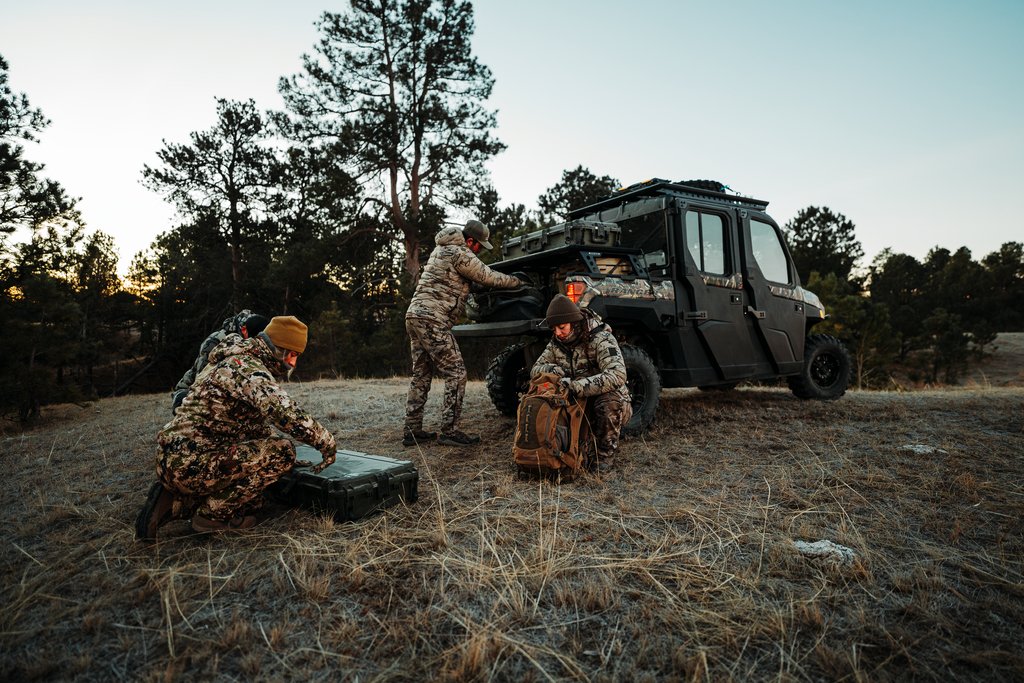 If you've never driven one of Polaris' NorthStar Editions on an extremely cold or hot day, you are missing out. This machine comes with all the other features we've mentioned, but this model has the RANGER Pro Shield Cab system to protect the driver and passengers from the elements no matter how nasty the weather outside gets. The machine has a full heating and air conditioning HVAC system to make the inside completely climate controlled. It stays toasty in the cold and refreshingly cool in the heat. That way you can stay comfortable no matter if you're heading to your stand in the dead of winter or simply checking trail cameras in the heat of summer.
Polaris also gave the Crew model their ever-popular 7-inch touch display screen with Ride Command, which lets you navigate and drop waypoints to that perfect hunting spot. It also displays all the information you need about the machine in one convenient, easy-to-read place.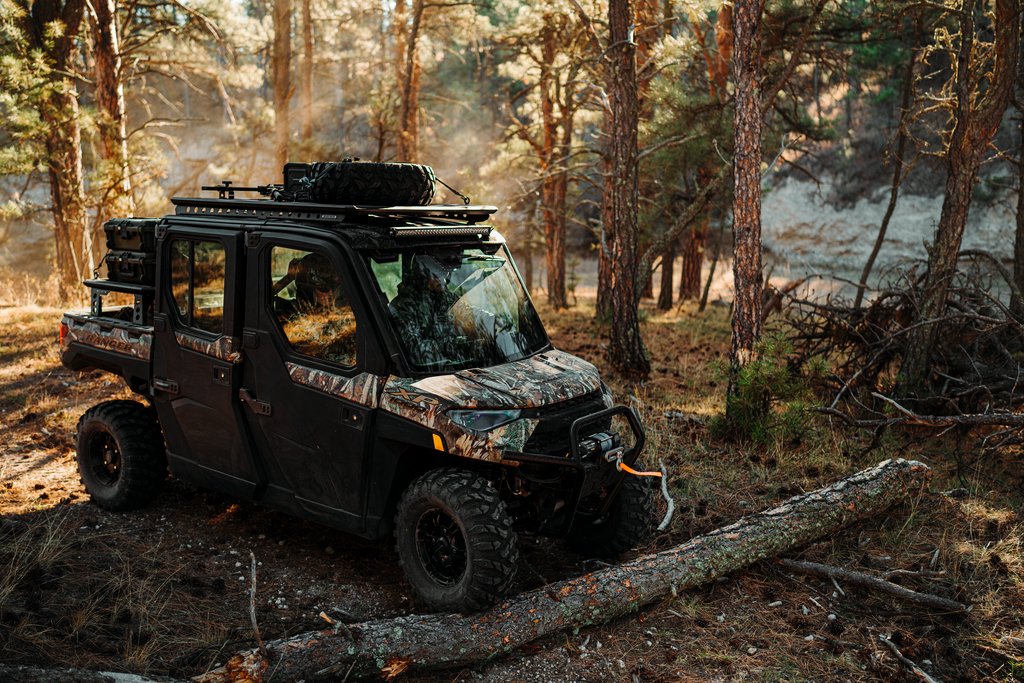 Offering the Big Game and Waterfowl Editions again was a no-brainer for Polaris after the first machines released last year proved to be so popular with consumers.
"Based on the positive response to these vehicles in 2021, we expanded the lineup to include a NorthStar edition for comfort in extreme weather conditions," Polaris Vice President and GM of Off-Road Utility Chris Judson said in a press release. "These hunt edition RANGERs are yet another example of our dedication to hunters and the extreme conditions they encounter throughout the year."
The NorthStar Edition is offered exclusively in a Crew Big Game Edition package for 2022. The MSRP is set to start at $34,999. For more information on the new Hunt Limited Edition RANGERs, check out the Polaris website.
For more outdoor content from Travis Smola, be sure to follow him on Twitter and check out his Geocaching and Outdoors with Travis YouTube channels.
NEXT: POLARIS RANGER KINETIC: 8 THINGS WE LEARNED FROM ITS OFFICIAL UNVEILING
WATCH
The post Polaris Announces New 2022 Limited Edition Polaris Hunt Editions appeared first on Wide Open Spaces.