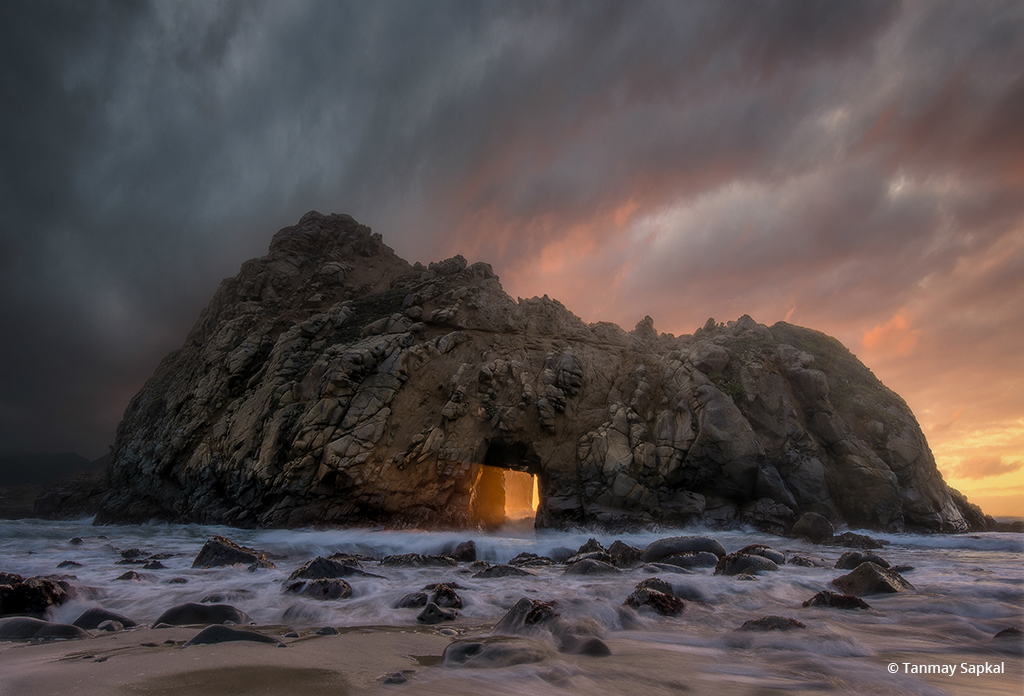 Today's Photo Of The Day is "Gods Descending" by Tanmay Sapkal. Location: Keyhole Arch, Pfeiffer Beach, California.
"For a few weeks each year during the winter solstice, the sun casts an ethereal glow through Keyhole Arch on Big Sur's Pfeiffer Beach at sunset that is absolutely breathtaking," says Sapkal. "This natural phenomenon doesn't have fixed dates, but the prime time for the best light is early January, with good-to-great light occurring from around December 15, 2017, until January 20, 2018. When I arrived at the spot, some 45 minutes before the sunset, the place was packed with fellow photographers. I joined the end of the line as everyone scrambled to get a shooting angle. I was disappointed, feeling that I would not get a shot worth keeping, but I waited around and kept shooting long after people started leaving. To my luck, the sky blew up, creating these intense colors."
Photo of the Day is chosen from various OP galleries, including Assignments, Galleries and the OP Contests. Assignments have weekly winners that are featured on the OP website homepage, Facebook, Twitter and Instagram. To get your photos in the running, all you have to do is submit them.
The post Photo Of The Day By Tanmay Sapkal appeared first on Outdoor Photographer.