The Original Goldfish shape and action built specifically for salt water action. 100lb test rings, hard baked paints, custom tied teaser 3/0 VMC J hooks and a wobble that striped bass, blues and the other monsters of the salt attach viciously. Total lure & hook length 4 1/2″ and at 1 1/4 oz, it casts like a bullet. ORDER LINK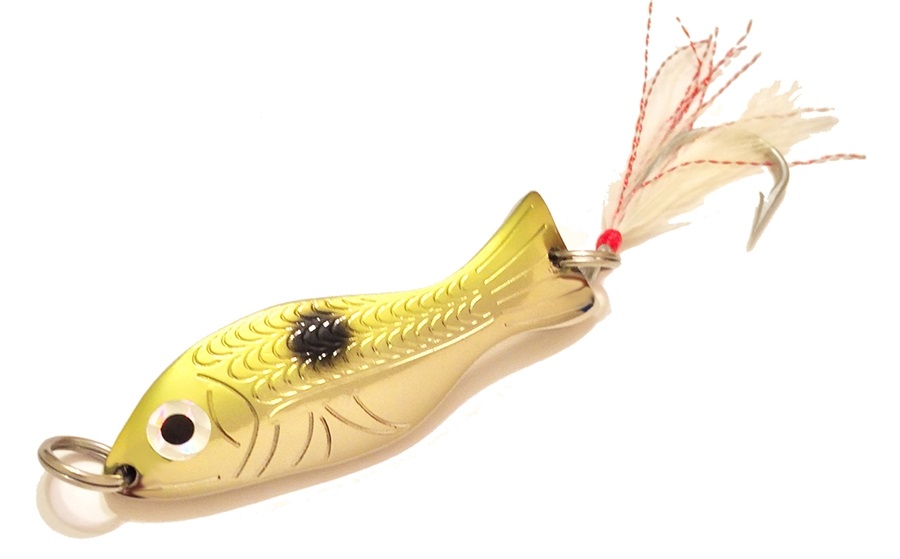 "Anyone who fishes the Canal knows that distance is important to catching fish, and I averaged between 260 and 280 feet while fishing a 9-foot rod with 30-pound test. It's an incredible lure."
5-time United States Distance Surfcasting Champion and casting instructor Ron Arra field tested the Saltwater Series in New England. http://www.ronarrasurfpro.com/
"In a few hours two of us landed more than 30 bass up to 27 inches. Your Goldfish was perfect, and stripers hit it aggressively. Work it up high or if you need to split the water column pause and let it sink and you can get deep. That lure is a blast to fish." Todd Corayer, also known through his www.fishwrapwriter.com blog tested the spoons in the Rhode Island salt ponds.
Fishing Lure Size: 1 1/4 oz. – 2-3/4″ Lure Body, Total length 4 1/2″ – #3/0 VMC Hook with feathers
The post NEW! Salt Water Al's Goldfish (1 1/4 oz) Bunker appeared first on ODU Magazine-North America's #1 Digital Fishing Magazine.