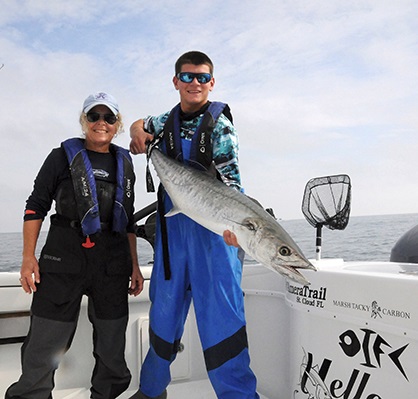 The Outer Banks of North Carolina are a national treasure. The region starts as a peninsula a dozen miles north of the Virginia state line and extends unbroken for 70 miles until you reach Oregon Inlet. From there, it becomes a series of barrier islands extending another 100 miles to Cape Lookout. OBX separates Currituck, Albamarle and Pamlico Sounds from the Atlantic Ocean, and encompasses some of the most beautiful beaches, quaint towns, fishing ports and expansive backwaters in the country – all teaming with fish, waterfowl, sea birds and even wild horses. 
 
Our destination was Ocracoke, a 16-mile long island located between Hatteras Island to the north and Long Core Bank to the south. It can only be reached by car, ferry or boat, and is steeped in pre- and post-Revolutionary War history, maritime traditions and pirate lore. The infamous Edward "Blackbeard" Teach actually lived here just prior to his ultimate demise. The island is a bustling tourist destination during the summer months, but come November it's nearly deserted, save for a few hundred year-round residents and fishermen who gather here for some of the best fall action to be found anywhere on the East Coast. 
 
The Yamaha team met up with Brant McMullan, stalwart senior captain of the McMullan clan, Brunswick County's first family of saltwater sport fishing. His brother Barrett and wife Amy are also licensed captains and together the family operates one of the premiere fishing destinations on the Carolina coast, the Ocean Isle Fishing Center. The whole family, including father Rube and Brant and Amy's kids, Caroline and Braydon, also make up one of the winningest competition teams on the professional kingfish circuit, and have for many years. We spent a couple of days fishing with Brant aboard his beautiful Yamaha-powered 39-foot Yellowfin® center console in preparation for the Kingfish Cup Championship. Our goal was to spend some time discussing the tournament series while also gaining some insight into how a top competition team prepares for an event of this magnitude. Learning the ins and outs of tournament prep can help any angler catch more fish when venturing into new waters.
 
The Kingfish Cup (KFC) was just completing its first year of competition with the championship. It's a limited entry tournament series open to 100 teams on a first-come-first-serve basis, and it sold out very quickly after it was announced last spring. Entrants fish four qualifying events, each an existing tournament partnered with KFC, to gain points based on the weights of their three largest fish caught during those events. At the completion of the qualifying tournaments, the top 25 teams get an invitation to fish in the Championship on Ocracoke. That invitation includes a guaranteed minimum payout of over $70,000 to the winner. Interested anglers can learn more about the tournament by visiting www.kingfishcup.com. You can also follow the teams exploits and get updates by following the tournament on social media: www.facebook.com/kingfishcup. 
 
"The Kingfish Cup grew from my interest in rekindling the competitive spirit that once surrounded kingfish tournaments," said Brant. "There is a long history of great kingfish tournaments in the Carolinas, and they attracted thousands of teams each year, but I've felt that interest diminish dramatically in recent years and wanted to do something about it. 


 
"I've always felt that having to qualify for a championship event pushes overall competition to a higher level and that's what the KFC is all about," he continued. "Winning a tournament is a difficult thing to do and prize money is always slanted toward the first place team, but I felt rewarding consistency in qualifying events was equally important, so we worked with four existing kingfish tournaments that our 100 teams could compete in to gain the points needed to qualify for the championship event. Only the most consistent teams would earn the right to go head-to-head against each other for a large purse.
 
"When I started putting the series together I wasn't looking for a lot of corporate sponsors. The last thing I wanted was having a company in a position to influence how the series would work by way of their monetary support, but our friends at Yamaha saw the value of what we were doing, agreed to be our major sponsor and let us do our thing. I couldn't ask for anything more." 
The series sold out quickly so the concept was validated. The initial series entry fees were split into two pots, with half going to the KFC teams placing highest in the four qualifying events and the other half going into the pot for the championship. Since the championship is limited to no more than 29 teams—the top 25 point earners and up to four wildcard entrants can qualify by coming in first place in any of the four qualifiers—the championship was held on Ocracoke Island. 
 
"Ocracoke is a small place with limited facilities, but one of my favorite places to fish anywhere in the Carolinas," said Brant. "It could never handle the typical 200 boats or more that fish in the qualifying events, but it's the perfect place for the championship and that makes it even more special." 
 
So how does someone with years of experience fishing tournaments from North Carolina to the Florida Keys to Gulf of Mexico prepare for a competition in a place away from his home waters? As always, Brant was willing to share what he has learned from his experience. 
 
"The obvious answer is to be sure my boat and tackle are prepared for the competition with everything I'll need from rigs to bait pens," he said. "But if I were to make a list of the most important things I want to accomplish in the run up to a tournament against some of the best kingfish teams in the country, catching fish would be at the bottom of the list," he said. "I am more interested in figuring out where the fish aren't. In other words, I try to eliminate unproductive areas in a bid to narrow down the areas where kingfish are most likely to be. While doing that, I might stumble on an area where I didn't think there would be fish but are, and it might be less likely to be discovered by other teams."
 
Brant didn't just tell us about his tournament prep routine, we spent time with him aboard his Yellowfin® scouting the Outer Banks in the days prior to the championship. First he worked to the north from Ocracoke Inlet all the way to just short of Oregon Inlet, and then back down to Cape Lookout to the south in the afternoon. His triple F300 Yamaha outboards got to stretch their legs as we covered over 100 miles of OBX coastline, zigzagging from tight to the beach out to several miles offshore to check out areas of structure, all the while searching the water for signs of bait, working birds and locating where the commercial kingfish fleet was fishing. 
 
"Finding where schools of bait are located is critical information; it gives you a leg up on catching fresh live bait for the tournament fishing days and also can indicate where kings might be, but not always," Brant advised. "There are times when bait schools are close to the beach, but the kings are offshore on structure areas so you have to do a lot of running and checking to locate them for the tournament fishing days."
 
We stopped several times to throw castnets on schools of menhaden, the most prevalent baitfish in the area in the fall and a favorite of kingfish. The bait was scarce north of Ocracoke, but we managed to get on a few small pods that were given away by diving pelicans. Diving birds are always worth investigating. We used those baits to check out a spot about eight miles off the beach where we caught a few kingfish, but nothing big. That's another piece of the pre-fishing puzzle; discovering if specific spots hold potential tournament-winning fish. 
 
We moved to another structure spot closer to Ocracoke where the commercial kingfish fleet was working. We put a pair of live menhaden on the surface and two more at different depths using downriggers, then slow trolled around the area to see what would happen. The commercial boats were catching some "market size" kings, but not exactly lighting them up and while we caught a couple fish, the biggest was only about 25 pounds. During our short time on the spot, we did manage to hook, fight and lose a sailfish, and hook, fight and release a rather large hammerhead shark, both on 20-pound test kingfish tackle. You never know what might eat a live menhaden off the Outer Banks in the fall. 
 
In the afternoon, we ran the beaches all the way to Cape Lookout where we found schools of small bluefish that we trolled using small Clark spoons behind #1 planers. Small blues can be great live baits for big kingfish, and Brant was quick to put those in the live well for the next day. As our search continued, he came across a larger school of menhaden and with one toss of the net, filled both live wells on the boat. By then the sun was getting low in the sky so Brant fired up the Yamahas for the 60-mile run back to Ocracoke and the marina in Silver Lake, the island's protected harbor where Blackbeard berthed his ship the Adventure, took a wife and lived for a short while before he was hunted down and killed in a naval battle.
 
Yamaha Marine thanks Capt. Brant McMullan for so generously sharing his hard-earned knowledge and for letting us tag along for what turned out to be a great day on the water. It was a true learning experience. If you're in the Ocean Isle Beach area, be sure to stop in at OIFC (www.oifc.com), check out the boats, tackle and clothing and maybe catch one of his instructive on-land or on-water fishing seminars. 
The post The Kingfish Cup and Pro Tournament Prep Secrets appeared first on .