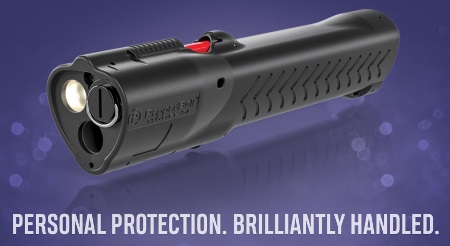 Riot control. SWAT operations. And now – personal defense. PepperBall®  is the world leader in non-lethal defense, with more than 5,000 law enforcement agencies around the world using its products. For the first time ever, PepperBall® offers civilians that same level of protection with the LifeLite

 launcher.
Simply stated, LifeLite

conceals a signature PepperBall® launcher within a powerful LED flashlight.  This covert design is its most effective feature; it can be openly carried during regular activities, and can be safely stored in a drawer, purse, backpack or glove box.
LifeLite

features a safety tab that when deactivated, triggers a laser for deterring would-be attackers and rapidly acquiring targets.  A simple push of the exposed trigger expels PepperBall® projectiles 270 feet per second.  Powered by a CO2 cartridge, the unit is effective and accurate out to 60 feet.  LifeLite

holds up to five projectiles that can be shot in rapid succession without cocking the device.
PepperBall® projectiles are filled with a proprietary irritant that burst upon impact, producing a strong kinetic impact and leaving a debilitating cloud that affects the eyes, nose and respiratory system.
"LifeLite

is the first non-lethal personal defense unit of its kind," said Ron Johnson, CEO of United Tactical Systems. "We wanted to create something that was less intimidating than your traditional personal defense mechanisms, but just as effective. And that's what we did: We designed a unit that's powerful, user-friendly and, most importantly, safe for everyday consumers. Basically, the device combines the chemistry of pepper spray with the precision of a high-powered pneumatic device… and the result is highly effective."
Users will find the LifeLite

extremely accurate and easy to use. Whether on an evening walk, a camping trip, or running errands, individuals can have confidence in their ability to protect their family and property while providing peace of mind to fully enjoy these moments.
LifeLite

is sold as a complete kit which includes (1) LifeLite

launcher, (3) 12-gram CO2 cartridges, (10) inert practice rounds and (5) live Self Defense PepperBall® rounds.
MSRP for the LifeLite

is $299.99. Pre-orders are available now, and shipping is expected to begin early Summer 2018.
For more information about LifeLite

and related accessories, visit www.pblifelite.com.
The post PEPPERBALL LIFELITE FOR NON-LETHAL PERSONAL DEFENSE appeared first on .