Pelican 7600 Tactical LED Flashlight is one of the most advanced tactical and safety lighting products designed by Pelican™ Products, Inc. At 6.19″ long, its compact size will fool you. This little light blasts a blinding 944 lumens for over 3 hours on high and 29 hours on low with a 225 meter beam distance on high. In addition, its array of features makes it one of the best flashlights around.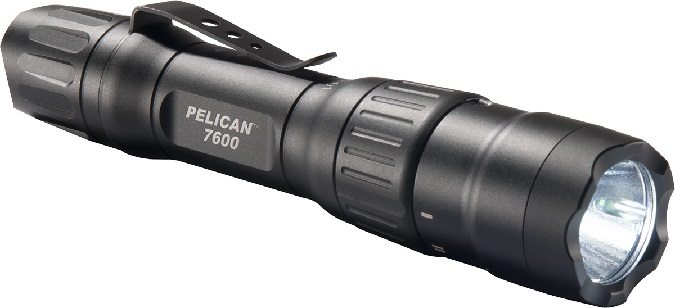 It has a USB rechargeable lithium-ion battery, a high-performance white LED, green and red LEDs for night vision preservation, a rotary collar to control the LED color selections and a tail cap switch for easy operation. The 7600 Tactical Flashlight is perfect for home security, law enforcement, hunting, fishing and military maneuvers. An optional slip-on wand can be used for traffic control. The 7600 LED Flashlight includes high, medium, low and strobe modes and you can choose from five different programs to personalize these modes to your liking. There is a full-time battery level indicator and the body has a hard anodized finish with a removable high-strength carbon steel pocket clip. The 7600 will also work with disposable CR123 batteries if power is unavailable. Another great feature is the IPX8 rating, meaning it is waterproof and submersible. The Pelican™ 7600 has an Unconditional Lifetime Guarantee of Excellence. Click HERE to watch our YouTube video.
The post Pelican 7600 Tactical LED Flashlight appeared first on ODU Magazine-North America's #1 Digital Fishing Magazine.