Summer arrived with excessive heat, excessive storms and excessive water. With things finally calming down, anglers are venturing out again. Reports coming in are encouraging, and summer patterns should be setting up with the next couple weeks – if nasty storms don't return. In the meantime, the hottest bite is on Lake Erie for walleyes in the Pennsylvania sector of the big lake! If you've got a boat for big water, or look to book a charter for 'eye, this is the time to GO Fish!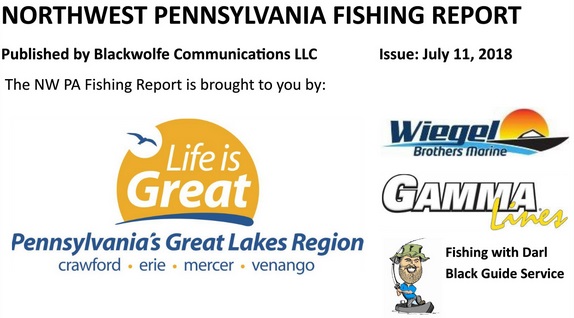 Link to the full report – http://www.blackwolfecommunications.com/Fishing_Reports/07-11-18/
The NW PA Fishing Report provides timely angling information for Crawford, Erie, Mercer and Venango Counties – covering all species and all waters open to the public. The fishing comments and photos are offered by regional tackle shops and area anglers, compiled and published twice a month. The NW PA Fishing Report is based on experiences, observations and opinions of individual contributors; information sources are considered reliable but comments are not independently verified. In providing information or pictures, you are agreeing to your comments being edited, and posted to websites and distributed electronically.
The NW PA Fishing Report is brought to you by:
Pennsylvania' Great Lakes Region (www.PaGreatLakes.com)
Black Knight Industries, Oil City (www.GammaFishing.com)
Wiegel Brothers Marine, Franklin (www.wiegelbrothersmarine.com)
The post NW PA Fishing Report For Early July 2018 appeared first on .