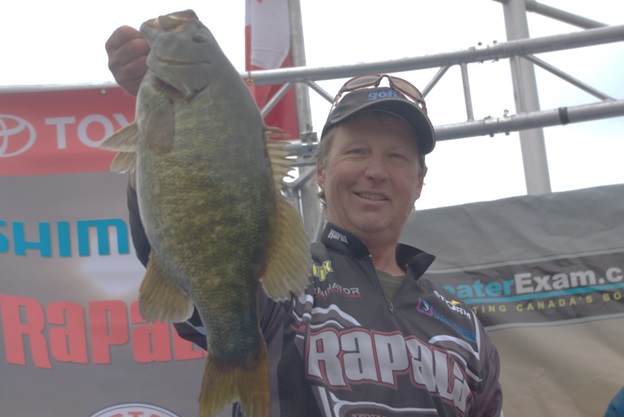 Award winning outdoor writer and fishing seminar host Wil Wegman of Bradford Ontario, might be better known for catching fish than swimming with them, but it's exactly the latter he will be doing on Saturday August 11th in the fish-filled waters of Orillia's Lake Couchiching.  "I'll be swimming 4km across Couchiching in my sixth Sun City Swim fundraising efforts along with about 50 other dedicated swimmers", he said . It generally takes him one and a half hours to cross the lake with his best time coming in 2015 at 1 hour 27 minutes.  "That will be the time for me to try and beat and I'm hoping my increased training regime will help me deliver a Personal Best time", he said. Wegman is still training by swimming laps 5-6 days a week at his local Bradford pool but has increased his overall distances and bettered previous times. The highlight came in early spring – swimming a new Personal Best of 3 km in under one hour. "Swimming the lake vs the pool is way different though, and so many variables that you can't control in the lake you can in the pool," he said. 
One of the factors that will definitely influence everyone's time is wind … and anglers know all too well that Cooch is known for its rough water. In that regard they're all in the same boat but another self-inflicted handicap may afflict Wegman more than the other swimmers … namely his peculiar inclination to search for big bass instead of focussing on the task at hand. "I just can't seem to help myself! Whenever we cross a weed patch or rocky isolated cover, I automatically start looking below for any of my beloved largemouth. My brother Paul who paddles a kayak alongside as my spotter, has to yell at me to stop looking for fish," admitted Wegman. This year he's already vowed there will be none of that foolishness on August 11.
In 2018, something completely new and foreign to Wegman's Swim with the Fishes, will be what he plans to wear while crossing the lake. "Bass Pro Shops is kindly supporting my swim with an XPS neoprene wetsuit. I don't get cold while swimming the lake so that's not why I'm going to wear it, but I keep hearing from other far-more accomplished swimmers, that these wetsuits will definitely make you more buoyant and therefore improve your time – so I'm going to give it a try", he said.  
When he first started participating in this charity swim in 2013, he had no idea of the tremendous support he would get from family, friends, co-workers and especially the angling community he is so close with. Thanks to their generosity, for the past five years, together they have been able to provide the Child Advocacy Centre for abused kids with a significant financial contribution – more than any other swimmer! Below is a quick breakdown of that support:
2013 = $2,025; 2014 = $995; 2015 = $1,910; 2016 = $1,300; 2017 = $1,700 Total= $7,930
To Contribute To Wil's 2018 Swim With the Fishes he has set up a safe and secure on-line giving page through Canada Helps. www.canadahelps.org/en/pages/wil-wegman-to-swim-with-the-fishes-across-lake-c-3/ All contributions are tax deductible.
About The Child Advocacy Centre: The Child Advocacy Centre of Simcoe/Muskoka is a child-friendly and child-focused centre in which multidisciplinary professionals provide service to children and youth who have experienced abuse of any kind. This environment helps minimize trauma and fosters healing. This is a major fundraiser for the organization. Learn more at:  www.cacsimcoemuskoka.ca  . Wil is also eager to encourage others to give the Sun City Swim a try. "Even if the 4k may be a little too daunting, the more relaxed 1k swim near shore at the Fern Resort can be a lot of fun too," he said. For more information on the CAC Sun City Swim please visit: CACSM or call: 705-327-0118.
NEW: Prize Package for 2018 Contributors:
Finally, Wil would like to thank all past and future supporters of his Swim With the Fishes fundraising campaign. In 2018, he will provide a draw prize of: A $50 Bass Pro Shops Gift Card, $50 worth of Rapala/Normark Tackle and another $50 worth of ice fishing tackle from HT Enterprises. All those who contribute $25 or more to his fundraising campaign will be eligible to receive this 1st place draw prize package. To be eligible please contribute on the fundraising page here
To learn more about Wil and his connection to fish and the fishing community, please visit his website below:
Thank you for your support!
Wil Wegman
2017 Canadian Angler Hall of Fame Inductee
<°))))><
"Focus On Fishing"
The post Wegman to Swim Across Lake Couchiching for Abused Kids Centre appeared first on .