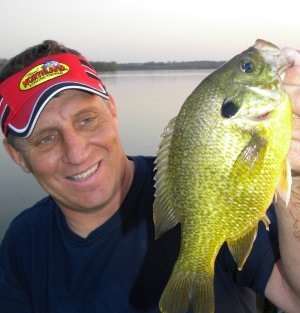 Spring is an awesome time of the year for those of us who love to fish for panfish. The first open water of the season offers dynamite shallow water action for bluegill and crappie. An added bonus is that this fishing is pretty simple, both in terms of finding fish and the methods used to land them.
Spring panfish make shallow water migrations to feed and later to spawn. One good thing about this fishing is that some of the shallow areas they migrate to are easily accessible by shore anglers. Marinas, canals, and shallow bays warm quickly in the spring drawing 'gills and crappie.
As stated, many of these areas are accessible by shore anglers. Anglers choosing to fish from a boat, however, have the added advantage of being able to hit several shallow spots on the same lake. This can be advantageous as those areas warming the quickest will usually draw the first waves of fish, so checking various locations will up an angler's odds for finding active fish.
Easy access to fishing spots is one advantage of spring panfish angling. Another is that the peak bite in some of these spots is often right before dark, meaning a quick end-of-the day trip can often be very productive.
Not only is locating spring panfish usually a pretty simple affair, but so is the presentation that catches these fish. A small jig fished below a slip-bobber tipped with a crappie minnow is a favorite when crappie are the target. A pink/white or glow green 1/32-ounce Gypsi Jig tipped with a small, but very lively crappie minnow is my favorite crappie set-up. Gypsi Jigs have tinsel tails that give off a fish scale flash that really attracts fish. A small split shot added about a foot above the jig completes the system. I like the pink/white color jig combination for daytime fishing, switching to the glow green color during low light conditions.
As stated earlier, a key to this simple set-up is the use of lively bait. An easy way to keep a bunch of crappie minnows fresh and lively is to put them in a good bait container. I use a small Min-O-Life Personal Baitstation for keeping my spring crappie minnows. This is a compact, insulated container with an aerator that does a great job of keeping minnows fresh.
Spring crappie are often suckers for small jigs tipped with lively minnows. Though bluegills will also hit these rigs, I prefer a small Fire-Fly Jig tipped with a waxworm when targeting these fish. Parakeet and pink/white patterned jigs have been good spring 'gill producers.
Regardless which jig and particular panfish species is chosen, an important factor in making this simple system the most effective is the use of the right bobber. The Lite-Bite Slip Bobbers are awesome tools. They have hi-vis stems that can be seen easily in low light. Not only that, but the bobber stems have Slip-N-Slide grommets allowing line to slide through with minimal resistance helping anglers catch light biters. Their sleek pear shape also helps anglers in bite detection.
The final component of this presentation involves the use of light line that allows small baits to fish naturally. Bionic Panfish Line in 3-pound test is my choice as it handles well and is available in a blue camo color pattern that blends into the blue sky background which can be important for upward feeding crappie and bluegills holding in clear water.
Spring is here and heading to a likely crappie/bluegill holding spot on some of the year's first nice days is something I look forward to every year. Using the simple tips above often leads to panfish success for me and can probably make your panfishing successful as well. As always, good luck on the water!
Related articles:
The post Northland Tackle – Simple Spring Panfish! appeared first on OutDoors Unlimited Media and Magazine.