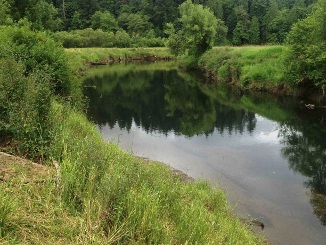 A new kind of "bank" NOAA Fisheries has approved in southwest Washington will use a novel approach to fund restoration and long-term protection of more than 300 acres of prime wetland and river habitat along the Coweeman River, promoting recovery of threatened salmon and steelhead.
Developers may purchase credits from the Coweeman River Mitigation Bank to offset the impacts of new developments within the same region along the lower Columbia River. The credits effectively represent shares in the mitigation bank, whose private sponsor, Habitat Bank LLC, will use the funds to pay for the restoration and continued stewardship of the Coweeman project.
The project is the first mitigation bank in Washington designed to offset impacts on both wetlands and fish habitat under the respective authorities of the Corps of Engineers and NOAA, and the Washington State Departments of Ecology and Fish and Wildlife, and is the first bank NOAA Fisheries West Coast Region has approved for mitigation of impacts on fish protected by the Endangered Species Act.
A new "mitigation bank" will protect and restore more than 300 acres of wetland habitat along the Coweeman River in southwest Washington. Photo: Habitat Bank LLC
The bank will reestablish, rehabilitate, and enhance wetlands at the site in Kelso, Washington, and will create new rearing, refuge, and potential spawning habitat for salmon and steelhead protected by the Endangered Species Act (ESA).
In early May, the Washington Department of Ecology, U.S. Army Corps of Engineers, and NOAA Fisheries signed the documents creating the mitigation bank and outlining the standards for how developers will purchase bank credits to offset development elsewhere. The Washington Department of Fish and Wildlife, U.S. Environmental Protection Agency, Cowlitz County, City of Kelso, and the Cowlitz Indian Tribe also collaborated and provided input on the project.
The creation of a fish habitat mitigation bank to address the adverse effects of development should lead to more effective and meaningful restoration at the landscape scale for ESA-listed salmonids in the Lower Columbia, noted Jeff Fisher, Lower Columbia Branch Chief for NOAA Fisheries' West Coast Region.  
"The piecemeal, on-site mitigation approach that has represented the vast majority of mitigation actions in the past is broadly recognized by restoration ecologists as inefficient and ineffective at meaningfully meeting restoration objectives," Fisher said. "Mitigation banks that provide fish habitat credits are an important tool to allow us to move towards more functional and meaningful improvements by taking a larger piece of habitat and restoring it to meet properly functioning conditions.
"This mitigation bank is a testament to all of the partners who worked hard to make this project happen," said Will Stelle, Regional Administrator of NOAA Fisheries West Coast Region. "This creates a path through the regulatory maze that supports larger conservation banking approaches which bundle multiple benefits and enable projects to go forward at a larger and more productive scale."
Developers must still take steps to minimize the impacts of their construction, but can purchase credits from the mitigation bank to offset unavoidable impacts to fish and wetlands. NOAA Fisheries assisted in developing the specifications for restoration, as well as monitoring procedures and methods to ensure that the restored site will remain intact over the long-term.
Restoration at the Coweeman site will reopen access for fish to prime tributary and floodplain habitat, restore riparian corridors with native plantings, and create new rearing, refuge and spawning habitat that is likely to benefit protected salmon and steelhead in the lower Columbia River.
For more information:
Coweeman Mitigation Bank – Washington Department of Ecology
Lower Columbia River Recovery Plans for salmon and steelhead
Home page photo credit: Habitat Bank LLC
The post New Washington wetland "bank" advances fish habitat restoration appeared first on .