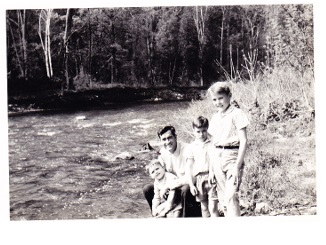 As someone who is asked to speak to various groups about my personal story, I like to take the opportunity to turn what would otherwise be a story about my going blind three times, into one that gives a message of empowerment. I use the opportunity to pass on a information and rationale about why each and every one of us needs to take on the role of steward to make sure our water and fish resources will be around for future generations to experience. Let me know if you think the message comes through. For more about what I do, in addition to this show, visit www.lawrencegunther.com.
Episodes of Blue Fish Radio is streamed on the internet 6-times each week over WRVO Outdoor Radio; broadcast 5-times each week by AMI Audio over cable TV and SiriusXM Canada; featured on Outdoor Canada Magazine's website and social media channels every second week, and linked to by hundreds of conservation and fishing related sites.
Over 100,000 listeners enjoy the show weekly, in addition to audiences reached through links to episodes established on numerous 3rd-party websites and FaceBook pages. Tweeted episode announcements reach on average 60,000 Twitter followers.
Blue Fish Radio interviews are recorded live and later edited to ensure the best possible portrayal of our guests and their message. Downloads or player links of episodes can be obtained for inclusion on your own website or social media. The over 80 Blue Fish Radio episodes can be found on iTunes or downloaded as MP3 files directly from Spreaker.com.
You can learn more about the host, Lawrence Gunther, at www.lawrencegunther.com. Lawrence also serves as President of Blue Fish Canada, a charity dedicated to the future of fish and fishing.
The post Blue Fish Radio: Pitching to Potential Stewards appeared first on .